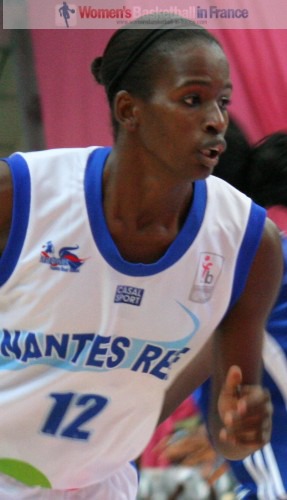 Abdou N'Diaye,the coach from Villeneuve d'Ascq, was left pondering how his team lost this LFB match against Nantes-Rezé (55-60).
Despite a passive start his team led for most of the game. With seven minutes remaining and leading (52-49), his team only managed to score 3 points for the rest of the game. To make matters worse, Nantes took full advantage.
Mame-Marie Sy-Diop (left) and Caroline Aubert from Nantes-Rezé were in the thick of the action during the closing phase as they sneaked past their hosts to win (60-55).
Sy-Diop finished the game with a double double of 22 points and 11 rebounds.
The LFB match game report
Villeneuve were rather passive at the start of this game which allowed their opponents to lead (9-15) with just over 7 minutes played.
Ingrid Tanqueray and Olayinka Sanni then went on the war path and with a late flourish of points Villeneuve edged the first quarter (21-17).
The second quarter was rather defensive with neither side able to gain the upper hand.
In the first half Sanni scored 14 points from 7-of-9 shots while Tanqueray dished out 6 assists as the hosts went into the locker room leading (33-28).
Nantes started to defend more aggressively after the break and kept Sanni out of the paint. This resulted in Villeneuve taking more long distance shoots.
Nantes' patience paid off as they made up their deficit and briefly held the lead (43-42) with 28 minutes played.
A trey by Tanqueray and a couple of points by Belgium international Marjorie Carpreaux made sure that Villeneuve went into the final quarter ahead (47-45).
Then Julie Page stretched the advantage for the hosts with a long distance bomb.
However Villeneuve failed to get anything going inside, while Sy-Diop continued her demolition exercise for the guests.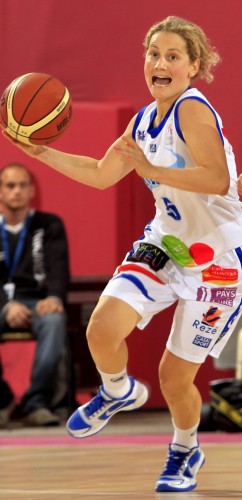 Aubert (right) finally swung the pendulum in favour for the guests. She connected with a shot from well behind the new three-point line for her team to regain the lead (52-50) with just over eight minutes left to play.
Sanni finally got into the paint to bring the teams level (52-52) as the game entered money-time.
Page for Villeneuve split a pair of free throws with just over 40 seconds to play. But seconds later a BIG three by Aubert put Nantes in front for good.
Villeneuve's last chance of gaining control of the game came from the free-throw line with 12 seconds to play. Carla Thomas missed both while Emija Podrug and Sy-Diop went 3-of-4 from the charity stripes.
With this victory Nantes join Bourges and Tarbes on top of the LFB.
Villeneuve d'Ascq: Julie Page 7, Carine Paul 2, Onayssa Sbahi 0, Ingrid Tanqueray 8 (6 assists), Marjorie Carpreaux 2, Laurie Datchy 2, Fanny Ploegaerts DNP, Carla Thomas 7, Olayinka Sanni 17, Bridgette Mitchell 10
Nantes-Rezé: Florine Basque DNP, Caroline Aubert 8, Joyce Cousseins-Smith 0 (4 assists), Emilija Podrug 10, Mélanie Plust 1, Allison Hightower 5, Mame-Marie Sy-Diop 22 (11 rebounds, drew 10 fouls), Jenna Smith 11, Sabine Niedola 6
---
Return to other LFB matched for the current season
Return to Ligue Féminine de BasketBall index
Go to Women Playing Basketball In France Home Page
Return to the top of page
---
LFB match picture credits:
womensbasketball-in-france.com
LFB - Bellenger-Mollière/IS/FFBB

Date created: 31 October 2010

---