LFB match: Charleville's second victory
This LFB match was decided in the first 18 seconds with
Pauline Akonga-N'Simbo
from Arras picking up 2 fouls.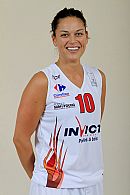 Charleville-Mézières went on an 11-2 run and stayed in front all the way to win (69-58).
The experience of Kristen Mann (left) and the youthful exuberance of Amel Bouderra and Djéné Diawara made the difference during the second half of the match.
Diawara led the team in points and rebounding with a double-double 15 points and 13 rebounds. Bouderra scored 14 points while Mann, who played 40 minutes, added 12 points.
For Arras Leilani Mitchell who also played the full 40 minutes scored 20 points for while Akonga-N'Simbo had 11 points.

Game report: Charleville-Mézières enjoyed playing at home
Arras did not have the best start with Pauline Akonga-N'Simbo picking up 2 fouls in the first 18 seconds of the game.
Charleville-Mézières fought tooth and tail from the tip-off and refused to allow their guests a chance to settle.
The first point came from the free-throw line from Djéné Diawara (left) after a couple of minutes of scrappy play from both teams.
Two three-pointers by Amel Bouderra and one by Kristen Mann allowed the hosts to open up a (11-2) lead with less than six minutes played.
Leilani Mitchell fired in a trey to get Arras going. She then followed this up with an offensive rebound and 2 more points.
Despite her efforts Arras were not able to stop the hosts from opening a 10-point lead by the end of the fist quarter with a buzzer beater by Bojana Vulic (19-9).
Akonga-N'Simbo was not having much luck with the officials and picked up her 3rd foul of the match right at the start of the second quarter. But her coach decided this time to keep her on the field.
Akonga-N'Simbo caused Charleville problems as she managed to score 8 points for Arras although she could not take any more risks in defense.
Charleville maintained their advantage and kept on scoring on the fast breaks and with back to back scores from Ekaterina Dimitrova (right). They went 16 points clear (31-16) with just under 15 minutes played.
Arras were forced to change tactics without Akonga-N'Simbo on the field. They managed to reduce their deficit slightly going into the interval (28-37).
Mann became the focal point for Charleville-Mézières in the second half. Her off-the-ball play opened up space for her team-mates to score on several occasions.
Arras were not having any luck shooting and failed to take advantage of their height in the paint to bring down the deficit.
A 24-second buzzer beater by Bouderra with two minutes remaining in the quarter forced the Arras' head coach to call a time-out with his side trailing (36-53).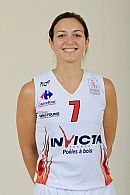 Arras became more aggressive but were unable to neutralise the impact of Mann and went into the final quarter with a 15-point handicap (42-57).
The final quarter was lively with Mitchell, Aija Putnina and Olesia Malashenko doing all they could for Arras while Sarra Ouerghi (left) and Diawara stepped up for the hosts.
Arras ran out of ideas. Without Akonga-N'Simbo they were unable to get anything going offensively which allowed Charleville-Mézières to win their first LFB match at home (68-59).
Charleville-Mézières: Amel Bouderra 14, Belinda Mboma 2, Sarra Ouerghi 13, Alexia Kusion 2, Ekaterina Dimitrova 6, Kristen Mann 13, Djéné Diawara 15, Eléonore Grossemy DNP, Bojana Vulic 2
Arras: Leilani Mitchell 20, Laury Aulnette DNP, Krissy Badé 2, Sarah Michell 4, Johanne Gomis 4, Olesia Malashenko 9, Adja Konteh DNP, Aija Putnina 8, Pauline Akonga N'Simbo 11
---
Return to the index: LFB match for the current season
Return to Ligue Féminine de BasketBall index
Go to Women Playing Basketball In France Home Page
Return to the top of page
---
LFB match picture credits:
LFB


Date created: 14 November 2010

---