Bourges beat LFB defending champions Tarbes
Bourges Basket are alone at the top of the LFB after beating Tarbes Gespe Bigorre Elite (59-55).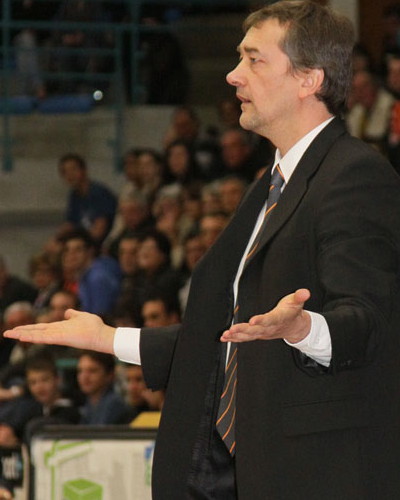 Pierre Vincent (left) used just one time-out during the whole match while Alain Jardel from Tarbes used his full allocation of five.
Tarbes won the battle of the rebounds, had a better shooting percentage but were punished on the turnover count and missed free-throws in the last minute.
It was also a difficult match for Jelena Dubljevic who was hampered with foul problems from early in the first quarter. She managed just 15 minutes in the game.
Erin Thorn, Ana Cata-Chitiga and Ivanka Matic led the Tarbes attack with 13, 12 and 11 points each while Matic also picked up 11 rebounds.
Bourges Basket once again raised their game when they needed during the final quarter to hold off the challenge of Tarbes.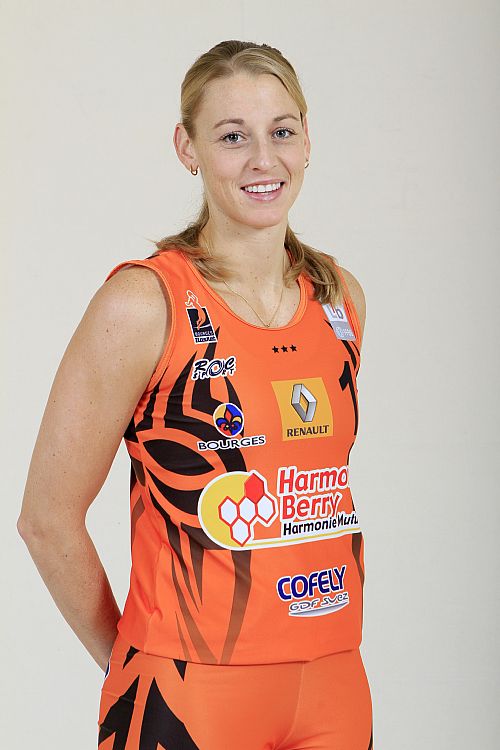 Cathy Joens (right in picture), Nwal-Endéné Miyem and Paoline Salagnac scored 13, 12 and 10 points each to lead the scoring for Bourges Basket.
The basketball match finally came to light in the final quarter with both teams throwing caution to the wind.
Tarbes put themselves in a chance to win the game in the last 75 seconds. Yet the missed free-throws by Florence Lepron and Thorn let Bourges off the hook.
Miyem kept her cool from the free-throw line for Bourges with 40 seconds left to play and then her team's defense did the rest.
You can read our LFB match report below.
Read all the LFB basketball news from round 7.
LFB match report: Free-throws see Bourges through
There was no time for observation with Tarbes going all out from the tip-off.
Emméline Ndongue and Styliani Kaltsidou picked a foul each within the first sixty seconds while Jelena Dubljevic scored the first points of the match for Tarbes.
Kaltsidou fired in a trey for Bourges for her side to lead briefly (3-2) with a minute played.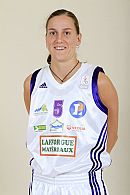 Florence Lepron started her show for Tarbes with 3 assists as Tarbes regained the lead (11-9) with five minutes played.
Dubljevic had to leave the game with her second foul and was replaced by Pauline Jannault-Lo.
However Erin Thorn (left) took over the offensive work for Tarbes with 9 first-quarter points.
Bourges patiently worked on their defence forcing Tarbes to work from outside the paint. They chipped away at the deficit and finished the first quarter trailing by a single point (18-19).
The start of the second quarter was all defense with just 2 points scored by Bourges during the first two minutes by Maja Miljkovic (20-19).
This forced Alain Jardel from Tarbes to call for a time-out.
However nothing changed in terms of scoring and the only points to come during the next two minutes was a three-pointer from down-town by Kaltsidou.
Dubljevic ended the barren spell for Tarbes but Bourges replied immediately by Nwal-Endéné Miyem.
Dubljevic was not having any luck with the officials and picked up her 3rd foul and returned to the bench with five minutes to play before the break.
Ivanka Matic started to throw her weight around and Tarbes reduced the deficit to a single point (24-25).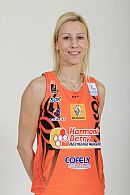 Bourges stepped on the accelerator for a minute and put in two quick baskets to restore their advantage (29-24) and then switched back to defending.
With just under two minutes remaining Jardel called for his second time-out.
Nothing changed for Tarbes in attack and Bourges went 9 points clear before Matic managed to score for Tarbes.
Bourges went into the locker room leading (33-26) with 6 points each from Nwal-Endéné Miyem, Kaltsidou's two three-pointers (right in picture) and Cathy Joens.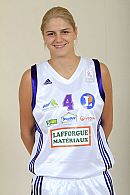 Ten seconds into the third quarter Dubljevic picked up her fourth foul, a charging one.
Jardel was not pleased and had some words with the officials while Dubljevic (left) returned to the bench.
Defense was the order of the day with just 6 points scored during the first five minutes with Bourges holding on to the lead (35-30).
Bourges continued to miss easy shots but were to hit difficult buzzer beaters by Maja Miljkovic and Paoline Salagnac to maintain the advantage (39-32).
Alain Jardel was left with no choice to call a time-out with three minutes left in the quarter.
Tarbes started to play more aggressively and may have made up the deficit if not for turnovers. Thorn fired in a trey for Tarbes to keep them in the game.
Thorn also attempted a period-ending buzzer beater from mid-court that almost went in.
However Bourges went into the final quarter in front (43-39).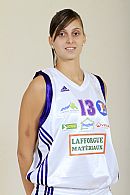 Finally the game took off in the final quarter. Ana Cata-Chitiga (right) went to work in the paint for Tarbes. She scored a couple of points but more importantly drew Emméline Ndongue into 2 quick fouls.
Ndongue had to leave the game with her 5th foul with nine minutes to play. Cata-Chitiga scored 2 more points before Dubljevic levelled the score from the free-throw line with eight minutes to play.
Bourges were in trouble with the foul count and Tarbes took full advantage to draw fouls in order to get to the free-throw line.
Marija Eric put Tarbes in front briefly from the free-throw line.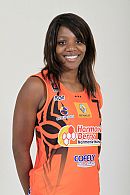 Miyem (left) replied for Bourges and a trey by Joens put Bourges back in front (48-47).
With five minutes to play it was the turn of Dubljevic to leave the games with 5 fouls.
Cata-Chitiga continued to play aggressively and was back on the free-throw line for 2 points. However on the next attack Joens fired in a long distance shot for 3 points to regain the lead (51-49).
The pace picked up. Miyem added a couple of points for Bourges but Lepron replied for Tarbes with a three-pointer.
Miyem and Lepron exchanged baskets and with 1:49 to play Bourges' lead was just a single point (55-54).
The game was played out at the free-throw line. Tarbes missed the chance of taking the lead with Lepron missing her 2 free-throws while Thorn went 1-of-2.
For Bourges Miyem hit her two free-throws for Bourges (57-55) with 41 seconds left to play.
Bourges finished the game with a couple more free-throws to win (59-55).
Bourges Basket: Anaël Lardy 4, Maja Miljkovic 5 (4 assists), Nwal-Endéné Miyem 12 (7 rebounds), Styliani Kaltsidou 6, Jennifer Digbeu 2, Catherine Joens 13, Paoline Salagnac 10, Emméline Ndongue 6, Ilona Burgrova 1
Tarbes: Jelena Dubljevic 8, Erin Thorn 13, Ivanka Matic 11 (11 rebounds), Pauline Jannault-Lo 0, Marija Eric 2, Naura El Gargati 2, Florence Lepron 7, Darline Nsoki 0, Ana Maria Cata Chitiga 12, Vaida Sipaviciute 0
---
Return to the index: LFB match for the current season
Return to Ligue Féminine de BasketBall index
Go to Women Playing Basketball In France Home Page
Return to the top of page
---
LFB match picture credits:

LFB
Bourges Basket

Date created: 21 November 2010

---