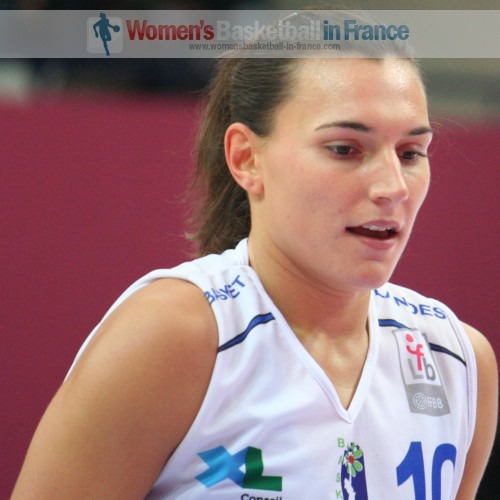 Traditionally the first week of LFB basketball is hectic for the clubs in the first division with three games to be played within a space of 10 days.
However the railway strike and fuel shortage in France prevented three games of the second round taking place.
The bad news from the second round of games was the injury of Amélie Pochet (left) from Basket Landes.
After 26 minutes in the game against Mondeville she fell to the ground and her scream was enough to say something serious had happened. This time she popped her other knee and from all accounts it is another ACL injury for her.
She had already missed last season after an ACL tear in her left knee. But Basket Landes honoured her contract and she returned this season. Pochet played well during the opening day in Paris.
Despite the set-back Basket Landes held on to beat USO Mondeville (68-64) but the celebration was spoilt.
In the other games played this week, Bourges Basket opened with a 10-0 run against Charleville-Mézières and cruised to victory (60-47).
Villeneuve d'Ascq held off Calais in the first North Derby match (82-76) while Montpellier beat Toulouse (73-51).
An announcement will be made by the LFB when the games cancelled will be played.
You can read our LFB stories and pick up the main statistics by clicking on the links below or by scrolling down the page:


USO Mondeville 64-68 Basket Landes

Charleville-Mézières 47-60 Bourges Basket

Villeneuve d'Ascq 82-76 COB Calais

Lattes Montpellier 73-51 Toulouse


Results from the postponed matches
---
USO Mondeville lose at home to Basket Landes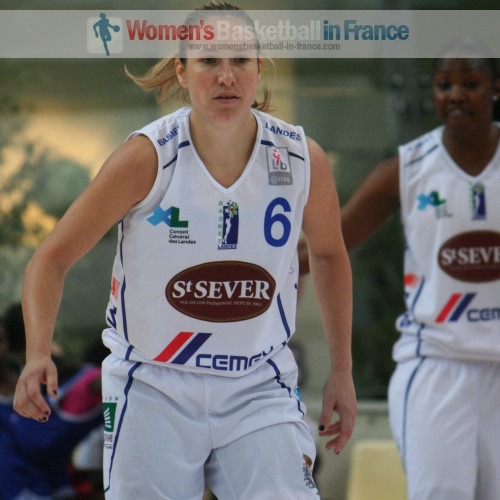 Two three-pointers by Lenae Williams gave Mondeville the perfect start to lead (10-6) after six minutes of play.
Basket Landes then went on the attack. With clutch three-point shooting and excellent point guard play by Katarina Manic (left), they edged in front (18-14) after 10 minutes to go into the interval ahead (37-26).
Mondeville picked up the intensity after the break. Thanks to 9 points from Aurélie Bonnan reduced their deficit going into the final quarter (46-49).
Mondeville regained the lead with a three-pointer by K. B. Sharp (51-49) with nine minutes to play.
Jennifer Humphrey and Manic led the charge by Basket Landes as they put a 14-3 run together to go in front (63-54) with four minutes left to play.
Mondeville fought back and with nine seconds left to play they thought they had levelled the game when Williams hit a shot close to the three-point line. The officials signalled only 2 points and the chance of overtime disappeared.
USO Mondeville: Touty Gandega 6, Anne-Sophie Pagnier 0, Esther Niamké-Moisan 0, Aija Brumermane 9 (4 steals), K. B. Sharp 13, Lenae Williams 17, Yacine Sene 2, Pauline Thizy 3 , Aurélie Bonnan 9, Valeriya Berezhynska 8
Basket Landes: Aminata Konate 7, Katarina Manic 20, Bineta Diouf 2, Anaïs Le Gluher 3, Julie Barennes 8, Amélie Pochet 3, Julia Borde DNP, Marion Laborde 13, Jennifer Humphrey 20
Return to the top
---
Bourges welcome Charleville-Mézières to the Ligue Féminine de Basketball
Charleville-Mézières and Ardenne TV welcomed Bourges Basket for the first home game of the season.
Amel Bouderra had picked up a calf injury during the opening day and was unable to play in this game. As a result Alexia Kusion filled in as the second point guard for the hosts.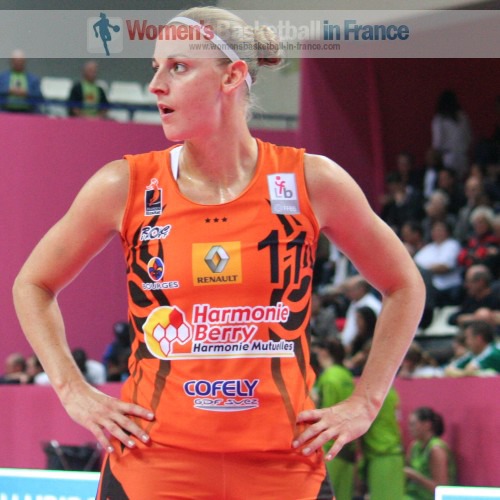 Bourges Basket scored the first 10 points of the game and cruised 30 minutes leading (53-24).
The hosts did not give up. In the final quarter they scored 11 unanswered points as they closed the gap to make the final score look more respectable.
Bourges were never in trouble in losing this game and despite only scoring 7 points in the final quarter they still had a 13-point advantage at the end (60-47).
Cathy Joens (left) and Styliani Kaltsidou with 14 and 10 points apiece led the visitors while Kristen Mann and Ekaterina Dimitrova with 12 and 11 points each were the top scorers for the hosts.
Charleville-Mézières: Belinda Mboma 2, Sarra Ouerghi 6, Alexia Kusion 5, Ekaterina Dimitrova 11, Kristen Mann 12 (10 rebounds), Djéné Diawara 2, Eléonore Grossemy 2, Bojana Vulic 7
Bourges Basket: Anaël Lardy 2, Maja Miljkovic 3, Nwal-Endéné Miyem 4, Margaux Galliou 0, Styliani Kaltsidou 10, Jennifer Digbeu 2, Catherine Joens 14, Paoline Salagnac 9, Emméline Ndongue 8, Ilona Burgrova 6
Return to the top
---
Despite Villeneuve beating Calais Abdou N'Diaye is disappointed
For the first 20 minutes Villeneuve d'Ascq dominated COB Calais and led (53-33) at the interval.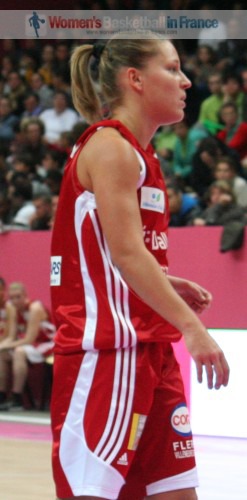 The second half was a completely different story with Calais taking over the affair and reducing their deficit to a single point with three minutes to play.
Somehow Villeneuve, playing at home, weathered the storm and pulled off the victory.
Ingrid Tanqueray (right) was once again the star player for the hosts with 16 points, 7 assists and 2 steals. Olayinka Sanni and Carla Thomas chipped in 18 and 17 points each, while Bridgette Mitchell scored 16 points.
This victory did not stop Abdou N'Diaye, the head coach, from making his displeasure known about the performance of his team during the second half of the LFB derby.
Villeneuve d'Ascq: Julie Page 6, Carine Paul 3, Onayssa Sbahi DNP, Ingrid Tanqueray 16 (7 assists), Laurie Datchy 6, Fanny Ploegaerts DNP, Carla Thomas 17, Olayinka Sanni 18, Elodie Bertal 0, Bridgette Mitchell 16
COB Calais:N'Deye N'Diaye 7, Sylvie Gruszczynski 23, Cocks Micaela 2, Mélanie Devaux 2, Aurélie Cibert 7, Mélanie Arnaud 10, Manon Sinico 6, Pelagia Papamichail 13, Brigitte Ardossi 6
Return to the top
---
Montpellier bring Toulouse back to LFB reality
For the first 12 minutes of the game, Toulouse dominated their hosts and led (24-16) to the delight of the travelling supporters.
Valéry Demory decided to use players from his bench and Montpellier started to take control of the game. They put an 11-0 run together as they went into the interval leading (38-27).
Toulouse had no more luck during the second half of the game leaving the way open for Montpellier to win the game (73-51).
Lattes-Montpellier: Johanne Drozd 2, Virginie Bremont 4, Alicia Poto 12, Iva Perovanovic 14, Cyrielle Hugues 0, Mathilde Hergott 0, Brittainey Raven 13, Ana Lelas 9, Gaëlle Skrela 9, Sandra Dijon-Gérardin 6, Manon Pellet 0, Fatimatou Sacko 7 (10 rebounds)
Toulouse: Lou Mataly 0, Jessie de Colo 2, Camille Aubert 4, Chandrea Jones 14, Emilie Maurice 10, Leslie Matanga 1, Lola de Angelis 0, Shanavia Dowdell 12 (12 rebounds), Suzanna Milovanovic 8
Return to the top
---
2010 Open LFB - Basket and the City Index
Return from LFB Basketball News to Ligue Féminine de BasketBall index
Go to Women Playing Basketball In France Home Page
Return to the top of page
---
LFB picture credits:

Ligue Féminine de Basketball - LFB
womensbasketball-in-france.com

Date created: 23 October 2010
Last updated: 27 February 2011
---