LFB round 2 comes to an end four months after it started
Four months after round two of the LFB, it has finally come to and end.
Strikes and fuel shortage
in October 2010 prevented the match between Challes-les-Eaux and Tarbes to be played.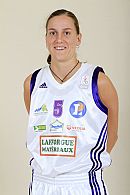 Erin Thorn (left) who picked up an ankle injury a few weeks ago decided to end her season in France. She will continue her rehabilitation in America and expects to be fit for the start of WNBA season.
Her replacement is Roneeka Hodges who made her début against Challes-les-Eaux. Hodges played in France before with COB Calais during the 2005-2006 season.
Challes did not make the mistake of their previous meeting.
This time they played more collectively and had five players in double digits in a game that they were in front for more than 39 minutes.
Despite the victory, Challes remain in fifth place despite having the same points as Nantes-Rezé. Tarbes remain in second place.
Challes-les-Eaux: Romy Bär 12 (6 assists, 8 rebounds and 4 steals), Bianca Thomas 2, Alexia Plagnard 2, Sabrina Palie 14, Mistie Williams-Bass 15, Magali Lacroix 11, Clarisse Costaz 13, Jennifer Fleischer 6
Tarbes: Jelena Dubljevic 5 (4 assists), Roneeka Hodges 4, Ivanka Matic 6, Pauline Jannault-Lo 21, Isis Arrondo 1, Naura El Gargati 12 (11 rebounds), Florence Lepron 4, Darline Nsoki DNP, Brooke Smith 10
Statistics from the remaining two LFB games from the round
Both games were played on 8 December 2010.
Aix-en-Provence 81-74 Arras (25:24, 40:40, 53:55, 81:74)

Aix-en-Provence: Emmanuelle Gorjeu 0, Zoi Dimitrakou 9 (8 rebounds), Isabelle Strunc 14, Margaux Okou-Zouzouo 10, Natalie Hurst 19 (9 assists), Sabrina Réghaïssia 10, Hollie Grima 19
Arras: Leilani Mitchell 17 (8 rebounds), Laury Aulnette DNP, Krissy Badé 3, Sarah Michel 7, Johanne Gomis 9 (3 steals), Olesia Malashenko 4, Adja Konteh DNP, Marielle Amant 6, Aija Putnina 7, Pauline Akonga N'Simbo 21
---
Union Hainaut Basket Saint-Amand 59-63 Nantes-Rezé (17:14, 29:34, 43:43, 59:63)

Union Hainaut: Amanda Jackson 16, Emilie Duvivier 0 (3 assists), Clémence Beikes 14, Emilie Silbande-Petiteau 6, Noémie Lemaire DNP, Céline Girard DNP, Laëtitia Kamba 4 (3 assists, 9 rebounds), Jasmon Covington 17, Elsa Martins DNP, Alison Bales 2
Nantes-Rezé: Florine Basque 0, Caroline Aubert 8 (3 assists), Joyce Cousseins-Smith 0, Mélanie Plust 0, Allison Hightower 8, Yuliya Andreyeva 11, Mame-Marie Sy-Diop 13, Jenna Smith 10, Sabine Niedola 2, Emilija Podrug 11 (3 assists and 8 rebounds)
---
Return from LFB Basketball News to Ligue Féminine de BasketBall index
Go to Women Playing Basketball In France Home Page
Return to the top of page
---
LFB basketball news picture credits:


LFB

Date created: 27 February 2011
---