Toulouse and Bourges bring LFB round 14 to an end
The fourteenth round of the LFB has finally come to an endwith the match between Toulouse and Bourges Basket.
The game was originally scheduled for the 19 December 2009 to be played in Boé-Agen and not in Toulouse.
This was because Toulouse's hall was reserved for a judo competition and the other sport facilitates in the town was reserved for the Toulouse Masters Tennis competition.
However due to heavy snow storms Bourges Basket were unable to travel for the game.
When the FFBB rescheduled the game for 13 March 2010, once again the hall of Toulouse was not available due to maintenance.
In the other possible venues in Toulouse, volleyball and wheelchair basketball had been booked. So Toulouse had to find another hall for the match.
The match was played at the home of Colomiers in the Piquemal sports facility and should not be remembered for long. Bourges Basket with their suffocating defence beat Toulouse (54-40).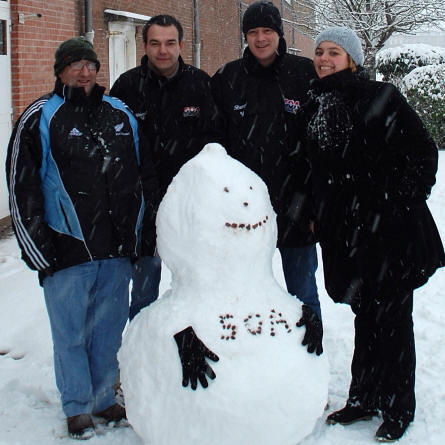 Round 14 stopped by the snow
Arras had opened the 14th round with
a victory against Basket Landes (60-55)
.
Nantes-Rezé had done just enough to hold off Aix-en-Provence (58-51).
Armentières had done all in their power to make sure that their game against Villeneuve d'Ascq took place. However they had been unable to stop Jolene Anderson who had scored 21 points to lead Villeneuve to victory (71-53).
Lattes Montpellier had made sure that Challes-les-Eaux and Aldo Corno had ended 2009 with a defeat (58-50) to reverse the opening day.
Two games from this round had been played in February with Limoges falling at home to Tarbes (70-82) while Mondeville had required overtime to beat COB Calais (86-80).
---
Return from LFB Basketball News to Ligue Féminine de BasketBall index
Go to Women Playing Basketball In France Home Page
---
Basketball news picture credits:
Ligue Féminine de Basketball - LFB
SO Armentières

Date created: 13 March 2010
---