Basketball news: Nantes are 9 and 5 at the end of 2009
---
---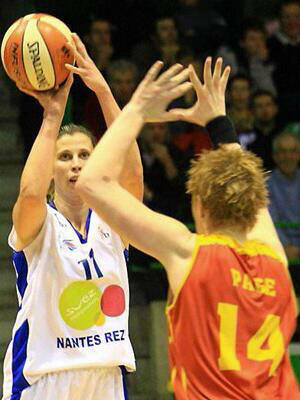 Basketball news: Yuliya Andreyeva three-point shooting made the difference
The weather conditions in France made travelling difficult this weekend. But Aix-en-Provence made the long trip from the south of France to the north to face Nantes-Rezé.
Nantes were without Mélanie Plust and Morgane Cardin, both injured, while Aix-en-Provence had to do without Claire Tomaszewski (Tom-Tom).
The game itself was not a classic. But with a total of 15 lead changes, the home supporters were kept on the edge of their seats.
In similar circumstances to their first meeting, Aix-en-Provence struggled in containing Lindsay Taylor and picked up a number of fouls.
This resulted in Giuday Mendy and Tiffany Stansbury fouling out during the final quarter while Julie Page finished the game on 4 fouls.
The teams went into the final quarter level (47-47). It was not until Yuliya Andreyeva (above) with her 4th trey of the game (54-49) with money-time approaching put the hosts in control for good.
Andreyeva and Taylor scored 14 points each with the latter one also picking up 10 rebounds and drawing 9 fouls in the (58-51) victory.
Mame-Marie Sy-Diop and Kathleen MacLeod also added 10 points for Nantes-Rezé.
Claudia Das Neves and Julie Page scored 15 points each for Aix-en-Provence.
Nantes have won 9 games so far this season. Their coach Laurent Buffard was satisfied that they won and explained that it was a good sign when you played poorly and still won.
Nantes Rezé: MacLeod 10, Ardon 5, Andreyeva 14, Sy-Diop 10, Taylor 14, Aubert 0, Tahane 2, Bogdanova 3
Aix-en-Provence : Déas 12, Das Neves 17, Page 15, Mendy 0, Stansbury 0, Viale 1, Okou Zouzouo 6, Strunc 0, Matic 0
---
Return from basketball news to Ligue Féminine de BasketBall index
Return to "what new" - WBBiF page
Return to women playing basketball in France home page
Tarbes are the champions of the first phase
Basketball news picture credits:


Arnault Cantreau @ Presse Océan

Date Created: 20 December 2009

---