The last basketball news for 2009 from Lattes Montpellier is positive
---
---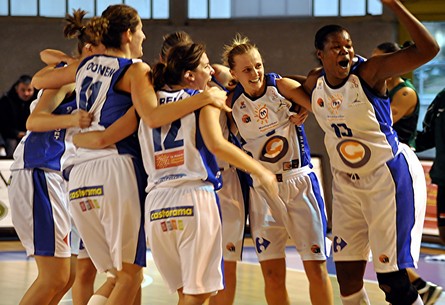 Basketball news: Montpellier taking down Challes-les-Eaux to finish the year on a high
In the first meeting of the season between these teams, Challes-les-Eaux made up a 7-point deficit at the start of the final quarter to
beat Montpellier (73-70)
in the most dramatic game on the opening day.
It looked as if Montpellier, playing at home, were giving their supporters an early Christmas present. However they would have to do it without Khadijah Whittington who picked up an injury in mid week.
Challes-les-Eaux, still without Silvia Bedu-Janostinova, got off to the better start with the first 4 points within the first minute of the game.
Alexia Plagnard fired in a trey to open the scoring for the hosts and got them going. Montpellier went on to score 8 more points to lead (11-4) with just four minutes played.
Magali Lacroix (12 points) went on the war path for Challes-les-Eaux. She scored 7 straight points at the start of a 12-4 run that put Challes-les-Eaux back into the lead (16-15).
Sandra Dijon-Gérardin (12 points) enabled Montpellier to edge the first quarter with back to back scores (19-16).
The second quarter was dull in comparison to the first period with just 2 points scored in the first five minutes.
Pauline Krawcszyk ended the barren spell and scored the next 8 points for Montpellier while trading baskets with the opponents. They went into the break ahead (31-25).
Kirby Copeland and Martina Gyurcsi-Luptakova (14 points) became more active during the third period for Challes-les-Eaux while Marie Ruzickova (14 points) continued to find the target as they reduced their deficit (31-33).
Krawcszyk (17 points) fired in 7 points as Montpellier regained control going into the final quarter (47-41).
The final quarter started with Challes-les-Eaux playing more aggressively which enabled them to reduce the deficit one more time to 2 points (48-50) with six minutes to play.
The fireworks did not happen. Yet 2 points from Krawcszyk (17 points) and back to back scores from Constance Jinks (12 points) put the hosts back in control (56-48) for good.
The game fizzled out with just 2 points from Sylvie Gruszczcsynski in the last two minutes as the only score.
The game ending anti-climax did not bother neither Montpellier nor their fans as they reversed the day one loss with a (58-50) victory.
---
Return from basketball news to Ligue Féminine de BasketBall index
Return to "what new" - WBBiF page
Return to women playing basketball in France home page
Tarbes are the champions of the first phase
Basketball news picture credits:

Dominique Bentejac - Le site (non officiel) consacré au BLMA
Date created: 10 December 2009

---