Basketball news: Arras completes double over Basket Landes
---
---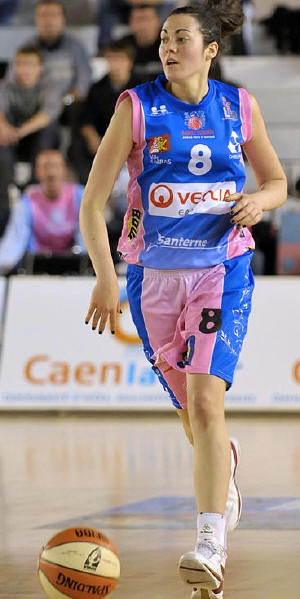 Basketball news: Sarah Michel finishes 2009 on a high
Arras beat Basket Landes at the 0pen LFB (73-65) in September with 21 points coming from
Pauline Akonga-Nsimbo
.
Akonga-Nsimbo was once again the thorn in the side of Basket Landes as she fired in a trey in the last two seconds of the match to secure victory for Arras (60-55).
Arras led from start to finish in a match that never really took off.
Basket Landes were once again without Ana Perovic and played the last 12 minutes without their coach, Olivier Lafargue, who was ejected by the officials for his technical foul.
Arras had the better start to the match and led (15-4) with eight minutes played with Leilani Mitchell and Sarah Michel doing most of the scoring.
Aja Parham scored 6-of-8 points for Basket Landes in the first quarter as she tried to get Basket Landes in the game (8-18).
The second quarter was a ding-dong affair. However the quality of basketball was not interesting as both teams had played much better.
Yet Arras went into the interval leading (35-24).
The third quarter was more intense with Arras holding on to their advantage. Unfortunately Olivier Lafargue decided to have a running conversation with the officials and picked up 2 technical fouls.
Apart from his ejection, Arras hit the 4 free-throws that resulted from the technical fouls.
They went into the final quarter (49-39). They appeared to have the game safe leading by 10 points (51-41) with eight minutes to play.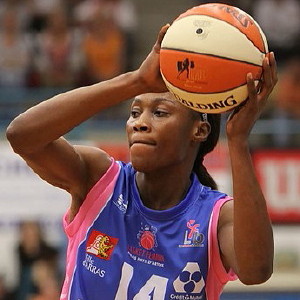 Arras' advantage almost disappeared with a late charge by Basket Landes which was started by Parham from behind the arc.
Anaïs Le Gluher also found her range from beyond the arc and fired in her third trey with 60 seconds left to play (55-57).
The last minute was tense with both sides missing their shots until Marielle Amant found Akongo-Nsimbo open beyond the arc.
With two seconds to play, Akongo-Nsimbo (right) who dominated the rebounds (18) fired in a trey to secure victory.
Arras: Mitchell 13, Michel 13, Gomis 2, Malashenko 9, Bouldwin-Biernacka 4, Amant 10, Akonga 9
Basket Landes: Konate 2, Reghaïssia 2, Diouf 14, Le Gluher 13, Barennes 2, Dimitrova 2, Cascailh, Parham 20
---
Return from basketball news to Ligue Féminine de BasketBall index
Return to "what new" - WBBiF page
Return to women playing basketball in France home page
Tarbes are the champions of the first phase
Basketball news picture credits:

Olivier Martin @basquetbol.org
Romain Chaib @basquetbol.org

Date Created: 19 December 2009

---