2013 U18 European Championship
Poland: champions and
Lithuania: promoted
There was joy for Lithuania at the U18 European Championship Women Division B in Miskolc after they gained promotion in the most important game of the final day.
Lithuania were able to see off their neighbours Latvia without the services of Dalia Belickaite who had been injured herself during the semi-final against Belgium.
It was a scrappy game between the two nations with numerous lead changes. Lithuania held the edge for most of the second half to survive (59-56).
Roberta Mizgeryte led Lithuania with 15 points and 9 rebounds while Laura Juskaite added 14 points in her side's win. Kitija Laksa led Latvia with 14 points.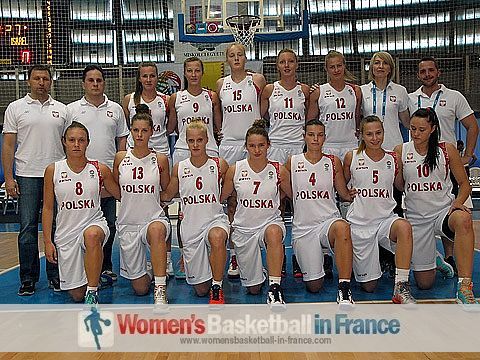 Poland won the European Championship for Women Division B trophy with a hard fought victory against Belgium (60-55).
They never trailed once and were led offensively by Angelika Stankiewicz with 16 points and 6 rebounds. Amalia Rembiszewska was the only other player in double digits for the champions with 11 points.
Eva Devliegher scored 12 points for Belgium.
Poland and Belgium had already gained promotion by winning their semi-final matches. So apart from the the title both teams had already achieved their objectives.
Poland, Belgium and Lithuania replace England, Belarus and the Slovak Republic next season in Division A.
The rest of the news from Miskolc - Julie Allemand MVP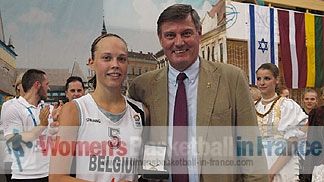 Julie Allemand won the the title of MVP after leading Belgium to promotion. She led her team in scoring, assists and steals with 11.6, 4.6 and  2.3.  She was joined in the all tournament team by Dalia Belickaite (Lithuania), Kyara Linskens (Belgium), Noémie Rouault (Germany), Angelika Stankiewicz (Poland).
Bosnia and Herzegovina achieved their best finish ever with their 5th place after seeing off Ukraine (67-50).
Hungary never recovered from their elimination in the quarter-final round and had to settle for 8th place after losing to Bulgaria (70-72).
Borislava Hristova completed her busy summer with 32 points for Bulgaria.
Germany were the best team of those who failed to qualify for the Quarter-final Round and claimed 9th place with an easy victory against Estonia (71-46).
There was no real surprise in the rest of the classification games. Finland were too strong for Austria (69-46) in the 11th place match.
Romania survived a final-quarter blitz by Israel to hold on to 13th place (76-66) while Denmark rolled over Switzerland (85-39) in the 15th place match.
Scotland beat Norway (73-58) for their first victory of the competition in the 17th place encounter.
---
Like this page / Aimez cette page