2013 U18 European Championship
Division B - day one recap


With 18 teams participating in the 2013 U18 European Championship for Women Division B in Miskolc, the First Round will take six days to complete.

At the end of the six days only the top two teams from each group qualify for the quarter-final round and a chance to play for promotion.
For the rest of the the teams, they play in the 9th - 18th place classification competition.
However some things never change in this generation: Noémie Rouault from Germany hit a double-double while Agne Cerneckyte from Lithuania dished out loads of assists.
Norway and Scotland tried their best but still got crushed while Latvia gave their coach a tough time.

A day in Mislolc

In Group A, Estonia got past Israel (63-46) on the back of their three-point shooting (8-from-24). Israel connected just once from 11 attempts. Despite winning the turnover stats with 26 Estonia were able to control the game with Tatjana Razguliajeva (15 points), Trine Kasemägi (13 points), Kristi Tamp (12 points) and Jane Svilberg (12 points) all finishing in double digits.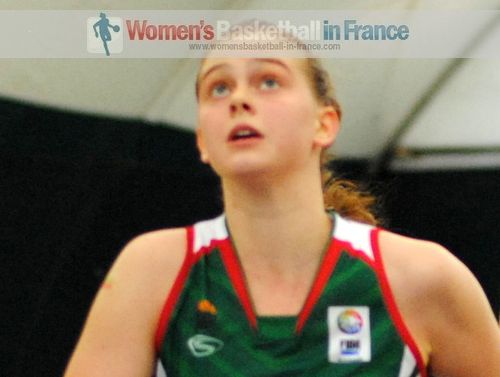 In the other game from the group, Lithuania walloped Norway (115-19).
The Finnish Wolfs roared to victory against Switzerland (69-43). Finland took control of the match for good at the start of the second quarter and cruised despite a high number of turnovers. Tuuli Menna's 11 points for Finland were the highest total in the match. 
Borislava Hristova (in picture) was in action for the second time this summer for Bulgaria. But her 26 points were not enough to save her team from defeat against Ukraine (58-77). Vita Gorobets was the leading scorer for Ukraine with 24 points.

Latvia trailed (7-23) to Romania after 11 minutes of play but ended up winning (59-51). Latvia had just one player in double digits, Kitija Laksa who scored 10 points. For Romania Iulia Raileanu was tidy hitting 7-from-11 shots to lead the scoring with 14 points.
In the other game from Group C, the hosts Hungary walked over Scotland (95-38).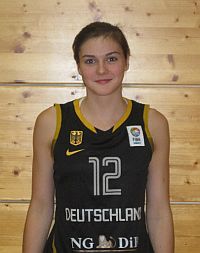 Noémie Rouault (in picture) from Germany is known by the nickname "Miss double". In her three previous European Championship tournaments she always ended up with double figure numbers in points and rebounds.
She scored 34 points and picked up 12 rebounds. Yet Germany lost (60-64) to Bosnia and Herzegovina. Nikolina Dzebo had 22 points for the winners while the Delic twins Andela and Nikolina contributed 18 and 12 point each.
In the final Group D game, Austria came away with the victory against Denmark (85-79) despite trailing for practically the first 27 minutes. Denmark only turned the ball over 9 times while Austria clocked up 21.
However the Austrians won the game from the free-throw line knocking down 29-from-40 attempts. Denmark made only 15 trips to the charity stripes of which 8 hit the target.

---
Like this page / Aimez cette page