2013 U18 European Championship
8 teams for the title

The first round of the U18 2013 European Championship for Women in Miskolc has come to an end with the usual tears of disappointment from players whose medal chances disappeared.
For Germany who did not play, the hope of Austria doing them a favour in Group D evaporated quickly, while in Group B Finland lost out on point difference.
In Group A, Poland and Estonia were locked in a battle with the winner qualifying for the quarter-final round.
Poland appear to like the pressure of winner take all matches and put themselves back on track for qualification with a 10-point lead (22-12) two minutes into the second quarter.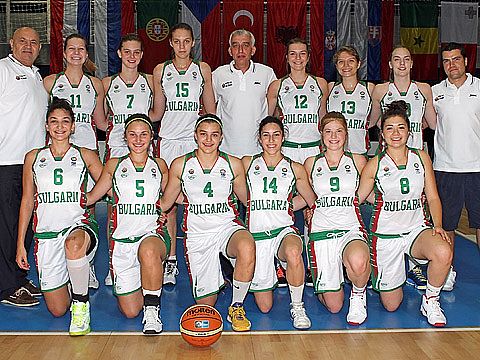 Poland were not threatened the rest of the way and won (69-40) to claim second place. Julia Drop helped herself to 16 points.
Israel completed the First Round misery for Norway with a comfortable (61-29) victory.
Bulgaria needed to beat Finland by at least 14 points to sneak into the Quarter-Final round from Group B in case of a three-way tie with Ukraine. They beat Finland (85-69) and were assured a place in the top 8.
However the story of this match is the 40-point performance of Borislava Hristova from Bulgaria who also had 11 rebounds. Tuuli Menna from Finland was also on fine form with 24 points and 18 rebounds.
Ukraine still had to beat Switzerland in the last Group game to qualify because they had lost to Finland earlier in the competition. However they were not troubled by Switzerland to comfortably win (77-54) and thereby eliminated Finland by 3 points.
Hungary maintained their unbeaten record in Group C with a victory against Latvia (57-53). They finished the game with a 8-0 run to claim first place and the extra point for the qualification round. Agnes Dobos put in another strong performance for Hungary with 13 points and 12 rebounds.
Romania beat Scotland (90-69) in a game with nothing at stake but pride.
Belgium assured the Group D title showing little mercy to Denmark. They rolled over them (82-48) while Bosnia and Herzegovina claimed second place by beating Austria (70-55).
The eight teams still in the Division B promotion race are:
Group E: Ukraine, Lithuania, Poland, Bulgaria
Group F: Belgium, Hungary, Latvia, Bosnia and Herzegovina
---
Like this page / Aimez cette page