2013 U18 European Championship
quarter-final pairings set

Sweden and Turkey picked up the last two European Championship quarter-final points with victories against Slovenia and Croatia respectively.

France and Spain are the only teams not to have suffered any defeat as the competition moves in the knock-out phase.
In the exhibition Group G, Portugal  completed the grand slam with a victory against the Slovak Republic (69-63), while England beat Belarus (71-66).
Slovenia and Croatia were the biggest losers on day 6 of the European Championship with their elimination from the title race and demotion into the 9th - 16th place Classification Round.
The pairings for the quarter-finals are as follows:

Quarter-finals


Spain vs. Sweden
Russia vs.Serbia
Italy vs. Netherlands
France vs. Turkey


9th -16th Classification Round

Czech Republic vs.Belarus
Slovenia vs. Slovak Republic
Greece vs. England
Croatia vs. Portugal

Turkey scramble into quarter-finals

Turkey ended the slim chance of the host nation Croatia to qualify for the quarter-finals with a hard fought victory (57-51). The lead changed hands 10 times while the game was tied on 17 occasions.
Croatia were in front for about 15 minutes while Turkey held the advantage for just 10 minutes. A defeat for Turkey would have signalled their elimination in favour of the Czech Republic.
The coasts cracked during the last 3 1/2 minutes allowing Turkey to put on an 11-3 run to seal the game.
Melis Gulcan (8 rebounds) and Fahriye Bayraktar with 12 and 11 points were the leading scorers for Turkey.
In the other two games from Group E, Spain were too strong for the Netherlands (70-54). Belen Arrojo led the way with 19 points and 9 rebounds while Leticia Romero and Ariadna Pujol knocked down 16 points apiece.
Russia stepped on the gas during the last quarter against the Czech Republic with a 20-3 run to claim their fifth win of the championship.
Sweden, the low scoring queens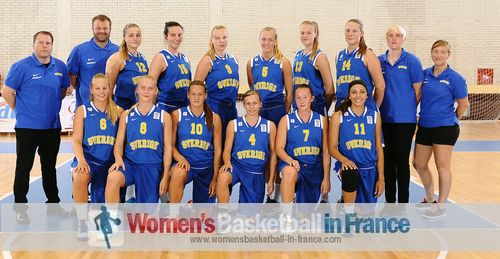 Sweden were close to their tournament average of 45.5 in beating Slovenia (44-39) to clinch the last quarter-final place at the 2013 U18 European Championship for Women Division A.
The two teams went into the fourth quarter all square (33-33). It was only in the final 45 seconds that Sweden were able to break free.
Emma Eriksson and Anna Lundquist scored 13 points each for Sweden while Ziva Macura (11 rebounds) and Eva Lisec (15 rebounds) had 11 points apiece for Slovenia.
Italy were rather sluggish in their approach against already eliminated Greece and had to make up a 13-point deficit before finally coming out on top (52-48).
In the last game of the day France beat Serbia (63-52). With Serbia deciding not to play Aleksandra Crvendakic and Sanja Mandic the match lacked intensity and was played in exhibition fashion.

---
Like this page / Aimez cette page