U18 European Championship
The semi-finalists smile

For the quarter-final winners of the 2013 European Championship there was nothing but smiles and joys as their quest for the title continues.

There were cries of relief in Vinkovi for the winners of the first round of the 9th - 16th place Classification Round.
Serbia were back to full strength for their match against Russia with Aleksandra Crvendakic (21 points, 15 rebounds) and
Sanja Mandic (14 points, 6 assists) back in the line-up.
Serbia were in control for most of the game and eased past Russia (72-62) in the first quarter-final match. Dragana Stankovic was the other big scorer for Serbia with 20 points while Daria Kolosovskaia led Russia with 19 points.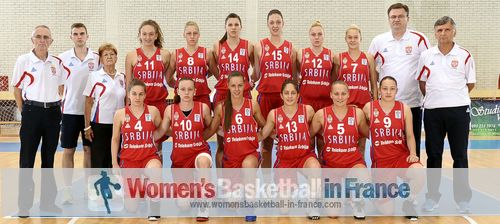 Clarince Djaldi-Tabd (Mousdandy) had the perfect shooting day  hitting 10-of-10 from the field on her way to 24 points to help France beat Turkey (73-42). Clémentine Morateur was equally as impressive knocking down 5-from-7 three-pointers in her total of 19 points.
France were in control from the start of the game but only pulled away during the last five minutes of the second quarter with a 18-6 run to close the half leading (34-21).
The Netherlands continue to be a youth power at this age group with their second U18 European Championship semi-final qualification.
They knocked out Italy (68-55) with a sublime performance by Laura Cornelius who scored 26 points.
Spain completed the semi-final quartet with an easy victory against Sweden (72-32). Nogaye Lo had the honour to be leading the scoring for Spain with 15 points.

The Czech Republic, Greece, Slovenia and Portugal were the only teams smiling in Vinkovi as they secured the Division 1 status for 2014 and ended their participation in the relegation phase.
Portugal needed overtime to beat Croatia (73-66) in the most dramatic game of the evening. Maria Kostourkova and Sofia Pinheiro scored 16 points each for Portugal while Inja Butina fired in 30 points in defeat.
The other three games went as expected with the demoted teams from the second round winning.

---
Like this page / Aimez cette page