U16 European Championship Div B
Portugal keep home fans happy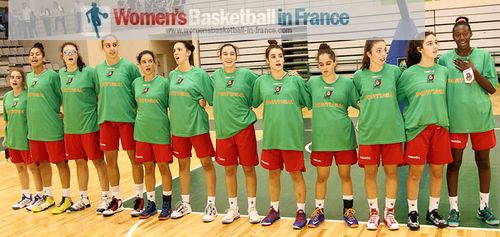 Portugal have a rich history of U16 European Championship basketball and have ever been present in FIBA Europe competitions since their first participation in 1995.
With the creation of Division B in 2004 Portugal was placed in Division B. In 2010 they missed out on promotion but won the bronze medal. They came close again to promotion in 2012 by finishing 4th. The expectation for success is high for 2013.

Playing at home in front of huge crowds in Matosinhos, Portugal have been unstoppable. They won their fifth match of the competition against Poland (87-57) and clinched a semi-final match against Finland.
Maria Kostourkova (23 points, 16 rebounds) and Chelsea Guimaraes (25 points, 12 rebounds) did just over 50% of the offensive work by sharing 48 points. It was another bad day for Poland who would have qualified for the semi-final if they had won the match.
Instead Denmark took the other semi-final place from Group F with a comfortable victory against Israel (70-49). Enna Pehadzic and Sarah Mortensen (10 rebounds) with 15 and 10 points respectively were the main scorers for the Danes.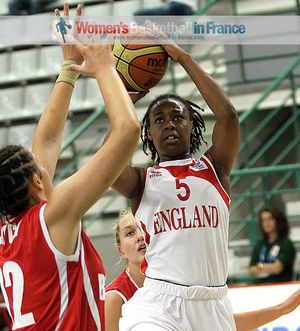 There was nothing at stake except final group positions in the remaining games. Serbia and Finland, already qualified for the semi-finals, met in a match to determine the winner of Group E. Serbia won (73-60) and will face Denmark in the other semi-final.
England beat Belarus (64-63) thanks to a late strike by Shanice Norton (in picture). However the performance of that match belonged to French based Abigail Lowe who hit 6-of-7 from the floor to lead the scoring for England with 16 points.
Luxembourg are breaking all their competition records with their 4th victory in this European Championship. They needed a 24-0 run between the second and third quarter to finally overcome Estonia (62-43). It was the turn of Jessy Goergen to have the star role with 20 points.
Germany ended their three-game losing streak with a big victory over Norway (73-23). Leonie Schütter scored 23 points and picked up 10 steals for Germany.
Ukraine eased past Ireland (76-46) in the other lower classification game.
The pairings and groups for the remaining competition are as follows:
Semi-finals

Serbia vs. Denmark
Portugal vs. Finland


5th - 8th place

England vs. Israel
Poland vs. Belarus

9th - 11th place (J)
Luxembourg
Slovenia
Ukraine


12th - 14th place (K)
Germany
Romania
Sweden


15th - 17th place (L)
Estonia
Ireland
Norway


---
Like this page / Aimez cette page