2013 U16 European Championship
Division B: Classification competition
begins for eliminated teams

The competition formats for Division B European Championship tournaments can be cruel at times. With 17 teams involved FIBA Europe had no choice but to extend the first round to accommodate one group of five teams.

This results in only allowing two teams from each group able to advance to the second phase (quarter-final round) and eliminate all other teams from promotion battle.
Luxembourg were the biggest losers here in Matosinhos as they lost out in a three-way tie on point difference. Germany, one of the pre-tournament favourites had one poor game and also found themselves eliminated.
In order to make sure that all the teams play four more games before the end of the European Championship, the nine teams have been split into three groups of three teams.
The winner from each group then plays off in the 9th-11th place round, while the second place teams take part in the 12th-14th place round. The bottom three teams are in the classification games for 15th-17th place.
Luxembourg still on course for a top 10 finish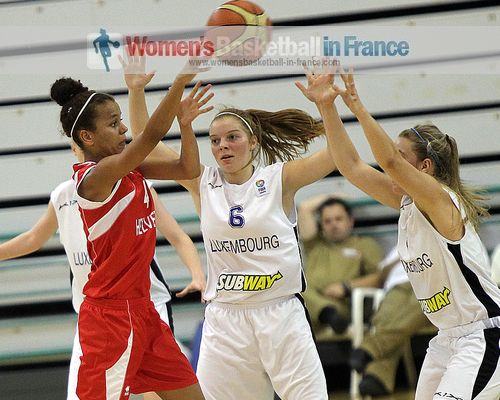 Luxembourg managed to pull themselves together to beat Switzerland (59-38). Lisa Jablonowski was on top of her game with 16 points, 9 rebounds and 5 assists for the winners while her team-mate Michelle Slunecko chipped in 12 points.
Luxembourg's bad habit of falling apart during the final quarter almost came back to haunt them again. Leading (48-28) with seven minutes to play, they went scoreless for five minutes while conceding 10 points.
Thierry Kremer, the coach from Luxembourg, had no choice but to call a time-out. Switzerland did not score again while Luxembourg finished with a 11-0 run.
Germany have run out of steam and crashed for the third consecutive game. Leading (19-14) at the end of the first quarter, they went to sleep in the second quarter. Slovenia outscored them 20-8 and stayed in front for the rest of the way (69-53).
Zala Lesek had 20 points for Slovenia while Patricia Broßmann led Germany with 16 points.

Ukraine struggled for the first 23 minutes (34-34) before blowing away Romania 31-14 in the remaining 17 minutes for a double-digit margin victory (65-48).
Alina Lakh and Nataliia Bulavytska led a balanced scoring attack for Ukraine with 12 and 11 points each while Kristina Karp pulled down 18 rebounds. For Romania Ana Ferariu wss the main scorer with 20 points.

---
Like this page / Aimez cette page