2013 U16 European Championship
Division B: The winners and losers
of the first round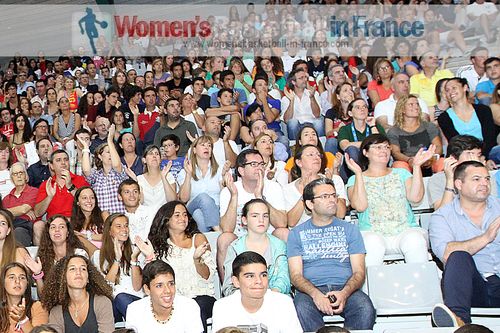 The first round of the U16 European Championship for Women in Matosinhos is over with just one surprise, that is the elimination of Germany from the promotion race.
Serbia and Belarus dominated Group A and had both booked their tickets for the qualification round before the last day of the first round action.
So all that was at stake in their match-up was who would take the maximum points into the qualifying round. Serbia never trailed despite the game being tight on four occasions to win (70-40).
Snezana Bogicevic was the leading player for Serbia with 18 points, 8 rebounds and 5 assists.
Ukraine finished in third place after victories against Switzerland (74-59) and Norway (65-44).
There was plenty of drama in Group B. First Luxembourg huffed and puffed their way to victory against Romania (50-44) to keep their quarter-final dream alive.
Then Finland ended the dreams of Luxembourg with a win over England (57-46) in the final group game.
Finland were neat and tidy with just 4 turnovers. However their finishing was poor, but on the other hand they did well from the free-throw line (15-from-20). One victory for Finland in the next round could see them qualify for the semi-final at the expense of England.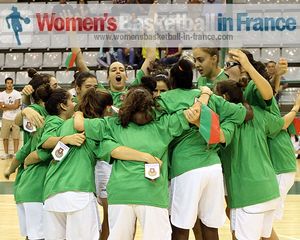 Portugal made it three wins from three games in beating Germany (70-52) in front of a crowd of more than 2000 people.
With Denmark beating Ireland (89-63) earlier in the day in Group C, all Germany required to qualify for the next phase was a win over Portugal.
Patricia Broßmann (20 points) did her best for the German cause with her team's first 6 points (6-4) during the opening minutes. But her efforts were not enough as the European Championship hosts, pushed by the home supporters, opened up a double-digit lead three minutes into the second quarter (25-11).

Maria Kostourkova and Carolina Bernardeco were the leading scorers for Portugal with 17 and 15 points each.
Poland kept their unbeaten record in Group D with a hard fought victory over Slovenia (60-58) while Israel took the last quarter-final place by beating Estonia (64-46).

---
Like this page / Aimez cette page