2013 U16 European Championship
Italy, Spain and Russia
qualified for quarter-finals

Russia and Spain are guaranteed a European Championship quarter-final place from Group E after winning their opening games of the second round.

In Group F, Italy have also qualified for the quarter-finals after beating France (63-57) while the Czech Republic and Hungary are close behind.
In exhibition Group G, Lithuania came away with the victory against Sweden with a 9-0 run to close the game (62-50).
The hosts Bulgaria are still looking for the first win of the tournament after falling to Slovak Republic (46-53).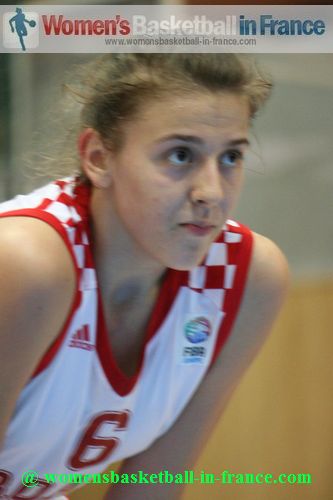 Russia and Spain have achieved their first objective on the fourth day of the tournament by claiming their place in the quarter-final.
Russia led from start to finish in their match against Greece (63-45) with Maria Vadeeva (15 rebounds) being the only player with 19 points. For Greece Maria Fasoula poured in 17 points.
Spain are still developing their game. It was not until the final quarter that they pulled away from Turkey to win (72-57).
Maria Cazorla and  Maria Conde shared the scoring awards for Spain with 13 points each while Selale Kepenc poured in 17 points for Turkey.
Iva Slonjsak (in picture) who had been a rising star during the 2012 U16 European Championships for Women Division stepped up for Croatia in a big way. She had 23 points and 12 rebounds in her side's victory against Latvia (55-44).

Group F is more complicated but Italy have qualified

With the Czech Republic, France and Hungary all coming into the second round with identical records the qualification puzzle is more complicated.
Italy held off a late attack by France to keep their unbeaten record (63-57) and take their place in the quarter-finals.
Francesca Pan scored 19 points for Italy while Ornella Bankole had another impressive performance for France with 20 points, 14 rebounds, 3 assists and 3 steals.
Hungary ran past Belgium (81-50) with 20 points coming from Eniko Kuttor while the Czech Republic came away with an important victory against the Netherlands (68-49).
The Czech Republic did the damage during the first 20 minutes leading (34-14).
---
Like this page / Aimez cette page