As in previous seasons the EuroCup Women knockout stage puts the higher seeded teams in trouble.
EuroCup Women 2009 adventure is over for Tarbes
Tarbes, trailing by 9 points after the first leg, did not get off to the best of starts at home against Cras Basket Taranto from Italy.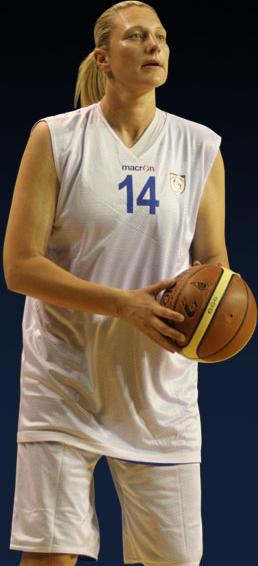 Australian international Suzy Batkovic (left) scored from beyond the arc with her first shot of the match.
Moments later she provided a pass to Elodie Godin, who completed the play with a drive to the basket.
Liz Moeggenberg had scored for Tarbes in between the two actions by Cras Basket. But the following 7 unanswered points from Tarbes relaxed the home supporters.
Frida Elderbrink fired in one from beyond the arc. This was followed by back to back baskets by Tanisha Wright (9-5).
Megan Mahoney ended the Tarbes run with a three-pointer that was cancelled out by Wright who also scored from beyond the arc.
However Godin kept the pressure on Tarbes with another score from within the paint (10-12).
Tarbes stepped up defensively and kept their opponents scoreless for the rest of the quarter while Isabelle Yacoubou-Dehoui and Moeggeberg ran riot with 10 quick points as Tarbes won the first quarter (22-10).
Rosi Sanchez became a thorn in Tarbes' side during the second period and scored the first 6 points for Cras Basket as they reduced the deficit (18-24).
Yacoubou-Dehoui was having a miserable time from the free-throw line (5-of-10 during the first half) while Cras Basket were not missing and came to within 4 points of their hosts (22-26).
Tarbes changed tactics again with N'Deye N'Diaye working inside, Moeggenberg driving the paint and Yacoubou-Dehoui shooting beyond the arc to increase their lead (33-22).
Batkovic took over from Sanchez and scored 6 consecutive points for Cras Basket to regain the aggregate lead despite trailing (28-34) at the interval.
The spectators had not enough time to get into their seats at the start of the third period before Béatrice Castets fired in a shot from beyond the arc for Tarbes.
Tarbes with Yacoubou-Dehoui and Wright dominated the play as they stretched their advantage (49-33) to also lead on aggregate with 26 minutes played.
Cras Basket changed tactics and with the trio Batkovic, Godin and Sanchez outscored Tarbes (15-2) to reduce their deficit by the end of the third period (48-51).
Godin and Sanchez continued to score and Cras Basket went in front (52-51) with less than 90 seconds played in the final period.
The lead changed several times over a period of four minutes as both sides traded basket for basket until Cras Basket scored back to back baskets to lead (65-61).
Tarbes were shooting from all over the court but the ball refused to drop. With less than 30 seconds to play Batkovic more or less made the game safe for Cras Basket (71-64).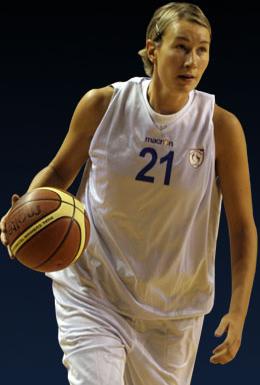 Wright and Moeggenberg finally connected for Tarbes but it was too late as their opponents had enough points in reserve to win the game (73-69).
Batkovic led the scoring with 20 points for Cras Basket and was joined in double digits by Sanchez, Godin (right) and Mahoney with 15, 12 and 11 points respectively.
For Tarbes Yacoubou-Dehoui finished with a double-double of 18 points and 12 rebounds. Wright scored 17 points and dished out 5 assists while Moeggenberg scored 16 points.
---
---
Quarter-final pairings
The quarter-finals games will be played on the 19th and 26th February 2009

Hemofarm Vrsac vs. Dynamo Moscow

Chevakata vs. Galatasaray

Dynamo Kursk vs. Athinaikos

CB Taranto vs. CB Feve San Jose
---
The EuroCup Women eighth-finals results:
Dynamo Moscow 60-52 Ravenna Esperides (Dynamo Moscow wins 135-126)

Galatasaray 74-68 K. V. Imperial AEL (Galatasaray wins 135-131)

Dynamo Kursk 84-54 Panionios G.S.S. (Dynamo Kursk wins 148-107)

Tarbes 69-73 Cras Basket Taranto (Cras Basket Taranto wins 148-135)

Ibiza - PDV 70-72 CB Feve San Jose (CB Feve San Jose wins 132-126)

Elitzur Ramla 72-91 Athinaikos BC (Athinaikos BC wins 179-145)

Chevakata 88-72 Lavezzini Basket (Chevakata wins 169-135)

Dexia W Namur 79-7Z KK Hemofarm Vrsac(ZKK Hemofarm Vrsac wins 147-135)

---
EuroCup Basketball eight final first leg results
EuroCup Basketball sixteenth final second leg results
EuroCup Basketball sixteenth final first leg results
Return from EuroCup Women round four summary to Women playing basketball blog
Return to EuroCup Women Index page
EuroCup Women picture credits:

FIBA Europe
Cras Basket Taranto

Date created: 05 February 2009

---