Most of the favourites qualify for next round of EuroCup Women
---
---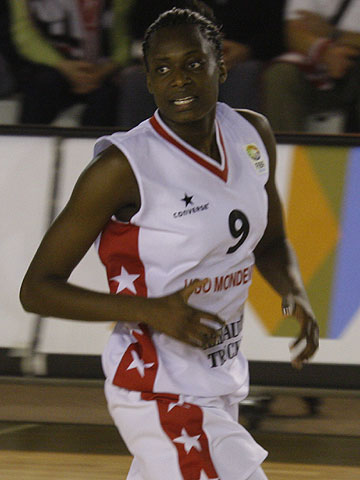 For Mondeville the EuroCup Women is over after a (140-99) aggregate score defeat against Dynamo Kurst.
They needed to win the second leg by 21 points but with Natasa Ivancevic joining the injury list last weekend the task of pulling off a victory was reduced.
The game itself was very physical and with the officials having an off day, two players had to be ejected before things calmed down.
Unfortunately for Mondeville it was Jennifer Digbeu (right) who was ejected with Varvara Psareva with 27 minutes played. Mondeville were trailing (30-47) at that time.
With another key player out of the picture Mondeville had no chance of making up the deficit and ended up losing (72-51).
For Challes-les-Eaux the European season is also over after finishing level (51-51) in Greece against Ravenna Esperides.
Tarbes are the only French club still in the competition and will meet Cras Basket Taranto in the next round.
What happened elsewhere in the EuroCup Women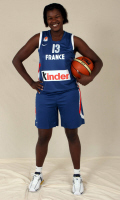 Athinaikos BC completed the double against Sandra Dijon-Gerardin 's (right) team SK Cesis (90-72) for an aggregate victory (158-129).
Rivasecopolis were without Cathy Joens who was seriously injured during the weekend and ended up losing at home (70-79) to Cypriot side K. V. Imperial AEL.
Rivesecopolis went into the second leg trailing (58-62) and kept the game close throughout the first three quarters.
The game reached its climax with 57 seconds left to play in the game when the teams were level on aggregate score after Laura Camp hit a jumper for Rivesecopolis.
The visitors held their nerve at the free-throw line to regain the advantage and eventually win the match.
In the all Spanish game Ibiza-PDV followed up their first leg victory with a (78-61) victory against Extrugasa.
One of the favourites Dynamo Moscow beat Solna Vikings from Sweden for the second time (89-57) to ease into the next round.
It was a disappointment for another of the favourites, the Hungarian club side Zeviép as they lost at home to Greek outfit Panionios G.S.S (64-69).
Zeviép lost the first leg by a single point and were expected to overcome the deficit.
Université BC Neuchâtel had a 14 point lead from their first leg home victory against Chevakata.
However this was not enough to see them through as they lost the second leg (82-65).
---
The EuroCup Women sixteenth-finals results:
Dynamo Moscow 89-57 Solna Vikings: Dynamo Moscow won 164-115

Galatasaray 75-66 Municipal: Targoviste Galatasaray won 171-133

Szeviép 59-64 Panionios G.S.S.: Panionios G.S.S. won 117-111

Tarbes GB 96-52 Baschet ICIM: Tarbes GB won 206-110

Ibiza-PDV 80-61 Extrugasa: Ibiza-PDV won 159-122

Elitzur Ramla 67-62 Olivais Coimbra: Elitzur Ramla won 144-122

Chevakata 82-65 Université BC Neuchâtel: Chevakata won 152-149

Dexia W Namur 83-69 Kara Trutnov: Dexia W Namur won 167-141

ZKK Hemofarm Vrsac 92-87 Spartak M.R. Noginsk: ZKK Hemofarm Vrsac won 165-144

Lavezzini Basket 82-66 Gospic: Lavezzini Basket won 137-126

Athinaikos BC 90-72 SK Cesis: Athinaikos BC won 158-129

CB Feve San Jose 81-68 Botas Spor: CB Feve San Jose won 146-135

Cras Basket Taranto 80-60 CSS-LMK SF. Gheorghe: Cras Basket Taranto won 151-126

Dynamo Kursk 72-51 USO Mondeville: Dynamo Kursk won 140-99

Rivasecopolis 70-79 K. V. Imperial AEL: K. V. Imperial AEL won 141-128

Ravenna Esperides 51-51 Challes-Les-Eaux Basket: Ravenna Esperides won 128-113

---
The next round (eighth-finals) will be played over two legs with the first games on 29 January and the return leg on 5 February 5 2009.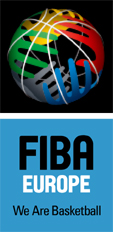 The EuroCup Women 2009 next round of games:
Ravenna Esperides vs. Dynamo Moscow

K. V. Imperial AEL vs. Galatasaray

Panionios G.S.S. vs. Dynamo Kursk

Cras Basket Taranto vs. Tarbes GB

CB Feve San Jose vs. Ibiza-PDV

Athinaikos BC vs. Elitzur Ramla

Lavezzini Basket vs. Chevakata

ZKK Hemofarm Vrsac vs. Dexia W Namur

---
EuroCup Basketball sixteenth final first leg results
Return from EuroCup Women round four summary to Women playing basketball blog
Return to EuroCup Women Index page
EuroCup Women picture credits:

FIBA Europe
Ligue Féminine de BasketBall
Date created: 19 December 2008

---