Tarbes: first team to qualify for the next round of EuroCup Women 2008-2009 2008-2009
---
---
The EuroCup Women competition is not immune from the financial problems that has been hitting the world of sport recently.
Tarbes' opponents in the sixteenth-final BC Icim Arad from Romania found it cheaper to play both matches in France.
BC Icim Arad had released all their foreign players before this match was played:Tiffany Brown, Dragan Zoric and Suzana Milovanovic. Milovanic joined Tarbes as medical cover for Taisiia Bovykina.
Dalila Eshe who also played for them earlier in the season has also left the club.
Tarbes had no problem in the two games, which were played on Wednesday and Thursday by winning (110-58) and (96-52) for an aggregate victory (206-110).
For Challes-les-Eaux the evening turned sour as they allowed their guests from Greece Ravenna Esperides to take a 15-point lead into the second leg of their EuroCup Women game.
Challes were never in control of this game but only trailed by 5 points going into the final quarter (51-56).
It was still a 5-point game in favour of the guests with six minutes to play (55-60).
Challes were unable to handle Styliani Kaltsidou (above) who finished with a game high 28 points as she scored 9 of her teams' final 17 points to outscore Challes 17-7 to win the game (77-62).
Silvia Janostinova-Bedu led the scoring for Challes with 22 points.
Mondeville had game for forget as they fell (48-68) at home to Dynamo Kursk.
The first half of the match for Mondeville was a complete disaster as they managed 5-of-30 from the field during the first 20 minutes and trailed (14-38) at the interval.
The second half of the match was much better for Mondeville but they still required 5 minutes to score their 20th point of the match. With Dynamo Kurst leading (45-20) the game was already over as a contest.
Things started to improve for Mondeville and Lenae Williams scored their first three-pointer to the relief of the home supporters. All the same Dynamo Kurst went into the final period leading (57-33).
Mondeville opened the final period with a 7-1 start (40-58) but then went silent for more than five minutes allowing their guests to stretch their advantage (66-40) and then hold on to win the first leg.
News from the rest of the EuroCup Women Action
The 2007 winners of this competition
Dynamo Moscow
had a comfortable victory in Sweden against Solna Vikings (75-58).
However the players from Dynamo were not satisfied with their performance.
Dynamo Moscow's head coach, Natalia Hejkova, was not content with the team's defense and expects improvement for the second leg.
Cras Basket were without Audrey Sauret-Gillespie for their match against CSS-LMK SF Gheorghe.Her side came away with a victory (71-66).
Suzy Batkovic led the scoring with 15 points while Elodie Godin finished with 13 rebounds, 3 assists and 4 points.
Galatasaray were in impressive form as they put away Municipal Targoviste (96-67). Taj McWilliams was the player of the match with 22 points, 10 rebounds and 5 assists.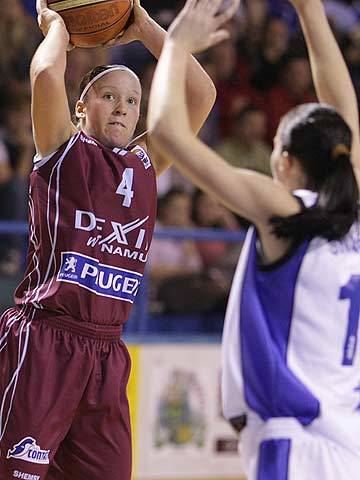 Swiss club side Université BC Neuchâtel take a 17 point lead into the second leg against Russian side Chevakata in one of the surprise results of the first leg (84-70).
Croatian side Gospic also had a surprise victory (60-55) against Italian side Lavezzini Basket.
Dexia W Namur from Belgium survived a tricky first leg to beat Czech Republic side Kara Trutnov (84-72).
Belgium international Marjorie Carpréaux (left) contributed 17 points for the winners
---
The EuroCup Women sixteenth-finals first leg results:
Solna Vikings 58-75 Dynamo Moscow
Municipal Targoviste 67-96 Galatasaray
Panionios G.S.S. 53-52 Szeviép
Baschet ICIM 58-110 Tarbes GB
Tarbes 96-52 Baschet ICIM Tarbes GB wins 206-110

Extrugasa 61-79 Ibiza - PDV
Olivais Coimbra 60-77 Elitzur Ramla
Université BC Neuchâtel 84-70 Chevakata
Kara Trutnov 72-84 Dexia W Namur
Spartak M.R. Noginsk 57-73 ZKK Hemofarm Vrsac
Gospic 60-55 Lavezzini Basket
SK Cesis 57-68 Athinaikos BC
Botas Spor 67-65 CB Feve San Jose
CSS-LMK SF. Gheorghe 66-71 Cras Basket Taranto
USO Mondeville 48-68 Dynamo Kursk
K.V. Imperial AEL 62-58 Rivasecopolis
Challes-Les-Eaux Basket 62-77 Ravenna Esperides
---
EuroCup Basketball round six news
Return from EuroCup Women round four summary to Women playing basketball blog
Return to EuroCup Women Index page
Picture credits:
FIBA Europe

Date created: 12 November 2008

---