Advantage to home clubs in EuroCup Women 1/8 final first leg
---
---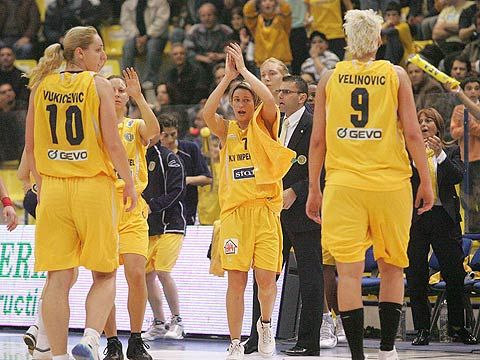 K.V. Imperial AEL beat Galatasaray
For
Tarbes
the EuroCup Women eighth-final leg encounter with Cras Basket Taranto was their first competitive match in almost six weeks and it showed as they lost the first leg (75-66).
Tarbes led (16-15) at the end of the first period. But then they allowed the hosts to dominate the second period to open the first significant lead of the game by the the interval (40-29).
Tarbes fought hard to come back during the second half of the match. However Cras Basket had enough in reserve to take the victory.
Megan Mahoney scored 20 points for the winners while Tanisha Wright poured in 22 points for Tarbes.
Elsewhere it was not easy for some of the favourites for this competition. Dynamo Moscow made up a 5-point deficit in the last two minutes to beat their Spanish hosts Ravenna Esperides (75-74) to take a 1-point lead into the second leg.
Anete Jekabsone-Zogota led the scoring with 23 points. Belinda Snell was also in impressive form with 19 points and 8 rebounds.
Marina Mazic and Styliani Kaltsidou led the homeside with 18 and 16 points respectively.
Serbian club side ZKK Hemofarm Vrsac take a 21-point lead into the second leg as they comfortably beat Belgium giants Dexia W Namur (77-56) in front of their home supporters.
A 15-4 run late in the third period put the hosts in control going into the final period (56-43). Hemofarn then ended the game as a contest early in the last quarter (60-43) and then paced themselves to victory.
Biljana Stankovic top-scored for Hemofarm with 21 points and 6 rebounds.
K. V. Imperial AEL came from behind in the final period to beat Galatasaray (63-61).
On the other hand Dynamo Kursk have put themselves in a good position for the next round by beating Panionios G.S.S. (63-54).
A poor first quarter by Lavezzini Basket against Chevakata cost them the match as they fell at home (63-81).
BC Athinaikos had to wait until the second period before taking control of the game against their guests Elitzur Ramla.
Olena Ogorodnikova was the top scorer in a losing cause with 24 points and 11 rebounds.
Elitzur Ramla go into the second leg with a 15-point deficit against BC Athinaikos (73-88).
The all Spanish affair between CB Feve San Jose and Ibiza-PDV was won by the home team from San Jose (60-56) with 18 points coming from Eshaya Murphy.
---
The EuroCup Women eighth-finals first-leg results:
Ravenna Esperides 74-75 Dynamo Moscow
K.V. Imperial AEL 63-61 Galatasaray
Panionios G.S.S. 53-64 Dynamo Kursk
Cras Basket Taranto 75-66 Tarbes
CB Feve San Jose 60-56 Ibiza - PDV
Athinaikos BC 88-73 Elitzur Ramla
Lavezzini Basket 63-81 Chevakata
ZKK Hemofarm Vrsac 77-56 Dexia W Namur
---
EuroCup Basketball sixteenth final second leg results
EuroCup Basketball sixteenth final first leg results
Return from EuroCup Women round four summary to Women playing basketball blog
Return to EuroCup Women Index page
EuroCup Women picture credits:

FIBA Europe
Date created: 29 January 2009

---