Basketball news:
Laurent Buffard and Thierry Frère
look forward to the future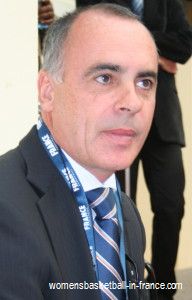 After a season in which most of the basketball news headlines centred around the injuries
Laurent Buffard
is more than satisfied with the final result.
Nantes-Rezé played 57 games and came away with a total of 37 victories, 1 draw and 19 defeats and a trophy for winning the LFB challenge round again.
Thierry Frère who is the president of the club was full of praise for the players because they had achieved the club's objective for the European qualification. He was pleased with the manner the players had dealt with the point deduction late in the season.
The players leaving are:
Emilija Podrug came in as a medical replacement for Bernadette N'Goyisa and finished the season having to wear a face mask. She set a club record by making 62 consecutive free throws.
This summer she will not be playing for Croatia during EuroBasket Women but will return to France and play at Challes-les-Eaux next season. She will be joined by
Mélanie Plust
who is also leaving after two seasons.
Sabine Niedola had a baptism of fire in her first game in the LFB and will continue her basketball development elsewhere as she will not be returning to Nantes-Rezé in September.
Another youngster on the move is Morgane Eustache who was a late addition from the CFBB but has not been able to get on the court for the first team.
Mame-Marie Sy-Diop whose family are based in Paris decided not to continue her adventure in Nantes despite the wish of the club.
Lindsay Taylor who came as a medical replacement at the end of the regular season is likely to return to play in China while Joyce Cousseins-Smith's tour of France continues with Arras being her sixth club.
Basketball news: Two signings from Arras and Mondeville
Buffard has signed two players from Arras who played for him during his time as head coach at USVO: Johanne Gomis and Sarah Michell. The two players have spent the last two seasons together at Arras.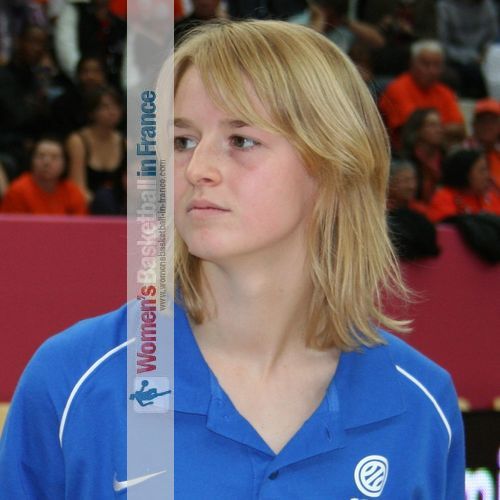 Last year Caroline Aubert came from USO Mondeville and Nantes have signed two more players from Mondeville for the coming season: Aurélie Bonnan and Lenae Williams.
Claire Stievenard (right) who played at Wasquehal before joining the CFBB is the final signing for the new season.
Nantes-Rezé are expecting to play in the EuroCup Women again next season and have a professional roster of the following players: Yuliya Andreyeva, Caroline Aubert, Florine Basque, Aurélie Bonnan, Johanne Gomis, Sarah Michell, Bernadette N'Goyisa, Claire Stievenard, Doriane Tahane, Lenae Williams
---
Return from LFB basketball news to Ligue Féminine de BasketBall index
Go to Women Playing Basketball In France Home Page
Return to the top of page
---
Picture credits:
womensbasketball-in-france.com

Date created: 25 May 2011
---