LFB regular season ended
without the need of calculators
The announcement that Nantes-Rezé had one point deducted from their LFB total simplified the qualification jigsaw puzzle.
For Basket Landes to finish in the top 4 they needed to win while both Tarbes and Montpellier needed to lose.
Tarbes without Florence Lepron and Jelena Dubljevic, both suspended, beat Union Hainaut (80-52).
The teams went into the locker room level (34-34). But Tarbes turned things around with a 34-10 third-quarter demolition.
Isis Arrondo (left) took full advantage of the absence of Lepron to score 14 points and dish out 5 assists. Roneeka Hodges also finished with 14 points and 5 assists.
Naura El Gargati helped with 16 points, while Pauline Lo and Brooke Smith contributed 15 and 13 points each as Tarbes secured third place.
Lattes Montpellier left their best for last with an overtime victory against Bourges Basket (70-69).
Montpellier, trailing (30-42) at the interval, went all out in the second half. With a minute to the end of the fourth quarter they were back on level terms (61-61).
Both teams had chances to end the game in regulation time but the ball refused to drop.
Overtime was tough on the coaches as their players were unable to control the game. However with 30 seconds left to play Gaëlle Skrela's 2 points gave Montpellier the break they needed (70-67).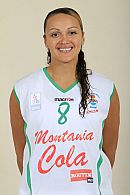 Anaël Lardy hit back almost immediately for Bourges Basket. Montpellier then tried to run the clock down for the remaining 20 seconds.
However with about one second to play Nwal-Endéné Miyem almost won the ball off Iva Perovanovic but the officials called a jump ball.
With the arrow in favour of Montpellier, Bourges Basket conceded defeat and Montpellier booked their ticket for the LFB championship play-offs.
Challes-les-Eaux finished the season in second place with Mistie Bass (right) scoring 35 points in the victory against COB Calais (83-55).
Bourges Basket, Challes-les-Eaux, Tarbes and Montpellier will play off for the for the 2011 Ligue Féminine de Basketball championship.
It is the LFB challenge round for the rest of the teams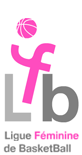 Basket Landes ran out winners against Charleville-Mézières (55-40) to finish the regular season in fifth point, just one point behind the three teams above them.
For Nantes-Rezé, the point deduction sees them drop from fifth to sixth place despite winning their final game of the season against Aix-en-Provence (93-71).
Arras and Mondevillle ended the regular seasons with victories that will give them home advantage in the second leg of the challenge round quarter-final play-offs.
Round 26 results
Bourges Basket 69-70 Lattes Montpellier
COB Calais 55-83 Challes-les-Eaux
Tarbes 80-52 Union Hainaut Basket
Basket-Landes 55-40 Charleville-Mézières
Nantes-Rezé 93-71 Aix-en-Provence
Mondeville 73-65 Villeneuve d'Ascq
Arras 68-62 Toulouse

---
Return from LFB Basketball News to Ligue Féminine de BasketBall index
Go to Women Playing Basketball In France Home Page
Return to the top of page
---
Basketball news picture credits:
LFB


Date created: 17 April 2011
---