Basketball news:
Players come and go in the LFB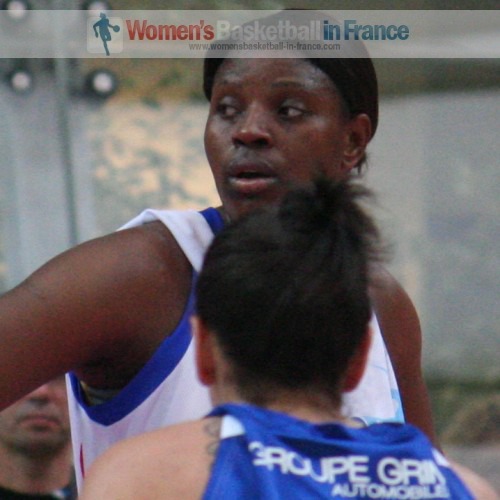 During the first week of the LFB season 2010-2011 the basketball news in France concentrated on the injury to
Bernadette N'Goyisa
(left) and
Amélie Pochet
whose season came abruptly to an end on the basketball court.
There are a number of basketball contracts in Europe. In France it is usual that the professional clubs take out for players a medical injury insurance (in French: joker médical) that covers the costs of bringing in a another player in case of injury.
Basket Landes and Nantes-Rezé have activated the medical insurance cover to bring in replacement players.
Since the start of the season a number of players have joined clubs as medical cover, while other clubs have strengthened their roster.
Here is a list of the comings and goings since the start of the season club by club: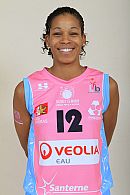 Arras: Marielle Amant (left) has not played since 23 October 2010 after limping off in the match against UHB. Arras have recently signed 19-year old Ukraine youth international Olga Maznichenko as medical cover.
Basket Landes: signed WNBA player Tamera Young for the rest of the season as the medical replacement for Amélie Pochet. Young has already played three games for Basket Landes.
COB Calais: their problems began before the season started with the injury to Brazilian international Nadia Gomez-Colhado. Pauline Love arrived in France late and then got hurt during a pre-season game and has not played since.
New Zealand international Micaela Cocks came in as medical cover but was released after four games.
Union Hainaut Basket: Steffi Sorensen will play her last game for the club on Saturday, 27 November and then return home to the USA. The official reason given for her departure is homesickness.
She will be replaced by Amanda Jackson who is currently playing for HATIS Yerevan in Armenia. At the time of writing this article, the date of her arrival has not been confirmed.
Lattes Montpellier: French international Pauline Krawczyk is no longer on the roster despite having a multi-year contract.
Krawczyk was injured at the end of last season and is currently undergoing rehabilitation. It was announced last month that her contract had been cancelled.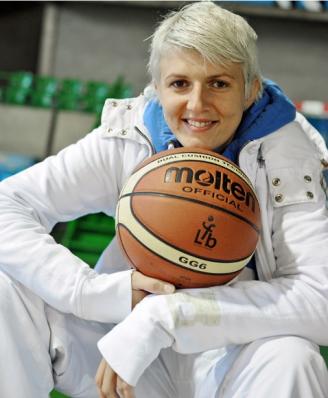 Nantes-Rezé: Emilija Podrug (left) came in as the medical replacement for N'Goyisa. Podrug played one season in France during her career.
She played for USO Mondeville during the 2005-2006 season. The second addition to the first team since the start of the season is Morgiane Eustache, who has just come out of the CFBB.
Tarbes: Isis Arrondo has not had luck with injuries recently and is once again hurt. The club were hoping to sign Faeza Bouderra as a medical replacement. Bouderra refused the offer and Marija Eric was signed recently.
---
Return from LFB Basketball News to Ligue Féminine de BasketBall index
Go to Women Playing Basketball In France Home Page
Return to the top of page
---
basketball news picture credits:

womensbasketball-in-france.com
LFB
20 minutes

Date created: 27 November 2010
---