Playing basketball for Lattes Montpellier
in the LFB in 2010-2011
---
---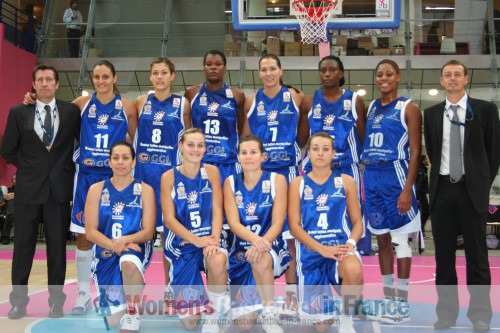 Pauline Krawczyk will not be playing basketball for most of the season as she requires a minimum of six months for post-surgery rehabilitation. This leaves just two core players left from last season's professional roster: Sandra Dijon-Gérardin and Gaëlle Skrela.
Montpellier's youth policy has backfired with the departure of several youth internationals. Cyrielle Hughes, who participated in some games last season in the LFB, is the only player left from the Espoir group of players. She will become come part of the professional roster this season.
As a result of the departure of all the point guards, Montpellier have recruited former Australian international Alicia Poto and French youth international Virginie Brémont.
However the big transfer after the summer was Fatimatou Sacko who won the French championship with Tarbes last season.
Valéry Demory will be hoping for a better season this time around and also to qualify for EuroCup where Lattes Montpellier failed to qualify by losing in the final of the challenge round for the EuroCup competition.
The LFB roster is: Johanne Drozd, Virginie Brémont, Alicia Poto, Iva Perovanovic, Cyrielle Hughes, Brittainey Raven, Ana Lelas, Gaëlle Skrela, Sandra Dijon-Gérardin, Fatimatou Sacko.
(Pauline Krawczyk is still under contract with the club.)
Go back to the top of page
---
Go to Women Playing Basketball In France Home Page
---
Basketball picture credits:

womensbasketball-in-france.com

Date created: 16 October 2010
---