Youth international basketball: Bosnia and Herzegovina U18 players' interviews
---
---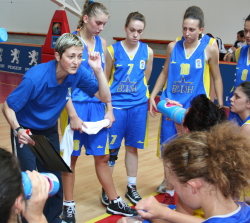 There was no rest for
Jadranka Savic
(left giving instructions) at the youth international basketball tournament in Skopje as she prepared her young side for the second stage of the competition. Savic is known in France as she played with
Challes-les-Eaux
in the LFB during the 2005-2006 season. She took over the job of a national trainer for
Bosnia and Herzegovina
U16 last season and took them to sixth place.
She has moved up to the U18 team and has brought along with her a number of players from her squad from the previous season. They have missed out on the qualifying round and play in the 9-16th place classification. She allowed three members from her current squad
Anesa Hamsic
,
Ivana Martinovic
and
Irena Vrancic
to speak with us about the tournament: All three players decided to speak in English. You can listen to their comments as they introduced themselves and told us which clubs they play for and how long they have been involved in the national programmes. They spoke a little about Macedonia and their hopes for the next match.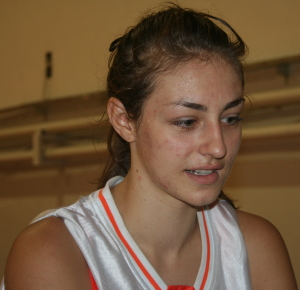 Anesa Hamsic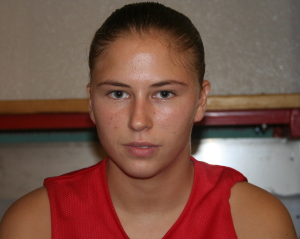 Irena Vrancic
Ivana Martinovic
(Note: If you are using Internet Explorer click twice on the triangle)


They also had a message in their language citing the Michael Jordan quote: "Obstacles don't have to stop you. If you run into a wall, don't turn around and give up. Figure out how to climb it, go through it, or work around it."
Savic also added in her mother tongue: "He knows, he knows."
---
News from the U18 European Championship Women Division B - Day 5
News from the U18 European Championship Women Division B - Day 4
News from the U18 European Championship Women Division B - Day 3
News from the U18 European Championship Women Division B - Day 2
News from the U18 European Championship Women Division B - Day 1
Read about Division B - Skopje preview
Return from Youth International Basketball news to "What's New" page
Return from U18 European Championship Women Division B Basketball news to youth international basketball index

Date created: 12 August 2008
---