This is the 21st edition of the youth international basketball European Championship Women U16 and the first time that Belgium have qualified for the final.
All these players have played in France at some time during their professional career and Dana Boonen is still playing in France.
You can read our match summaries by selecting the link below or scrolling down the page.
The classification games for 5th place is important because Europe will be represented by five teams in the 2010 FIBA U17 World Championship Women in France.
Turkey had recuperated from their marathon match against France to beat Greece (60-52).
Belgium U16 on top of the youth international basketball ladder
Belgium qualified for the final in beating France (73-58). Once again Emma Meesseman and Julie Vanloo put up big numbers for Belgium.
Meesseman scored 18 points and took 15 rebounds. She also came up with 5 blocks while Vanloo chipped in 16 points. However the star of the match was the latest Belgium not-so-secret weapon Lynn Delvaux (below right) with 24 points.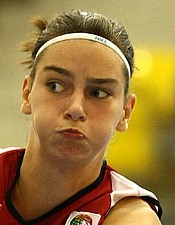 France appeared to have recovered from their epic youth international basketball classic with Turkey the previous evening and traded baskets early with Belgium to lead (10-9) with a little over six minutes played.
Vanloo was to give Belgium the lead for good shortly after and Belgium won the first period (17-13).
Claire Stievenard fired in a trey at the start of the second period. But 7 unanswered points by Delvaux including a trey set Belgium on their way.
Meesseman was winning the battle inside against Cristelle Diallo for Belgium to go into the locker room leading (38-29).
France looked tired at the beginning of the third quarter. Within three minutes they were trailing (31-46). It never really looked that they could claw their way back.
The two teams traded baskets regularly for the last fifteen minutes with Belgium holding on for an important victory.
Neither side did well in free-throws. But Belgium's important lead was enough for the low percentage in free-throws not to become a factor.
For France Stievenard led the scoring with 11 points which included a perfect 3-from-3 from beyond the arc.
Youth International Basketball Box Scores.
---
Spain love U16 Division A basketball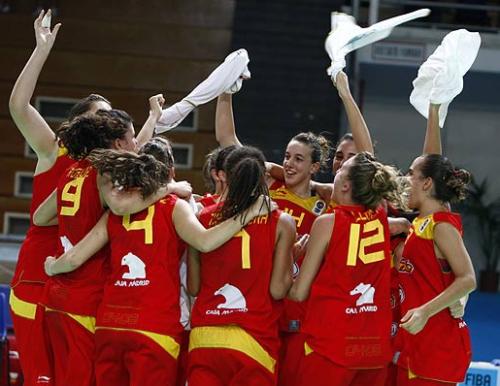 In 2004 FIBA Europe created the division structure at youth international basketball level for U16, with Division A reserved for the top 16 teams.
Spain won the title in 2004, 2005, 2006 and 2008 and were second in 2007. They are back for the final number 6 after beating Russia (66-46).
Spain were quick out of the starting blocks and led (23-3) with less than eight minutes played and (41-16) by the interval to kill the game as a contest.
Spain then paced themselves for the rest of the game with Elena De Alfredo,Inmaculada Zanoguera and Carla Rodriguez all scoring 10 points each.
Youth International Basketball Box Scores.
---
Smiles for Greece and disappointment for Finland,Poland and Serbia
Plenty of drama on day 5 with only Lithuania losing out
France win against the Czech Republic in a defensive game
France have no pity for Poland
France open with a victory against Lithuania
Return to "What's New" page from youth basketball news from Naples
Return to the Youth International Basketball Index page
International Basketball Picture credits:

Ciamillo-Castoria
FIBA Europe
Date created: 08 August 2009

---