France gave a youth international basketball demonstration
---
---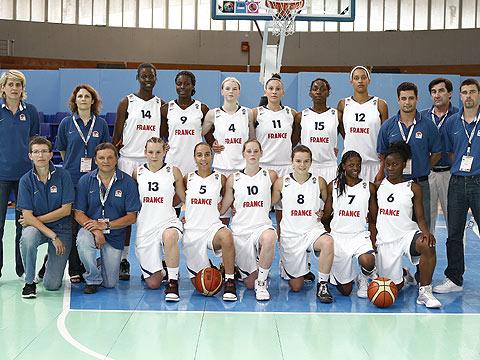 Big margin victories are becoming more common in youth international basketball at division A level. But France did not expect that they would beat Poland (96-39).
The game was over as a contest by the end of the first period with France leading (36-6).
France lost Christelle Diallo with four minutes to play in the second period when she appeared to have turned her ankle.
France went into the locker room leading (53-19).
Esther Niamke led the French attack with 17 points, Sabrine Bouzenna scored 15 points which included 3-of-4 from the land of many. She also had 5 steals.
France are assured of first place in Group D after Lithuania beat Germany (68-65).
Game Box Scores.
---
In the matches from Group A Serbia beat Sweden (60-39) and Italy held off Turkey (56-54).
In Group B Spain showed no mercy against Belarus winning (83-38) while Belgium held off Finland (73-64).
In Group C Russia beat the Czech Republic (65-40) while Greece won against Hungary (58-50).
Italy, Russia and Spain have also booked their tickets for the qualification round.
You can also watch video highlights from day 2 of the U16 European Championship Womein in Naples.
---
France open with a victory against Lithuania
Return to "What's New" page from youth basketball news from Naples
Return to the Youth International Basketball Index page
Youth International Basketball Picture credits:

FIBA Europe
Date created: 31 July 2009

---