France U16 start youth international basketball competition in Naples with a win
---
---
With the first FIBA U17 youth international basketball world championship for women taking place in 2010 in Toulouse, for France this year's U16 European Championship is very important as the top teams will qualify for the World Championship.
France had the best of starts with a (72-52) victory against Lithuania.
It was not a perfect game for France as they had a bad day from the free-throw line with a total of 6-from-28 attempts.
The first quarter was a typical U16 youth international basketball opening game with plenty of nerves, turnovers and excitement with both teams trading basket for basket.
Lithuania had the better of the first period and led (16-15).
The second period continued in the way the first period was played and the two teams were level (23-23) with five minutes remaining in the quarter.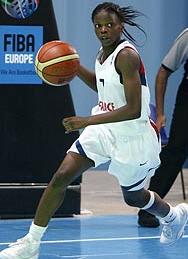 France got the first break of the game with Christelle Diallo and Olivia Epoupa (right) doing most of the offensive work as France finished with a 10-2 run to go into the locker room leading (37-25).
France continued to attack after the break and stretched their lead to 19 points (53-34) with three minutes left to play in the third period.
Lithuania were able to reduce the deficit to 11 points by the end of the quarter as they gave France a little lesson in the art of free-throwing.
France put an end to the game quickly at the start of the final period as they opened with 6 quick points and then paced themselves to victory.
France won the match but will need to work on a few things before the next game as they also went 0-from-12 from beyond the arc.
Margaux Galliou led the French attack with 11 points while Diallo and Claire Stievenard scored 10 apiece.
For Lithuania Monika Aleksaite scored 11 points.
Game Box Scores.
In the other game in Group D Poland beat Germany (74-65).
All the other results from day one are:

Serbia 59-63 Turkey
Italy 70-48 Sweden

Finland 68-52 Belarus
Spain 72-55 Belgium

Czech Republic 64-67 Hungary
Greece 54-63 Russia

---
Return to "What's New" page from youth basketball news from Naples
Return to the Youth International Basketball Index page
Youth International Basketball Picture credits:

FIBA Europe
Ciamillo-Castoria
Date created: 31 July 2009

---