Highs and lows of youth international basketball in Naples
---
---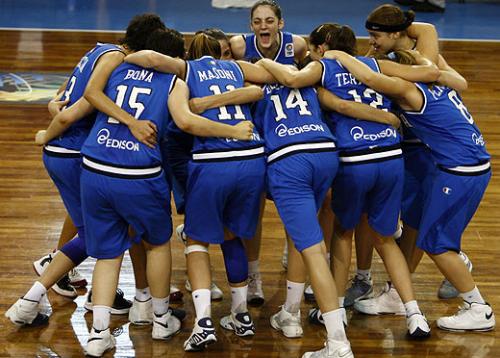 Italy have become a regular host for youth international basketball events.
They will be hoping that their U16 team will qualify for the FIBA U17 Word Championship Women in 2010.
In 2007 Italy won the U16 European Division B title when they hosted this event in Chieti. Already now they look like contenders for the Division A title in 2009.
They beat Serbia in the last Group A game (64-52) to secure the group title and move into the Qualification Round with maximum points.
The first quarter was exciting with Italy having the upper hand initially by scoring the first 6 points of the match.
However Serbia came back with an 8-0 burst to lead briefly (15-11).
Italy fought back and finished with a 10-4 run to lead (21-19) at the end of the first period.
The second quarter was end to end basketball.
It was exciting to watch as the two teams traded basket for basket with the guests from Serbia having the better of the exchange to lead (36-34) at the interval.
Neither team slowed down after the break as both sides maintained a high tempo. Yet Italy started to take control with a 7-0 run with four minutes left to play in the third quarter to go further ahead (43-38).
Serbia were for the first time in trouble and Italy took full advantage. They went into the final period leading (48-41).
In the last quarter Serbia lost their way completely and were unable to deal with the zone defense of Italy.
Italy were noticeably tiring but still found energy to put one last run together to break the Serbian resistance (60-45) with four minutes left to play.
Italy went on to win (64-52) with Stella Panella (left) leading the way with 15 points.
Youth international basketball Box Scores.
In the other game in Group A Turkey beat Sweden (48-40).
Sweden finished last in the group and will fight for Division A status for next season in the relegation group.
---
What happened elsewhere in Naples on day 3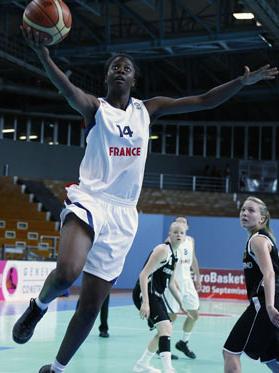 France had beaten Germany three times during their preparation games and made no mistake in winning (77-42).
Christelle Diallo (right) who appeared to have sprained her ankle on day 2 was in fine form with 10 points and 7 rebounds for France.
Jodie Cornelie led the French attack with 13 points. Yet not all is all perfect as France turned the ball over 22 times.
Poland recovered from the defeat against France to beat Lithuania (63-55) for their second win of the tournament.
Germany with no wins from Group D will play in the relegation round.
---
In Group B Spain, one of the best nations at youth international basketball in Europe, did not give any chance to Finland, a Division A newcomer with a comfortable victory (83-37).
Belgium were also not in a charitable mood in beating Belarus (81-53). Belarus finished with no wins and will play in the relegation round.
Group C has been the most open group with three teams tied with one win and two defeats.
The Czech Republic beat Greece (57-54) for their first win and Russia beat Hungary (74-54).
Russia won the group with a perfect record while Hungary lost out on point average and will play in the relegation group.
Sunday is a rest day and the qualification round games will start on Monday.
You can also watch video highlights from the days hightlights.
---
France have no pity for Poland
France open with a victory against Lithuania
Return to "What's New" page from youth basketball news from Naples
Return to the Youth International Basketball Index page
Youth International Basketball Picture credits:

Ciamillo-Castoria
Date created: 01 August 2009

---