Termosteps U16 European Champions Women Division A are Spain
---
---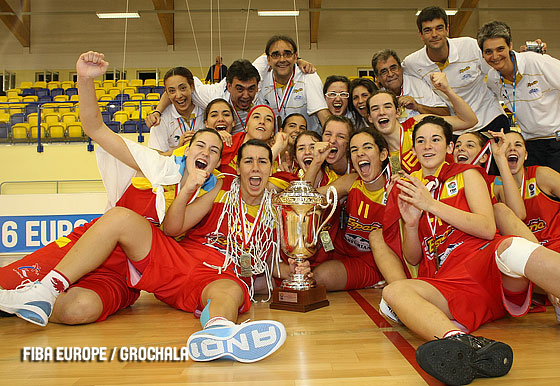 Spain are the winners of the 2008 Termosteps U16 European Championship Women Division A. They beat Italy (71-59) to collect their fifth title in this age group.
Since the creation of Division A in 2004, Spain have been in every final and only lost the championship once. That happened in 2007 to France.
Italy who had made their return to Division A this summer after two years in Division B disposed of the defending Champion France in the semi-final (64-55).
Then in the final Italy had the better start in the first quarter against Spain and led (20-6). They completed a 16-0 run spread over the first and second quarter to have a maximum lead of 22 points (28-6).
However Spain fought back. By the interval their deficit had been reduced to 2 points (34-36).
Early in the third period Spain went in front by the end of the quarter led (60-46).
Italy made a huge effort in the final quarter to cut back their deficit. They managed to get to within 8 points (56-64). However they were not able to further close the gap as they failed to execute crucial plays down the stretch allowing Spain to win the match.
Queralt Casas was the match winner for Spain with 25 points, 9 rebounds and 6 steals while Marina Delgado added 19 points and also made 6 steals and dished out 4 assists.
Debora Carangelo scored 17 points in a losing effort while Marta Masoni added 12 points.
France take Bronze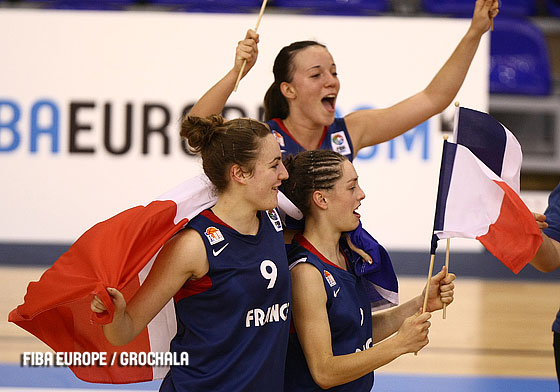 France had little trouble during the group stages as they won all six games. In the second round of games they beat The Czech Republic (68-48) and Sweden (80-36). Yet in the their last group they were given a much tougher test against Belgium (72-63).
France met Italy in the semi-final and were beaten (55-64). They were trailing by a single point (55-56) as the game entered money-time. France were unable to score and also lost Adja Konteh with 70 seconds to play leaving the way open for Italy to qualify for the final for the first time.
So France won the third place match against Sweden but were made to work hard for victory.
They opened the match with the first 12 points and led (16-7) by the end of the first period.
Sweden changed to a zone system of defence which knocked France out their stride. Sweden kept France scoreless for almost six minutes while scoring 9 points to bring themselves level (16-16).
They eventually took the lead (22-20) and went into the interval with an advantage (26-24).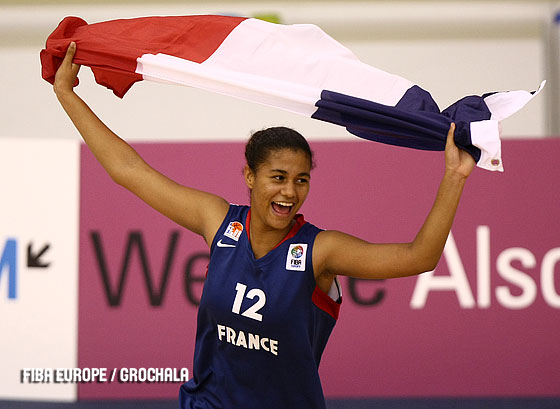 France opened the second half with a 10-0 run and by the end of the quarter led (45-33). They controlled the final quarter and cruised to victory (73-44).
Jenny Fouasseau and Eléonore Grossemy scored 16 points apiece while Konteh, Hélèna Akmouche and Florine Basque (left) scored 13,11 and 10 points respectively.
For Sweden Tournament MVP Farhiya Abdi scored 17 points and had 14 rebounds and Sandra Hasahya was the only other player in double digits with 10.
Previously France had won bronze medals in 1997 and 1999.
All tournament team
The five players of the Termosteps U16 European Championship Women All-Tournament Team - selected by the participating coaches - were: Farhiya Abdi (MVP) from Sweden, Alessandra Formica of Itay, Eléonore Grossemy from France. The team was completed by Belgium guard Julie Vanloo and Queralt Casas of Spain.
The results of the final day:
Final: Italy 59 – 71 Spain
3rd place: France 73- 44 Sweden
5th place Belgium 73- 51 Poland
7th place: Hungary 69-44 Turkey
9th place: Belarus 59-74 Russia
11th place: Czech Republic 52-47 Lithuania
---
Termosteps U16 European Championship Division A women Qualifying round preview for France
Termosteps U16 European Championship Division A women Day one news
Return from Termosteps Youth International Basketball U16 France Final day to "What's New" page
Return to youth international basketball index
picture credit:
Fiba Europe

Date created: 18 August 2008
---