Matthieu Chauvet wants to be playing basketball in the LFB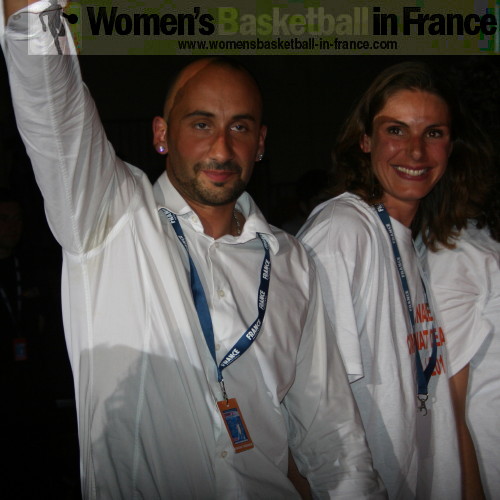 Matthieu Chauvet
's project (left in picture) is to coach a team playing basketball in the Ligue Féminine de basketball (LFB).
Chauvet has experienced life in the LFB as an assistant coach with Challes-les-Eaux. But since August 2008 he has been the head coach of Roche Vendée.
In his first season in charge, his team won the first 9 games of the regular season but just missed out on the play-off with a sixth place finish.
Last season ended with a final four appearance and a third place finish.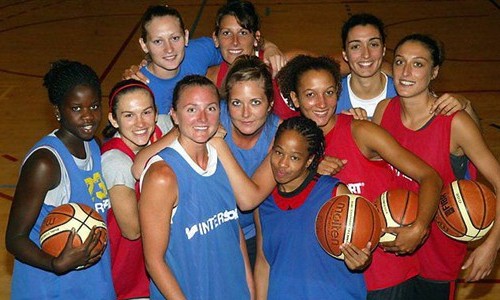 Livia Libicova and Maïté Fouquez have hung up their basketball shoes. Yet with Gabriela Kubatova, Elodie Gérard, Sylvaine Grelier, Mylène Balat, Elodie Demortier, Christelle Morel and Stéphanie Dufour all returning, the club's ambitions rest intact.
Chauvet's knowledge of the youth system in France has enabled him to attract Tracy Albicy, Maty Ndoye and Helena Ciak. The last piece to the jig-saw puzzle comes from Ukraine, Viktoria Mircheva who played in Germany last season.
Roche Vendée won their seventh straight match by handing Reims their first defeat of the season (73-57). Elodie Gérard led the way with 21 points with 5-of-7 shooting from beyond the arc.
Gabriela Kubatova went 4-of-5 from beyond the arc. She scored 17 points and dished out 7 assists for the player-of-the-match award.
Roche Vendée did the damage during the first 10 minutes (22-9).
Reims fought tooth and nail for the rest of the game to make up the deficit but got no closer than 9 points. Zuzane Gujaraidze scored 16 points in defeat.
Next weekend Roche Vendée will be playing basketball against the leaders Lyon BF.
The rest of the news from LF2 - week 9
Lyon BF made it nine wins out of nine with a road victory (56-50) against Angers. Julie Legoupil and Géraldine Bertal scored 16 points each for Lyon.
Angers allowed too many points to escape them during the first half by making only 3-from-11 free-throw attempts. They improved during the second half and finished the game 12-of-23, while Lyon went 7-of-9.
Pleyber-Christ had all the cards in their hands against Illkirch-Graffenstaden. Somehow they failed to nail a single shot in the last two minutes which allowed the team from the Alsace to walk away with the victory.
Céline Schmitt-Sender and Amina Njonkou scored 15 points each for the SIG.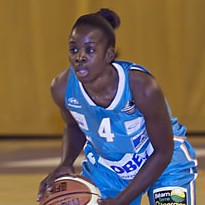 Clarisse Mpaka (left) turned out to be the match winner for Elan Béarnais Pau Lacq Orthez as her side turned around a 9-point final quarter deficit to beat Dunkerque (65-61).
She scored 17 points which included the final 2 points of the game. Mpaka had decided to play the match despite being informed of a death in her family a couple of hours before tip-off.
Armentières lost at home to Voiron (68-71), while Limoges required a free throw by Tanya Broring to see off the CFBB (67-65).
Rennes had a bad day on the court as they were crushed at home by Nice (38-68).
Playing basketball in the LF2 has not been easy for Aplemont Le Havre and they now hold up the whole of the division by themselves after falling to another second division newcomer Perpignan (66-77).
Results of week 9:
Rennes 38-62 Nice
Limoges 68-65 CFBB
La Roche 73-57 Reims
Angers 50-56 Lyon
Elan Béarnais Pau Lacq Orthez 65-61 Dunkerque
Perpignan 77-66 Le Havre
Pleyber-Christ 55-57 Illkirch-Graffenstaden
Armentières 68-71 Voiron
Look back on the previous round news.
---
Return to LF2 basketball news page
Return to women playing basketball in France Home page
GO Back to the top of the page
---
Playing basketball news picture credit:

womensbasketball-in-france.com
Fabrice Delène - Ouest France
ebplo-feminines.com

Date created: 08 November 2010
---