Playing basketball for the title: Lyon and Reims
Playing basketball in tunics was the basketball headline news last week
in France but nothing was mentioned about
Lyon
going back to the traditional kit for their last game against SO Armentières.
Armentières, playing at home, pushed Lyon all the way and lost out in the dying seconds to a three-pointer by Julie Legoupil (51-55).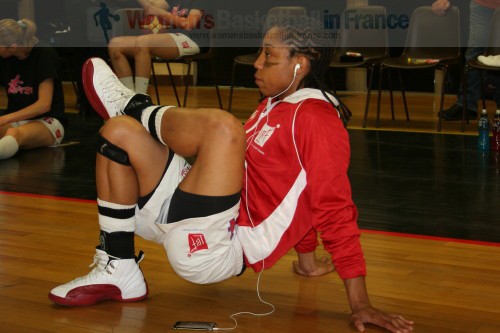 Armentières' season has not been going well. Furthermore they were dealt an early blow in this game with Valérie Labbé hurting her ankle with 54 seconds on the game clock for her ending her participation.
Lyon had problems also with Charlène Servage whose game ended early in the third quarter. Marion Arfelis was not well and could not really play much.
Lyon have been shooting three-pointers all season so far. In this match it was Candyce Sellers (above) with 4-from-7 that stole the show to lead her team with 14 points.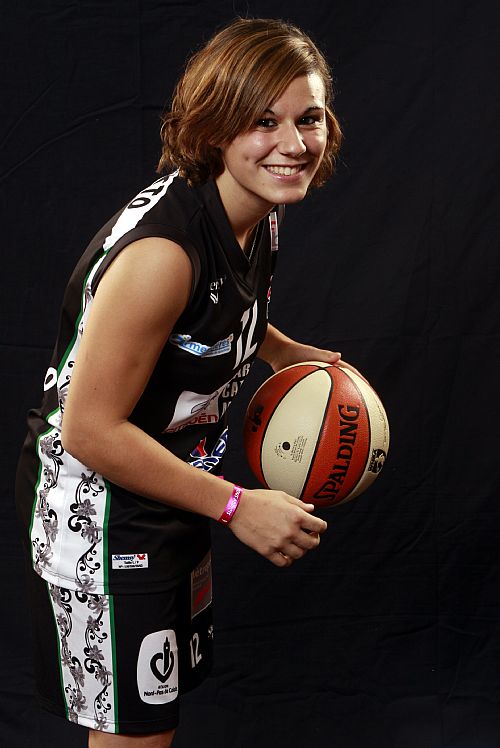 Reims BF are also a team having difficulties with injuries but are still playing basketball at another level.
They are still without Astan Dabo and with Lorraine Lokoka playing on one leg they yet came out on top against Voiron (82-64).
Reims dominated the first three minutes (11-0) before conceding 11 straight points.
The yo-yo effect continued between the two teams until late in the third quarter when Reims finally took control.
Mélissa Micaletto (right) was enjoying herself for Reims and scored 20 points. But it was her team-mate Floriane Herrscher who scored 24 points and picked up 12 rebounds that walked away with the player-of-the-match award.
Lyon and Reims share the lead of LF2 with 8 wins from 8 games.
Playing basketball in Pleyber-Christ with Franck Simon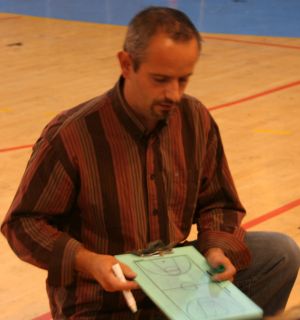 During 2009-2010, Franck Simon (left) and Pleyber-Christ basketball club had its best season ever in the second division.
For the current season, 2010-2011 the core players from the previous seasons have all moved on.
Most of the former players were students and have now graduated and left unlike Carole Le Fé who is a school teacher and has taken a year off playing basketball to spend it down-under.
The only player left from the team that moved up from division three to the second division is the captain
Aude Kernévez
who is still 22 and continuing her higher level education.
Simon who coaches the team in his spare time sees his challenge this season to build a young team not only to survive in LF2 but also to secure a place of honour in the top half of the table.
He has the rebound queen of the LF2 Naignouma Coulibaly and the talented Kelly Corre in his roster. Both players are known by the opposing coaches, so this could be the season for both players to confirm their potential.
With all the youth players, the team needs some maturity and that comes from Marie-Julie Levant who is in her first season with the club.
Pleyber-Christ's season so far has seen them lose to the top 3 teams in the division, Lyon, Reims and Roche Vendée. The other defeat was against a team that Simon always has problems playing, the CFBB.
This weekend Levant and Marie Butard led the team's attack with 15 and 14 points each as they won against Angers (63-51) for their fourth victory of the season.
So with four wins under their belt Pleyber-Chirst are at the moment in a four-way tie for fifth place, just one game down on Limoges that are in 4th place.
The rest of the news from LF2 - week 8
Illkirch-Graffendstaden exploded the CFBB during the first quarter (27-8) and then paced themselves to victory (65-56) with 20 points coming from Amina Njonkou.
Roche Vendée led from start to finish against Perpignan (80-68). Viktoria Mircheva led the way with 21 points while Elodie Gerard and Gabriela Kubatova fired in 18 points apiece.
With this victory Roche Vendée remain in third place with 7 wins and 1 defeat.
Limoges won their fifth straight match by beating Lacq Orthez (57-55) while Dunkerque Malo huffed and puffed their way to victory (70-65) against Rennes.
Playing basketball in LF2 is proving to be difficult for AL Aplemont Le Havre and Elan Béarnais Pau Lacq Orthez with just one victory so far this season. For them the battle against relegation has already started.
Results of week 8:
Dunkerque 70-65 Rennes
Elan Béarnais Pau Lacq Orthez 55-57 Limoges
Perpignan 68-80 Roche Vendée
Pleyber-Christ 63-51 Angers
Le Havre 50-57 Nice
Armentières 51-55 Lyon
Illkirch-Graffenstaden 65-56 CFBB
Voiron 64-82 Reims

Look back on the previous round news.
---
Return to LF2 basketball news page
GO Back to the top of the page
---
Playing basketball news picture credit:

womensbasketball-in-france.com
LFB

Date created: 01 November 2010
---