NF1 basketball is becoming difficult for Pleyber-Christ
---
---
NF1 basketball is what they live for in Pleyber-Christ.
With more than 500 supporters per match they have one of the best followings in NF1.

However they had struggled in their previous seasons in this division and have never finished out of the relegation zone.
They are once again struggling this season and are now bottom of the division with just three wins this season.
They lost Brona Soltisova after their victory against Toulouse. She fractured her foot while celebrating after the game and is not expected back till February.
This was to be her first season in NF1 after four seasons playing in NF2. With her out the club does not have a recognised pivot and have suffered in recent weeks.
Pleyber-Christ has one of the smallest budgets in NF1. Although the club has three other new players this season, all have come up from clubs in NF2, they have not been able to establish themselves within the team.
For their last home match before Christmas Caroline Le Fé joined Soltisova on the injury list. Two U18 players were brought into the squad for the match against Charleville-Mézières.
The match itself as a contest was over before the interval with Charleville-Mézières leading comfortably (51-30).
The rest of the game was one way traffic as the visitors won (95-56). Alexia Kusion led the scoring for Charleville with 19 points.
There was not much to cheer about for the home supporters after another defeat.
Pleyber-Christ normally do better during the second part of the season but the way things are looking this year it appears that the preparations have started for NF2.
Strasbourg ABC do not have the supporters but are fighting for promotion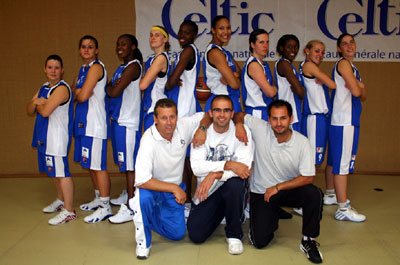 This has not changed under the new structure and Johanna Ratzel is just one of three players in the roster that is still part of the basketball academy that is a regular member of the first team.
She is known for her three-point shooting from the 45°-mark and her love for headbands.
Unlike their neighbours Illkirch-Graffenstaden and clubs such as Pleyber-Christ they do not have many supporters for their games.
On their roster are Djene Diawarra, Charline Savage, Lawrence Cayot and Melissa Washington. They also have Diana Gandega who is also known on the streetball circuit.
There is never a dull moment with this team and the game against Toulouse this weekend lived up to expectation.
Toulouse got off to a better start and led (12-9) early on and (25-20) by the end of the first period. Nadia Peruch had a great first period as she hit 5-of-6 from behind the arc for the team's first 19 points.
Strasbourg took their time in making up the deficit and drew level late in the second period through Cayot.
Then they took the lead for good as Eloise Chapays fired in a shot from beyond the arc to go in front into the interval (45-41).
Toulouse were without Anda Jekabsone. Aurile Noirez and Anna Nedovic - all injured - were powerless in the paint and were unable to stop Washington (26 points, 15 rebounds) and Diawarra (18 points, 10 rebounds) in the paint.
They went on to lose the match (64-84). Savage also scored 22 points for Strasbourg ABC and dished out 7 assists. However NF1 basketball headline in Toulouse will be about the 30 points from Peruch.
NF1 Basketball winners after round 14
Limoges
notched up win number 13 with a hard fought victory over US Laveyron (67-61).
Maryska Kowalik
hit the decisive trey with just over a minute to play in the final period to give Limoges a 9-point cushion (66-57).
Roche-Vendée
remain in second place after beating Voiron (83-68).
Armentières
stay in third place after blowing away Ifs (94-56).
Illkirch-Graffenstaden had a tricky match away against Colomiers but came out on top with 31 points for Céline Sender-Schmitt.
Allison Vernerey had another double-double with 18 points and 10 rebounds in their (87-65) victory.
The NF1 basketball losers this week
Dunkerque
lost away to the CFBB (70-73). This defeat that keeps them does not allow them to escape the relegation zone although they are in 10th place.
Nice went down on the road to Rennes (60-64). ,
Pleyber-Christ and Colomiers who meet next week are the biggest losers of the week as they are two games behind the team in 11th place. All the results from round fourteen for the Nationale Féminine 1 are listed below:
Colomiers 65-87 Illkirch-Graffenstaden
Pleyber-Christ 56-95 Charleville Mézières
CFBB (INSEP) 73-70 Dunkerque
Rennes 64-60 Nice
Laveyron 61-67 Limoges
Armentières 94-56 Ifs
Roche Vendée 83-69 Voiron
Strasbourg ABC 84-64 Toulouse

---
Look back at the NF1 Basketball news from round 13
Look back at the NF1 Basketball news from round 11
Return from NF1 Basketball Nationale Féminine 1 to index page
Return from NF1 Basketball news to women playing basketball blog page
NF1 basketball Picture credits:
Limoges ABC en Limousin
FFBB
womensbasketball-in-france
Date:14 December 2008

---