Limoges is the place to be in for NF1 Basketball
---
---
Limoges
lost in the opening day of the NF1 basketball season but have not been beaten since. They won their 10th consecutive game (73-71) against Toulouse.
Meanwhile Armentières moved into second place after a comfortable victory against Roche Vendée (82-52).
Illkirch-Graffenstaden move into fourth place after holding off Nice (76-73).
In the week that Sylvia Fowls dunked in the EuroLeague the shot of the week in France came in a NF1 basketball game between the players of Pleyber-Christ and the CFBB.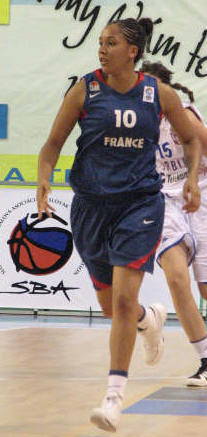 Margaux Okou Zouzou (left) from the CFBB was allowed to move to the top of the arc as if she was in practise.
Then she fired a shot that went straight into the basket without touching the rim.
The CFBB, playing with 10 players, ended up beating Pleyber-Christ (65-63).
Elsewhere Charleville-Mézières had to wait until the third period before putting away Dunkerque (80-61), while US Laveyron fell to Strasbourg ABC (68-71).
Ifs beat Voiron (90-72) in a bad tempered game.
Three players from the Voiron starting five fouled out. In total four players from Voiron and one player from Ifs fouled out in the game.
It is not often we mention England Basketball but when two ex-players from Rhonnda Rebels come face to face, it is worth a mention.
Rosalee Mason was playing a week ago in England with the Sheffield Hatters and joined Colomiers as a replacement for Irena Spirkova.
Nadja Morgan who also played for Rhonnda ended up the winner of the contest as Rennes won in overtime (80-77) with Morgan scoring 29 points.
All the results from round eleven for the Nationale Féminine 1 are listed below:
llkirch Graffenstaden 76-73 Nice
Charleville Mézières 80-61 Dunkerque
Limoges 73-71 Toulouse
Colomiers 77–80 Rennes
Pleyber-Christ 63-65 CFBB (INSEP)
Ifs 90-72 Voiron
Laveyron 68-71 Strasbourg ABC
Armentières 82-52 La Roche-sur-Yon (Roche Vendeé)
Nationale Fèminine 1 Amateur basketball league standings
Club
Points

1
Limoges
21

2
Armentières
21

3
Roche Vendée
21

4
Illkirch-Graffenstaden
19

5

Charleville Mézières
19

6
Toulouse
18
7
Strasbourg ABC
18

8
Etoile de Voiron
16

9
Nice Cavigal Olympic
15

10
Rennes Avenir
15

11
Ifs
15

12
Dunkerque Malo
14

13
Pleyber-Christ

14

14
US Laveyron
14

15
US Colomiers

13

16
CFBB (INSEP)
13
---
Return from NF1 Basketball Nationale Féminine 1 to index page
Return from NF1 Basketball news to women playing basketball blog page
Picture credits:
womensbasketball-in-france.com

Date:24 November 2008

---