Limoges continue to stay in the NF1 basketball news as they went top.
---
---
The decision to bring the NF1 basketball news from Nice this weekend worked out well because the match between Nice Cavigal Olympic and Charleville Mézièeres was an excellent advertisement for women playing basketball outside the Ligue Féminine de Basketball.
Nf1 basketball news from some of the winners of the first 10 rounds
Roche Vendée lost their perfect record after an epic battle with Limoges (80-83). As a result of this victory Limoges are the new leaders although both teams have identical records.
Armentières required overtime to win on the road (73-71) against Strasbourg ABC to stay in third place. For Strasbourg this is the second week, that overtime has not been kind to them.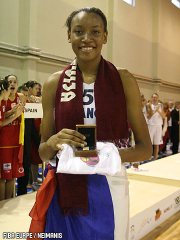 Illkirch-Graffenstaden moved up to fifth after their victory against the CFBB (INSEP) (84-70). The CFBB, playing at home, had Diandra Tchatchouang (right) back in the line-up for the first time in five weeks.
For Tchatchouang it was the first time at club level that she faced her sparing partner from the French international team Allison Vernerey.
Tchatchouang led all scoring with 27 points as well as recorded the only block of the game. Adja Konteh put in 18 points. This was not enough to stop the SIG, as Vernerey compiled a double-double of 17 points and 13 rebounds to lead her side to victory.
It has been a good weekend to be playing away for the high-flyers.
---
Nice fell short at home to "flammes Carolo"
Charleville-Mézières, playing away from home, had to wait until 20 seconds from the end of regulation time to finally take hold of the game as Carine Contessi fired a shot from down-town. It was her 26th point of the match.
Amel Bouderra (12 points and 8 assists) then finished the match off with a pair of free-throws for Charleville to win (76-71).
In a match that neither side was really able to control Nice had the better of the early exchange and led (7-4). Charleville then took over and scored 12 unanswered points (16-7) and controlled the game until the end of the first period (22-15).
The second quarter belonged to the home side. Within two minutes Elodie Gerald put Nice in front (23-22). The lead was to change on several occasions before Nice finished with a 13-0 run to go into the interval ahead (44-37).
Nice struggled against the new defensive system of their guests at the start of the third period and soon fell behind (50-46).
Johanne Gomis (22 points) playing for Nice this season on loan from LFB team Challes-les-Eaux hit a three-pointer that ended the dominant spell of their opponents. Nice still trailed by a single point (55-56).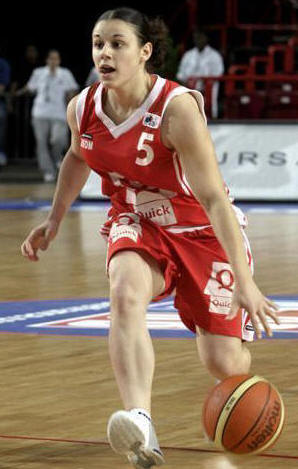 Melissa Micaletto (11 points and 5 assists) who did not play last week for Nice was having a battle with Bouderra.
Both players are no strangers to each other as they played in the same youth regional teams.
As the two teams continued to play cat and mouse these two players dished out assists and cancelled each other out.
With money-time arriving Bouderra had given Charleville the lead (70-69) only for Micaletto to come up with a steal and then score for Nice (71-70).
With 45 seconds to play Bouderra forced Micaletto into fouling her and went on to split a pair of free-throws.
Nice were not to come back from this.
This victory leaves Charleville in fourth place with the same record as the SIG.
---
---
NF1 basketball news from some of the losers at this stage of the season
Rennes took on Pleyber-Christ in the Brittany derby and came away with the victory (91-73).
For Pleyber-Christ and Franck Simon the match was a nightmare. They managed to win a total of 14 rebounds all evening and had only 1 assist.
Céline Boubala led the scoring with 18 points and Mélanie Vernier and Caroline Le Fe scored 15 points. Alexandra Thos scored 11 point off the bench.
Rennes did not have a great game either. But their youth players Lorraine Lokoka and Maud Medenou (10 rebounds)stepped up with 17 and 15 points each.
Yvette Assilamehou poured in 18 points while Emmanuelle Gorjeu and Virginie Kevorkian scored 14 and 12 points apiece. Both sides have won just 3 games this season.
Ifs that were playing at home were just no match for Toulouse. Ifs struggled from the tip- off and allowed their guests to open (7-0).
Toulouse maintained at least a 7-point advantage for most of the first half of the match and went into the interval leading (36-29).
Toulouse ended the game as a contest by the end of the third period (59-41) and went on to win (78-60).
Toulouse were the pre-season favourites to dominate NF1. So with three defeats already this season, they are considered to be one of the losers at this stage of the season.
There are still 20 games to go and they are still expected to challenge for the title.
Dunkerque may have beaten Colomiers (71-65) this weekend to record their third victory of the season. Currently they are the biggest losers at this stage of the season.
The rest of the NF1 basketball news
Voiron did not start their match well against US Laveyron and trailed (14-19) at the end of the first period. They turned things around during the second quarter to go into the interval leading (35-34).
They kept Laveyron scoreless for more than five minutes during the third period while they scored 14 points (49-34).
They then went on to control the rest of the game to win (68-58). This is the club's fourth victory of the season.
All the results from round ten for the Nationale Féminine 1 are listed below:
CFBB 70-84 Illkirch Graffenstaden
Nice 71-76 Charleville Mézières
Dunkerque71-65 Colomiers
Rennes 91-73 Pleyber-Christ
Roche Vendée 80-83 Limoges
Toulouse 78-68 Ifs
Voiron 68-58 Laveyron
Strasbourg ABC 71-73 Armentières
---
Return from NF1 Basketball Nationale Féminine 1 to index page
Return from NF1 Basketball news to women playing basketball blog page
NF1 Basketball picture credits:
FIBA Europe
Ligue Féminine de BasketBall
Date:16 November 2008

---