NF1 Basketball week nine summary
---
---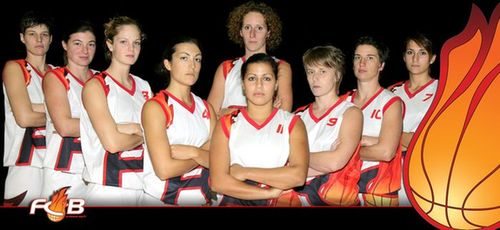 Charleville-Mézières move up to fourth
No surprises in NF1 basketball this weekend as the favourites all managed to pull off victories.
Roche Vendée maintain the unbeaten record with an overtime victory on the road against Ifs (71-63). Once again Jennifer Galend was leading the scoring with 23 points.
In the big game of the weekend second placed Limoges also required overtime to beat Strasbourg ABC. The two teams were tied (66-66) at the end of regulation time.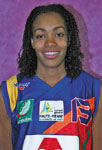 For Strasbourg ABC the five minutes of overtime was too much as they lost 16-5 and the game (82-71).
Coral Duval (right) was the match winner for Limoges as she drew 11 fouls and scored 12-from-16 points from the free-throw line in her 20 points. Maryska Kowalik also had a big game for Limoges with 19 points which included 5-of-9 from the land of many.
Djéné Diawara finished with 22 points and 15 rebounds for Strasbourg ABC while Frédérique Ayissi led the scoring for Limoges with 21 points. Limoges remain second while Strasbourg drop to fifth place.
Armentières moved up to third place after their home victory against Voiron (84-70). Perrine Demets led the scoring for Armentières with 28 points, which included 4-of-6 from the three-point line.
After two consecutive defeats Illkirch-Graffenstaden got back to winning with a comfortable victory against Rennes (93-72).
Rennes were not that happy with the officiating that saw four of their players having to leave the game for five fouls.Nadja Morgan and Virgine Kervorkian (7 assists), two of the players from Rennes, picked up 5 fouls but also scored 23 and 18 points each.
For Graffenstaden Céline Schmitt-Sender scored 20 points while Allison Verneray finished with a double double of 14 points and 18 rebounds. However both players had to give the match honours to Aline Fischbach who is almost back to her best as she scored 21 points.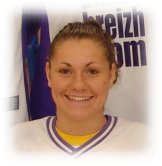 Aude Kernévez made the NF1 basketball headlines at the end of last season when she scored 38 points against Dunkerque. That victory saveed Pleyber-Christ's status in NF1 and eliminated Dunkerque from the NF1 final four.
She only scored 17 points this time but it was enough as Pleyber-Christ won (66-58) and for the first time in their history in NF1 move out of the relegation zone.
Nice won on the road against Colomiers (77-59) and Toulouse also won on the road as they beat Laveyron (76-52).
Charleville-Mézières did enough to beat the CFBB (80-64) and move into fourth position. The CFBB had one of their better performances but with one victory in nine games are currently lying in last position.
All the results from round Nine for the Nationale Féminine 1 are listed below:
Charleville-Mézières 80-64 CFBB (INSEP)
Colomiers 58- 77 Nice
Limoges 82-71 Strasbourg ABC
US Laveyron 52-76 Toulouse
Pleyber-Christ 66-58 Dunkerque
Illkirch-Graffenstaden 93-72 Rennes
Ifs 63 -71 Roche Vendeé
Armentiéres 84- 70 Voiron
---
Return from NF1 Basketball Nationale Féminine 1 to index page
Return from NF1 Basketball news to women playing basketball blog page
NF1 Basketball picture credits:
FCBAA - Charleville-Mézières team picture
Limoges - Carol Duval
FFBB
Date:11 November 2008

---