NF1 basketball news from round 13
Limoges have already won mid-way championship
---
---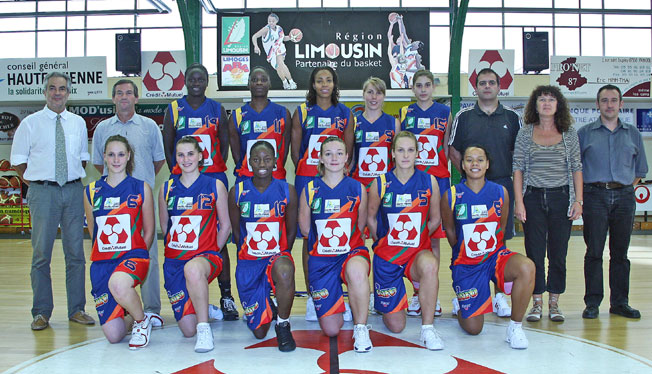 At the end of the NF1 basketball season 2007-2008 Limoges had won 8-of their last 10 games to finish in sixth place. With the 12 games they have won this season, there is no team currently in NF1 that has a better record for the calendar year.
They have already acquired the non official title of winners of the first round although there are still two games to go before the league breaks.
The latest victim of Limoges (Limoges ABC en Limousin) was high-flyers SO Armentières (67-48).
Limoges got off to a good start and led (12-4) early to win the first quarter (15-9). Armentières fought back during the second period and reduced their deficit by the interval to 2 points (27-29).
Limoges have had a horrid season when it comes to injury. They suffered another blow as Barbara Cousin sat out the second half.
Virgine Brémont and company took advantage of the reorganisation of their hosts to go in front briefly during the third period (35-34).
Limoges then went to work and hit their guests 15-2 to go into the last quarter with a 12-point advantage (49-37).
Armentières are fighters but were unable to find the energy to trouble their hosts and allowed the game to pass them by. Maryska Kowalik and Coral Duval led the scoring with 14 points each as Limoges went on to win (67.48).
Limoges suffered a second injury scare as former Bourges Basket Espoir Johanna Tayeau had to leave the game with injury during the final period.
---
Illkirch-Graffenstaden are polite to their former players
The one thing that Illkirch-Graffenstaden and Pleyber-Christ have in common is that their hall is always full for home games.
So for Malgorzata Puc who played for Illkirch-Graffenstaden for two seasons it was almost like playing at home. She was given a nice welcome from the supporters and players from the SIG.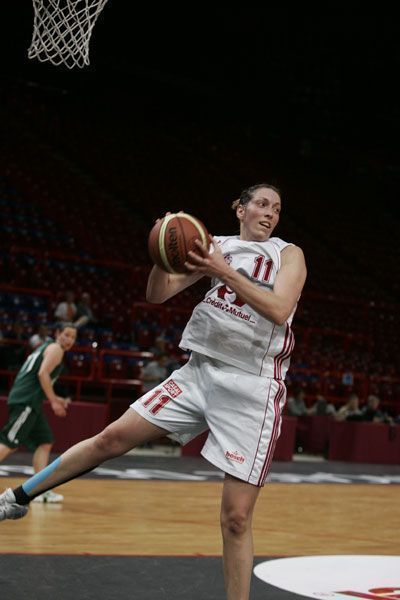 Once the match started, Illkirch and in particular Céline Schmitt-Sender (left) did not waste time and started with (7-3).
Pleyber-Christ were to never lead in the match and the closet they ever go to their opponent was a (8-9) after a three-pointer by Caroline Le Fé.
Afterwards Schmitt-Sender caused Pleyber-Christ all kinds of problems as she compiled 12 points for the home team to lead (27-19).
The guests managed to put a hold on Sender-Schmitt during the second period as they came to within 2 points (36-38) thanks to Laura Dessert.
Noémie Privet settled the home side's nerves with a trey to finish the second period with a flourish (44-36).
Pleyber-Christ fell apart at the start after the break allowing Illkirch to stretch their lead (62-40).
The game as a contest was over with only 27 minutes. The SIG went into the final period leading (66-51) and never looked back to win comfortably (82-62).
It was not a night for three-point shooting. But when 82 points came from 21 assists the low three-point percentage was forgotten.
Sender-Schmitt became active again in the last quarter and finished the game with 24 points while Allison Verneray won the player-of-the-match award with another double-double 12 points and 13 rebounds.
As for Puc she played for 12 minutes scored 3 points and took 6 rebound. She did not make the basketball headlines but still received a warm reception from the supporters of the SIG.
---
---
Toulouse's three-pointers in the last quarter
Toulouse, playing at home, had to wait until the final period before getting the better of Roche Vendée.
In a thrilling match Roche Vendée went into the last quarter leading (62-60).
Within 90 seconds of this period Toulouse were back in front (69-62) after they hit 3 three-pointers by Emmanuelle Hermouet (right), Sylvaine Grelier and Carole Lebouc.

Somehow Roche Vendée survived that onslaught and came to within 1 point (72-73) of their hosts.
Toulouse once again found a solution from behind the arc and fired in two more three-pointers with Hermouet and Lebouc finding the target (79-72).
Roche Vendée, despite foul problems to key players, managed to stay in touch. Elodie Demortier once again made it a 1-point game (78-79).
With less than a minute to play Hermouet was to score again from beyond the arc after intercepting a pass (82-78).
The last 25 seconds were played at the free-throw line with Toulouse only scoring 1-of-2 while Roche Vendée scored 4-of-4. So with 2.9 seconds left Toulouse led (83-82).
Despite a full court press by Roche Vendée, Julia Minard managed to get the ball into the hands of Lebouc who scored for Toulouse to win (85-82).
---
NF1 Basketball news from the rest of the games
Strasbourg ABC required double overtime to beat Voiron (91-94) on the road. Melissa Washington led the scoring for Strasbourg with 28 points while Stéphanie Pognon finished with a game high 31 points for the hosts.
Charleville-Mézières made light work of Colomiers (85-50). They had control of the game from the start and led (22-9) by the end of the first period to never look back.
Things are getting better at Dunkerque as they won for the second weekend in a row (78-60). Ifs lost out in overtime (69-77) playing at home to US Laveyron.
Nice also won for the second time in two weeks by beating the CFBB (65-60).
---
All the results from round thirteen for the Nationale Féminine 1 are listed below:
Limoges 85-82 Roche Vendée
Voiron 91-94 Strasbourg ABC
Illkirch-Graffenstaden 82-69 Pleyber-Christ
Nice 65-60 CFBB
Limoges 67-48 Armentieres
Charleville 85-50 Colomiers
Dunkerque 78-60 Rennes
Ifs 69-77 Laveyron
---
Look back at the NF1 Basketball news from round 11
Look back at the NF1 Basketball news from round 10
Return from NF1 Basketball Nationale Féminine 1 to index page
Return from NF1 Basketball news to women playing basketball blog page
NF1 basketball Picture credits:
Limoges ABC en Limousin
FFBB
womensbasketball-in-france
Date:07 December 2008

---