Ligue Féminine de Basketball news
USO Mondeville are ready for the challenge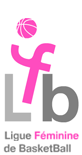 Unlike the international rugby match, all the Ligue Féminine de Basketball matches were played this weekend. All the clubs were much better prepared than in previous years for the extreme cold weather that hit France.
After 19 games of regular season action, Bourges Basket, Challes-les-Eaux and Lattes Montpellier are three wins away from clinching their places in the LFB Championship final play-off series.
USO Mondeville are making a claim for the fourth and final ticket. They are currently in fourth place, two games ahead of teams in fifth place. However with seven rounds of games to be played nothing is certain.
Of the three games played on Sunday, USO Mondeville were the big winners, not only did they avenge their road defeat against Union Hainaut Basket by winning (59-44), they also took the head-to-head series in case both teams finish with identical records at the end of the season.
The match got off to a slow start with Mondeville edging the first quarter (10-6).
Despite playing more aggressively at the start of the second quarter, Mondeville could not score and Hainaut Basket regained the advantage (13-12) three minutes into the quarter.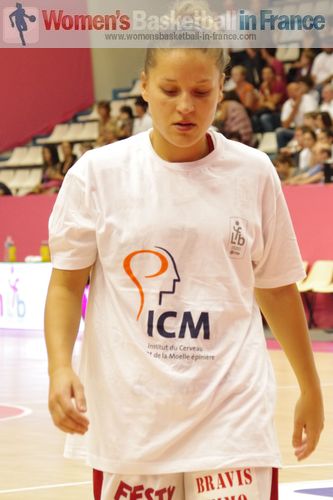 Ingrid Tanqueray (in picture), the driving force of Mondeville, got her team going with an assist followed by 2 points of her own. Her action inspired Kadidia Minté and Touty Gandega and by the interval Mondeville led (27-21).
Mondeville never trialled again and with Tanqueray hitting three-point shots at key moments (4-of-5), they maintained control to the end of the game.
Tanqueray had 20 points and 3 assists. The other player in double figures was Minté with 10 points. Amisha Carter was the only player from Hainaut Basket in double figures with 17 points.
For Hainaut Basket Petra Stampalija's injury is bad and the club has signed Izabela Piekarska for the rest of the season.
Lattes Montpellier waited until the last quarter to shut down their hosts Basket Landes and win the game (64-53).
Yet it was Basket Landes with Marion Laborde on 16 points that went into the final quarter leading (47-40). They scored the first basket of the final quarter and then went scoreless for over six minutes while conceding 11 points (51-51).
With the scores level and the home fans behind them, it was expected that Basket Landes would recover but the answer was no.
Edwige Lawson-Wade (15 points) knocked back a shot from the land of many which she followed up with 2 more points. Her team-mates Kristen Mann (16 points), Ana Lelas (11 points) and Gaëlle Skrela finished the job.
Allison Hightower was cleared to play and made her début for Basket Landes and scored 2 points in the defeat.
With Bourges Basket beating Tarbes and Challes-les-Eaux getting past Charleville-Mézières this weekend, nothing has changed for Montpellier as they remain tied for first place.
Basket Landes have fallen further behind USO Mondeville and are now joined by Nantes-Rezé for a share of fifth place.
Arras remain in danger while Nantes keep on climbing
Arras are in danger of not having a post season after falling at home to Nantes-Rezé (56-64). Arras started the game well and led after the first quarter (16-14). However for the rest of the game their poor finishing let them down.
Nantes were cool, calm and collective all through the game. They had five players in double digits with the top scorer having just 13 points. If not for poor shooting from beyond the arc Nantes' success rate from the floor would have been over 60%.
Since Aurélie Bonnan's return to the basketball court, Nantes Rezé have not lost and they are now sharing fifth place with Basket Landes.
Arras find themselves stuck in 11th place, too close to relegation zone and too far away from 8th place which is the last play-off position.
Bourges Basket 63-48 Tarbes
Charleville-Mézières 53-64 Challes-les-Eaux
Aix-en-Provence 72-65 Lyon BF
Cavigal Nice 86-95 Villeneuve d'Ascq
Arras 56-64 Nantes Rezé
USO Mondeville 59-44 Hainaut Basket
Basket Landes 53-64 Lattes Montpellier

---
Look back at what happened in round 18
Go to Ligue Féminine de Basket 2011-2012 page
Leave Ligue Féminine de Basket - Season 2011-2012 page and return to home page
Return to the top of Ligue Féminine de Basketball page
Ligue Féminine de Basketball picture credits:


womensbasketball-in-france.com
Bellenger/IS/FFBB

Date created: 12 February 2012

---