Round 19 LFB
Survival Saturday

Cavigal Nica and Lyon BF lost 4-point games in the LFB relegation battle while Challes-les-Eaux are getting closer to their qualification for LFB Championship play-off series.
Bourges Basket's victory against Tarbes in the opening game of the round has put pressure on Challes-les-Eaux and Montpellier in the race for the regular season title and EuroLeague Women qualification.
Challes-les-Eaux came into their match with their opponent Charleville-Mézières' objective, a victory.
The victory of Challes-les-Eaux (63-54) was not pretty but much more comfortable than the winning margin. The hosts were unable to fire on all cylinders despite trading basket for basket for the first seven minutes of the game.
A pair of free throws by Emilja Podrug put Challes-les-Eaux in the lead for good (16-14) with three minutes remaining in the first quarter.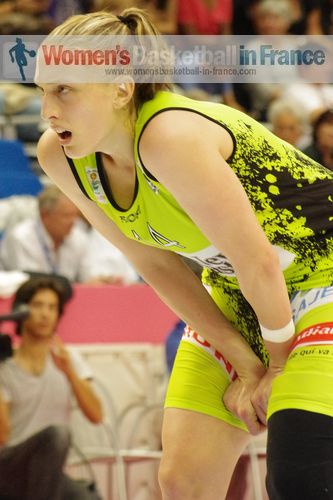 Neither side was able to score again in the first quarter. Danielle Page (in picture) and Mistie Mims started to throw their weight around during the second quarter while the hosts' interiors became invisible.
Challes-les-Eaux made the break and despite the efforts of Zoï Dimitrakou went into the locker room ahead (38-30).
The second half of the match was technical and dull. Charleville-Mézières were unable to get into any rhythm and the game was played out with Challes-les-Eaux dictating the pace. Mims finished with 22 points while Page added 17.
For the hosts Dimitrakou had 17 points, Djéné Diawarra added 11 points while Amel Bouderra scored 9 and dished out 7 assists.
Challes are back on level points with Bourges Basket on top of the LFB.
Ligue Féminine de Basketball - Survival Saturday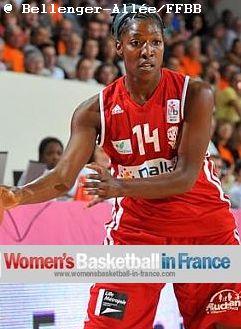 Villeneuve d'Ascq succeeded in scoring more than 70 points in Nice which has become an important number if a team wants to walk away with a victory against Cavigal Nice.
Villeneuve won a high scoring match (95-86) with Sabrina Palie (in picture) having a strong outing. She fired in a game high 23 points which included 9 points (3-of-5) from beyond the arc. Sidney Spenser was next in the list with 20 points.
Olayinka Sanni (5 assists) kept herself out of foul problems while scoring 19 points and pulling down 11 rebounds. Kathy Wambe (4 assists) and Anne Breitreiner also finished in double digits with 12 and 13 points respectively.
Cavigal Nice hit 49% of their shots with Fabienne Constant, Krysten Boogaard and Stéphanie Dubois scoring 18, 17 and 14 points each. Aminata Konate dished out 13 assists while also scoring 9 points.
For Cavigal Nice, the defeat leaves them stuck at the bottom of the table, three games away from safety.
In the other 4-point match at the bottom of the table Aix-en-Provence ended their negative series of defeats with a hard fought victory over Lyon BF (72-65).
Sylvia Grusczynski chose the right moment to become the hero for Aix-en-Provence. She finished the match with 19 points (8-from-13) and 2 assists. She put her team in front for good with 27 ½ minutes played.
Her good shooting took the pressure off Nathalie Hurst who finished the game with 18 points. Cindy Lima kept out of foul problems while helping herself to a double-double of 12 points and 11 rebounds. Her Spanish team-mate Tamara Ablade scored 11 points.
Lyon started the game well and led (12-2) after six minutes and went into the second quarter with a 5-point advantage (18-13). Lyon got a little bit carried away in the second quarter while key players picked up unnecessary fouls which eventually hurt them late in the quarter as Aix earned free trips the charity stripe.
Aix took full advantage to get the advantage back going into the interval (33-32).
The third quarter was rough and defensive with Lyon winning the battle and leading by 5 points on the 25-minute mark. Yet Lyon failed to take command of the game. The hosts came back into the game to reclaim the lead and finish the quarter leading by 4 points.
Lyon missed a great opportunity to get themselves out of therelegation zone, Krystal Thomas managed to lead the scoring with 14 points despite having foul problems. Marissa Coleman, Julie Legoupil (fouled out) and Leigh Aziz (13 rebounds) all scored 12points.
---
Look back at what happened in round 18
Go to Ligue Féminine de Basket 2011-2012 page
Leave Ligue Féminine de Basket season 2011-2012 page and return to home page
Return to the top of LFB Basketball news page
LFB basketball news picture credits:


womensbasketball-in-france.com
Bellenger-Allée/FFBB


Date created: 12 February 2012

---