Round 18 Ligue Féminine de Basketball news
In the Ligue Féminine de Basketball the motto of this week was "watch out because any team can beat you".
The results from the 18th round of games is proof of the competitive nature of the championship: a road win for Bourges Basket on the buzzer, Challes-les-Eaux and Villeneuve d'Ascq hanging on for 1-point victories, Cavigal Nice pulling off an upset and relaunching the relegation battle.
The eight-year reign of Abdou N'Diaye, head coach of Villeneuve d'Ascq, is over. Although no official announcement has been made, Frédéric Dusart has been in charge since the Coupe de France last week.
N'Diaye signed a four-year extension in January 2010 keeping him in the job until 2014. However after the defeat against Charleville-Mézières (80-56) his fate was sealed.
At Tarbes Marie-Pierre Taupin has been named as interim head coach after the official exit of Pascal Pisan, the club are actively looking for a new coach for the first team.
A Saturday night of basketball in the Ligue Féminine de Basketball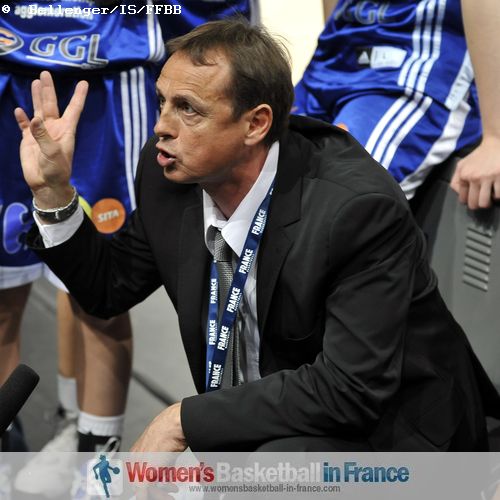 Bourges Basket are back in the hunt for the LFB regular season title after beating Lattes Montpellier on the buzzer.
The game itself was full of twists and turns that it would be nice if Montpellier would release a highlight video.
Valéry Demory (in picture) decided to start with Diandra Tchatchouang and Virginie Brémont, hoping to negate any scouting Bourges might have done. His bluff failed and Bourges Basket opened the game with a 7-0 run.
Demory then restored his usual starters and Montpellier were able to edge the first quarter (17-15). In fact Montpellier compiled a 15-0 run which started in the first quarter and ended during the second quarter (26-15).
Bourges rallied back with a 10-2 run and by the interval trailed by a single point (33-34).
The second half was up and down high level basketball from both sides with the game reaching its climax in the very last second with the game tied (70-70).
Céline Dumerc from Bourges fired up a shot that hit the ring and bounced back. Emméline Ndongue jumped up and then with a volleyball technique returned the ball into the net for the victory.
Bourges Basket can join Challes-les-Eaux and Montpellier in a three-way tie for first place later this week if they beat Charleville-Mézières in the rescheduled match from round 12.
In the other game on Saturday, Challes-les-Eaux had three strong minutes at the end of the first half in which they turned a 6-point lead into 16 points (54-34).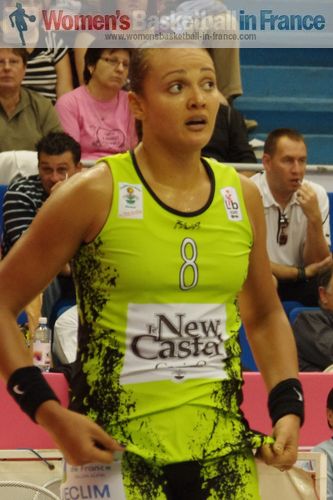 The second half of the match belonged to Aix-en-Provence. However the monster performance by Natalie Hurst was not enough and Challes-les-Eaux won by a single point (80-79).
Hurst went a perfect 5-of-5 from beyond the arc while compiling a total of 29 points. She missed just one shot in the match.
Claire Tomaszewski from Aix also had a good night from beyond the arc with 3-of-4. She finished with a season high 17 points.
But it was Mistie Mims (in picture) from Challes-les-Eaux who was again the player of the match. She finished with 30 points while Anaël Lardy put in 16 points and dished out 6 assists. Alexia Plagnard also contributed 5 assists while scoring 7 points.
This victory returns Challes-les-Eaux to the top of the Ligue Féminine.
At last (enfin) is the remark for Sunday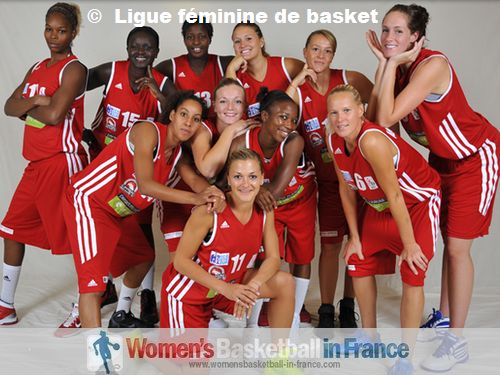 To beat Cavigal Nice at home a team needs to be thinking of scoring more than 70 points or playing excellent defense.
USO Mondeville did not score more than 70 points and were absent in defense at key moments allowing 13 offensive rebounds and 12 second-chance points.
The result is "at last" a victory for the Niss Angels in 2012 (73-69).
Aminata Konate scored 18 points, dished out 6 assists and was credited with 5 steals while Merike Anderson led the scoring with 21 points. Giuday Mendy also finished with a double digit score of 14 points in the victory. With this loss USO Mondeville drop to fourth place.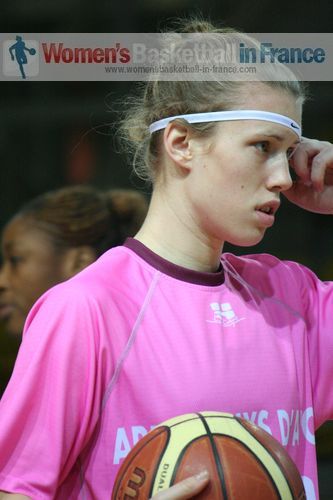 At last Arras found their magic formula as they beat Tarbes (77-68). For the first 30 minutes Arras were at their best, that is: Krissy Bade defending and not fouling, Joyce Cousseins-Smith and Leilani Mitchell in tandem and Nadezdha Grishaeva present in attack.
When these four elements function Pauline Akonga-N'Simbo does not need need to play many minutes while everybody else does what is needed to win.
Tarbes did make a fightback in the final quarter but really left it too late. Gabriela Marginean (in picture) finished with 20 points while Akonga-N'Simbo scored 19 points in 22 minutes.
Hainaut Basket avenged their buzzer defeat at home to Lyon with a hard fought victory against Lyon (79-73).
Amisha Carter who played for the 40 minutes in the absence of Petra Stampalija, was also the match winner with 26 points and 13 rebounds.
Marissa Coleman arrived in time to make her début for Lyon. She played for 24 minutes and scored 8 points. Lyon are still tied with Aix-en-Provence in the first relegation spot.
At last the fans of Villeneuve d'Ascq have something to celebrate with their victory against Basket Landes (64-63).
Emilie Gomis from Villeneuve and Amélie Pochet from Basket Landes did not play in this game.
Villeneuve went into the final quarter leading by 10 points and then had to weather a typical Basket Landes blitz. Kathy Wambe with clever ball distribution and Olayinka Sanni (21 points, 16 rebounds) working in the paint just did enough to gain the victory.
Anaïs Le Gluher-Cano from Basket Landes had 16 points in the first 20 minutes but failed to score again in the second half.
Basket Landes lost two players for the season who have not been replaced and with Pochet missing today, the roster depth is looking thin. According to the rules by the Ligue Féminine de basketball they have until next week to sign new players.
Nantes-Rezé are not playing the most exciting basketball in France at the the moment but they keep on winning. They are on a run of five wins in the championship.
Nantes-Rezé were never really in any danger of losing to Charleville-Mézières but somehow made hard work of it.
Lenae Williams led the way with 26 points while Johanne Gomis with 14 points was the only other player in double figures. Caroline Aubert helped herself to 6 assists and 7 points.
For Charleville-Mézières Zoi Dimitrakou only managed 14 minutes. Yet she did score 8 points before fouling out of the game. Anne-Sophie Pagnier with 16 points was the leading scorer.
Lattes Montpellier 70-72 Bourges Basket
Challes-les-Eaux 80-79 Aix-en-Provence
Nantes-Rezé 70-64 Charleville-Mézières
Villeneuve d'Ascq 64-63 Basket Landes
Tarbes 68-77 Arras
Lyon 73-79 Hainaut Basket
Cavigal Nice 73-69 USO Mondeville

---
Look back at what happened in round 17
Go to Ligue Féminine de Basket 2011-2012 page
Leave Ligue Féminine de Basket - Season 2011-2012 page and return to home page
Return to the top of Ligue Féminine de Basketball page
Ligue Féminine de Basketball picture credits:


womensbasketball-in-france.com
Bellenger/IS/FFBB

Date created: 5 February 2012

---