LFB basketball news from round 16
Bourges move up the table
Tarbes taken to the wire
---
---
In the LFB basketball news section of La Voix du Nord newspaper this week, an article was dedicated on the fact that
Abdou N'Diaye
has signed a new contract with Villeneuve d'Ascq that will keep him at the club until 2014.
He has not had the opportunity to celebrate this with his play because they were defeated in the EuroLeague Women during the week.
They also lost to Nantes-Rezé (75-82) in the Ligue Féminine de Basket round 16.
Basketball can be cruel at times: with the last shot of the game Marielle Amant had the chance from the free-throw line to tie or win the game for Arras against Bourges Basket.
Yet she missed both free-throws for Bourges Basket to escape (69-68).
Ivanka Matic has settled in at Challes-les-Eaux. She fired in 18 points and collected 12 rebounds in the road victory (76-64) against Basket Landes.
Aix-en-Provence got into foul problems again and lost key players at crucial times. This resulted in them losing on the road (57-63) to Armentières.
Constance Jinks scored 13 points during the final quarter to help Lattes Montpellier get past COB Calais (60-56).
Limoges ABC trailed all the way at home against USO Mondeville (62-83). Mondeville had six players in double digits and remain unbeaten in all competitions in 2010.
Toulouse went into the final quarter leading (53-49) against Tarbes but ended up losing (60-64).
You can read highlights of LFB basketball news from the weekend action by clicking on the links below or by scrolling down page:


The best from Saturday

Tarbes and Montpellier suffer on Sunday

Match results and statistics

---
---
Never easy for Bourges Basket
When Arras beat Bourges Basket in overtime in October 2009, it was the LFB basketball news headline of the week.
So the expectations for the return encounter was high. The game lived up to expectation, with a total of 21 lead changes and a nail-biting finish.
Arras were a little bit better than Bourges Basket throughout the game. However their lack of experience in tight situations cost them the game in the stretch.
It is true that Marielle Amant (left) had the chance to take the game into overtime or win it with 4 seconds left from the free-throw line. Yet it was not to be as the ball refused to drop.
Amant was the best player on the field with 20 points, 10 rebounds, 2 assists. She also drew 7 fouls in her 38 minutes of play.
Pierre Vincent, the head coach from Bourges, did not play any of his players more than 30 minutes with the exception of Essence Carson.
Carson (12 points) will be leaving Bourges at the end of January when Ana Lelas returns to LFB action.
Katrina Manic also scored 12 points for Bourges Basket, while Nwal-Endéné Miyem and Styliani Kaltsidou scored 11 and 10 points each.
Bourges Basket used all 10 players for the match, something Arras are unable to do. Julie Bertin's season has not started. Juliana Mailoundama is still a U18 player and Princesse Goubo is waiting for her chance.
So with Pauline Akonga Nsimbo in early foul problems and Hanna Bouldwin not at 100%, Arras were stretched to the limit.
Johanne Gomis and Olesia "Olesya" Malashenko contributed 15 and 11 points each.
---
Armentières held off Aix-en-Provence
Aix-en-Provence
had a disastrous start to the game and left themselves with a lot of chasing to do.
Emmanuel Coeuret was not happy with the officiating. Not for the first time this season, he lost key players with 5 fouls when he needed them on the court.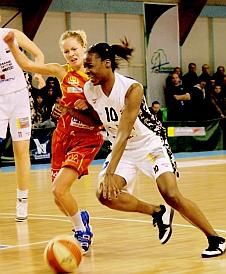 However the LFB basketball news from this match is the performance from the former SJS Reims connection of Mia Fisher and captain Marie-Frédérique Ayissi (right).
Fisher was the catalyst during the first half of the match and led the team with 14 points at the interval (40-28).
Ayissi who is still having problems with her shoulder came up big at both ends of the court during the latter stages of the game. She finished the match with 21 points.
She only missed once all evening and went a perfect 7-of-7 from the free-throw line.
Julie Page led the attack for Aix with 16 points but had to watch the last three minutes from the bench due to 5 fouls.
---
LFB Basketball news: Nantes Rezé move into third place for a few hours
Mame-Marie Sy-Diop and Lindsay Taylor combined for the first 10 points for Nantes-Rezé to lead (10-7) with just over four minutes played. The partnership was broken up because of Taylor's early 2 fouls.
Sy-Diop continued her festival in rebounding while Doriane Tahane stepped in for Taylor.
Although Villeneuve went into the final quarter leading (61-55) they ended up losing (75-82).
Mélanie Plust and Taylor were telepathic all through the final quarter: Taylor was credited with 2 assists off three-pointers by Plust while Plust returned the favour for Taylor to score.
Taylor only played 18:33 minutes but finished as leading scorer with 19 points alongside Sy-Diop who also had 18 rebounds.
Emilie Gomis fired in 19 points for Villeneuve who now drop behind Nantes-Rezé on point average.
---
LFB Basketball news: Ivanka Matic makes waves at Challes-les-eaux
Ivanka Matic arrival as one of the new players of 2010 is already paying dividends for Challes-les-Eaux with the return to form of the captain Martina Gyurcsi-Luptakova.
Challes-les-Eaux won for the second game in a row with a (76-64) Road victory against Basket Landes.
Matic finished the game with 18 points and 12 rebounds while Gyurcsi-Luptakova topped the scoring 19 points.
Latvia international Elina Babkina is also showing her true potential and contributed 12 points.
Return to the top
---
---
Some close finishes on Sunday
Toulouse took Tarbes all the way and lost out during the last 90 seconds of the game (60-64).
Kateryna Dorogobuzova has settled in France and led the Toulouse attack with 18 points. Leah Metcalf ran her heart out for 36 minutes and scored 16 points.
Most of the LFB basketball news during the week were about Tarbes, their EuroLeague Women defeat against Spartak Moscow Region, and their coach's disappointment about not winning.
So it came as no surprise that his side struggled in getting into this match and only got through with a late score from Charde Houston and a couple of free-throws by Fatimatou Sacko.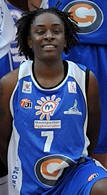 Lattes Montpellier escaped from defeat thanks to a final quarter flurry from Constance Jinks (left) (60-56).
COB Calais' professional roster has been reduced due to financial obligations imposed by the FFBB and LFB so they more or less played the whole game with five players.
Elsa Martin was the sixth player used, she mainly covered for Aurélie Cibert who was in early foul problems.

For Joyce Cousseins-Smith, who led the COB attack with 16 points, it was almost a perfect return to the club she played for as a junior.
LFB basketball news: Mondeville, playing much better
Limoges' problems are well documented and with Awa Gueye, Maryska Kowalik and Johanna Tayeau all out injured, they were not expected to trouble US Mondeville.
Mondeville, playing with new confidence, did not allow their hosts to get into the game and opened with a (7-0) run.
Aikaterina Spatharou, the Greek international from Limoges, gave the home fans something to cheer about with her hustling play and 5 quick points to bring her side to within 2 points (8-10) with just under five minutes played.
However this was as close as they could get because Temeka Johnson used an opportunity to try out her three-point shooting. She hit the target and Mondeville slowly regained control to open up a 16-point advantage by the end of the first quarter.
The game as a contest was over by the interval with Mondeville leading (51-33).
Hervé Coudray from Mondeville tried things out during the second half of the match and turned his bench regularly.
The advantage his team had meant that Aurélie Bonnan was not required to play.
Lenae Williams led the scoring with 20 points. Five other players finished in double digits in the (83-62) victory.
Anaïs Jomby fired in 20 points for Limoges while Erica Davis contributed 14.
After 16 games Limoges are yet to win. So the break from league action for the French cup is welcome.
Return to the top of the LFB basketball news
---
LFB round 16 results
Lattes Montpellier 60-56 Calais
Basket Landes 64-76 Challes-les-Eaux
Armentières 63-57 Aix-en-Provence
Nantes Rezé 82-75 Villeneuve d'Ascq
---
Return from LFB basketball news to Ligue Féminine de BasketBall index
Return to "what's new" - WBBiF page
Return to women playing basketball in France home page
LFB basketball news picture credits:

womensbasketball-in-france.com
Ligue Féminine de Basketball (LFB)
Sami Belloumi - La Voix du Nord
PIKA - S0 Armentières
Arnault Cantreau - Presse Océan
Date Created: 16 January 2010
Last Update: 17 January 2010

---