Lattes Montpellier are the new leaders
of the Ligue Féminine de Basketball
It has taken 17 rounds to dislodge Challes-les-Eaux from the top in the Ligue Féminine de Basketball as they dropped a road game against USO Mondeville (50-64) while Lattes Montpellier picked up a victory against Arras (80-72).
Lattes-Montpellier are now alone at the top of the LFB for the first time this season.
So far 2012 has not been their cup of tea for Challes-les-Eaux with their second defeat in three games.
Challes-les-Eaux failed from the start to get into their rhythm against USO Mondeville.
For Challes-les-Eaux Mistie Mims was in foul trouble early and was not able to mark her authority in the game, while Anaël Lardy had a game to forget.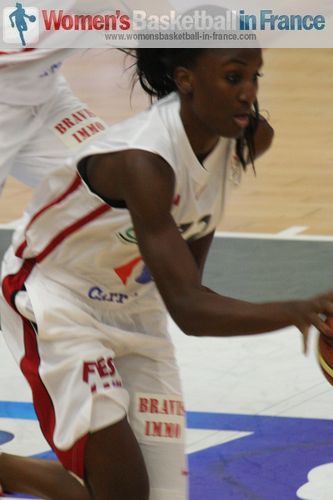 Mondeville's lack of success in shooting during the first 20 minutes did not seem to bother them as they defended aggressively and led (28-27) at the interval.
During the third quarter Mondeville picked up their inside game with Laëtitia Kamba (13 points, in picture) and Katerina Zohnova (16 points) doing the damage.
Aldo Corno, the coach from Challes-les-Eaux, already sensing defeat, started to question the officials as his side fell further behind (35-47) going into the final quarter.
With Mims fouling out with around seven minutes left to play, any hope of a late surge for Challes had disappeared.
Mondeville maintained their defensive discipline to win (64-50).
K. B. Sharp and Ingrid Tanqueray dished out 8 and 4 assists respectively while Naignouma Coulibaly continued her rebound festival with 10 in the victory. Romy Bär led the scoring for Challes-les-Eaux with 14 points.
Mondeville remain in third place while Challes-les-Eaux drop out of first position for the first time in the Ligue Féminine de Basketball this season.
She is known as Sandra Dijon-Gérardin (nous les grandes)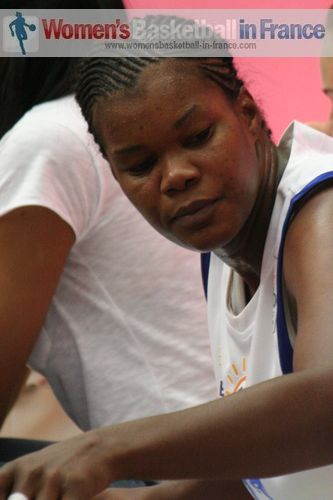 Sandra Dijon-Gérardin
(in picture) has not retired from playing professional basketball yet and gave the supporters from Arras a reminder of the skills that made her a regular player for the French National team.
She scored all her team's points during the first four minutes of the match as her team lead (10-7).
In the end she played just under 16 minutes but finished with 15 points, 1 steal and 2 rebounds. Dijon-Gérardin never smiles during a game these days but her smile at the end of the game summed up the match as Montpellier survived to win (80-72).
Arras were looking for a victory to move out of the relegation zone and did not make it easy for Montpellier. With just under 2 1/2 minutes to play Leilani Mitchell (15 points and 5 assists) - in her best match of the season - brought Arras to within 2 points of Montpellier (72-74).
This was as close as they got because 30 seconds later Edwige Lawson-Wade fired in a shot from beyond the arc for the guests to put them on their way to victory.
Arras did not give up but all their attempts missed the target and with six seconds left to play Lawson-Wade sealed the victory whith her third trey of the game. Lawson-Wade (6 assists) and Ana Lelas finished with 18 points each.
For Arras Nadezhda Grishaeva was the leading scorer with 19 points.
Lattes Montpellier are now alone at the top of the Ligue Féminine de Basketball regular season standings.
Elsewhere in the Ligue Féminine de Basketball - Round 17
Charleville-Mézières had their biggest win of the season in beating Villeneuve d'Ascq (80-64) in the opening game for round 17.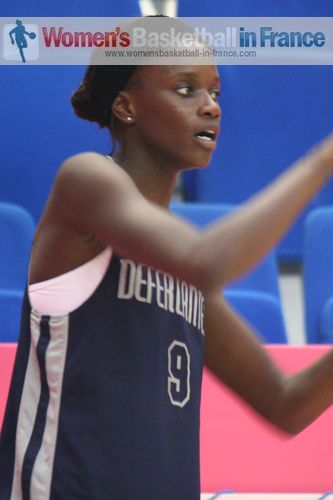 Nantes-Rezé made hard work of beating Hainaut Basket (58-56) despite being ahead from start to finish. Leading by as many as 14 points during the third quarter, they almost hit the self destruct button during the final quarter.
Johanne Gomis (in picture) who was the hero during the first quarter with 13 points as Nantes edged the quarter (20-11), picked up a technical for her persistent dialogue with the officials.
Fortunately for her, Hainaut Basket only hit 1-of-2 from the free-throw line which stopped them from drawing level. Nantes held on to the victory by finishing with 4-of-8 from the charity stripes. Gomis finished with 19 points while Lenae Williams added 17.
Bourges Basket allowed Lyon eight minutes of fun (13-13) and then stepped on the turbo with a 12-0 run to finish the first quarter (25-13).
It was plain sailing for Bourges the rest of the way with a comfortable victory (75-55). Nwal-Endéné Miyem and Cathy Joens had 17 points each while Emméline Ndongue added 10. Leigh Aziz had 14 points for Lyon.
For Basket Landes Jennifer Humphrey returned to action for her side to beat Cavigal Nice (68-61). Humphrey scored 14 points and picked up 8 rebounds, while Marion Laborde led the way with 16 points.
For Cavigal Nice, this was another missed opportunity on closing the gap with the teams above them.
Tarbes' roster has changed so much that nobody knows how they will play. They certainly confused their hosts Aix-en-Provence with a (22-9) first-quarter blow-out. They then paced themselves to victory with (72-64) with 16 points coming from Lizanne Murphey.
Arras 72-80 Lattes Montpellier
Hainaut Basket 56-68 Nanates-Rezé
USO Mondeville 64-50 Challes-les-Eaux
Basket Landes 68-61 Cavigal Nice
Aix-en-Provence 64-72 Tarbes
Bourges Basket 75-55 Lyon
Charleville-Mézières 80-56 Villeneuve d'Ascq
---
Look back at what happened in round 15 and 16
Go to Ligue Féminine de Basket 2011-2012 page
Leave Ligue Féminine de Basket - Season 2011-2012 page and return to home page
Return to the top of Ligue Féminine de Basketball page
Picture credits:


womensbasketball-in-france.com

Date created: 23 January 2012

---