LFB match report
Bourges Basket take down Tarbes
When the LFB-TV schedule was put together, the expectation was that Bourges Basket and Tarbes would be the leading teams in the Ligue Féminine de Basketball.
While Bourges have recovered from a difficult start to the season and are almost back to their best, Tarbes' basketball season has not taken off.
The latest episode of the Tarbes soap opera was the resignation of Co-President Bernard Duclos earlier this week. In the meantime the club is still looking for a new head coach for the first team.
On the current Tarbes roster there are five former Bourges Basket players while Céline Dumerc is the only player in Bourges to have played for Tarbes.
Bourges Basket were playing at home for the second time this week after beating Charleville-Mézières (63-31) in a rescheduled match from the 12th round.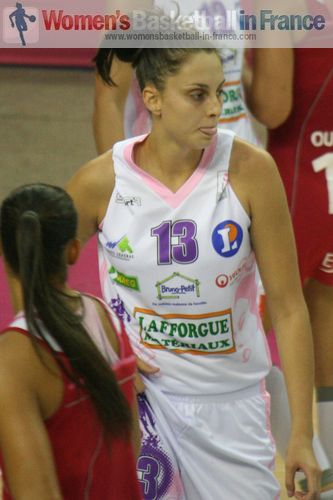 Bourges Basket led from start to finish and almost ended the game as a contest by the interval leading (38-18).
Tarbes picked up in the third quarter but were unable to bring the deficit down enough to trouble the hosts. The LFB match fizzled out into a no-contest with Bourges running out winners (63-48).
For Bourges Nwal-Endéné Miyem led the scoring with 15 points while Greek international Styliani Kaltsidou and Cathy Joens finished with 14 and 10 points each. Céline Dumerc dished out a game high 9 assists.
For Tarbes Ana-Maria Cata Chitiga (in picture) was by far the best player with 12 points and 8 rebounds.
The story of the LFB match
Bourges were more or less in control from the tip-off and with just 10 seconds played Emméline Ndongue was on the charity stripes for the first 2 points of the game.
Bourges hardly missed a shot and led (10-2) with 5:30 left to play when Tarbes called the first time-out of the game.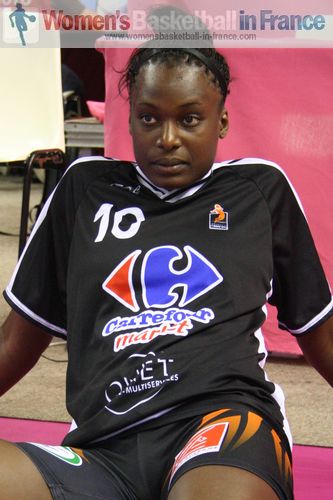 Tarbes tried to mix their defensive systems to slow down their opponents. But each time they switched to zone, Bourges fired in a three-pointer. The only thing that went wrong for Bourges in the first quarter was 2 quick fouls for Jennifer Digbeu (left).
Bourges won the first quarter (20-6) hitting 8-of-16 from the field while Tarbes were just 2-of-12.
However the first quarter's story was the assist count, which was 7-0 in favour of Bourges.
Bourges continued to hit the big shots when required and were cruising towards a big total leading (35-14) with 17 minutes played.
Céline Dumerc then had to leave the field with 2 quick fouls and was replaced by Romane Bernies.
Bourges then became a little careless and only managed one score with a 3-point play by Nwal-Endéné Miyem (2 points + 1 free throw).
The first half ended painfully for Charlotte Preiss who collided with her team-mate Paoline Salagnac (who was wearing a face mask) and from what we heard broke her nose.
However Bourges still went into the locker room leading (38-18).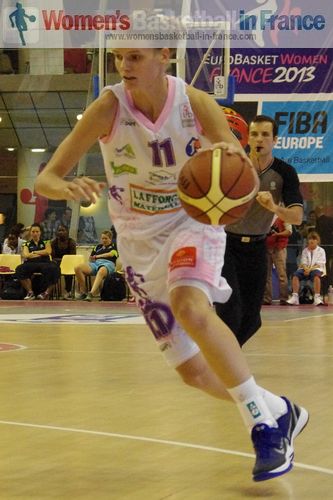 After the break Tarbes were more adventurous and started to run the floor with fast breaks. In addition Ana-Maria Cata Chitiga and Florence Lepron (in picture) picked up their game.
Bourges lost their shooting ability and scored just 2 baskets and 4 free throws but still went into the final quarter with a 14-point lead (47-33).
At the start of the final quarter Bourges picked up on defense with Ndongue blocking Cata Chitiga on the very first attack.
Within a twinkle of an eye Bourges Basket regained complete control and with five minutes to play had a comfortable 23-point cushion (59-36).
Bourges then went back to sleep and became careless which allowed Tarbes to finish with a flourish and make the final scoreline more respectable.
With seven rounds of games left to play in the LFB regular season, Tarbes' chances of a top 3 finish are very unlikely. To finish in fourth place they need to start winning and hope that USO Mondeville and Basket Landes have a bad run of results.
Bourges Basket: Romane Bernies 0, Margaux Galliou Loko 0, Ieva Kublina 0, Nwal-Endéné Miyem 15, Styliani Kaltsidou 14, Céline Dumerc 6 (9 assists), Jennifer Digbeu 4, Cathy Joens 10, Marielle Amant 2, Emméline Ndongue 5 (8 rebounds), Kiesha Brown 7
Tarbes: Paoline Salagnac 5, Alex Montgomery 8, Maja Miljkovoc 0, Pauline Krawczyk 8, Naura El Gargati 3, Florence Lepron 8, Lizanne Murphy 4, Ana-Maria Cata Chitiga 12 (8 rebounds), Charlotte Preiss 0
---
Look back at what happened in round 18
Go to Ligue Féminine de Basket 2011-2012 page
Leave Ligue Féminine de Basket season 2011-2012 page and return to home page
Return to the top of LFB Basketball news page
LFB basketball news picture credits:


womensbasketball-in-france.com


Date created: 11 February 2012

---