Ligue Féminine 2
US Laveyron 2011-2012 roster
US Laveyron gained promotion to Ligue Féminine 2 with an almost perfect 2010-2011 season in which they completed the cup and championship double.
Informations sur US Laveyron en français en bas du page
Last season US Laveyron was considered to be the dream team of NF1 (division 3) with a roster that contained players with LFB and LF2 experience.
They played a total of 35 official games last season winning 33 with an average score of 82 points per match while conceding just 57 points.
For the new season just three players have left the club: Katia Forel has ended her career while Vanessa Candelier who played for COB Calais in the LFB has moved to NF2 club St Chamond.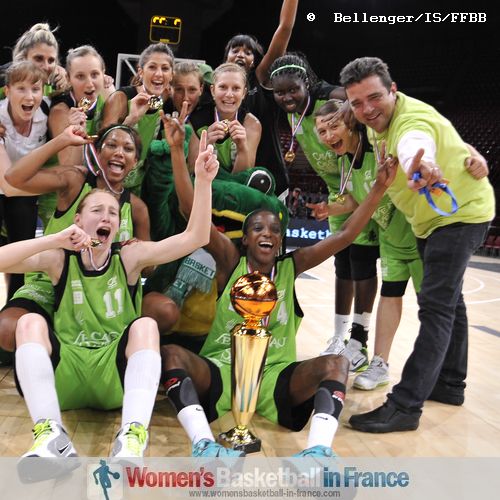 The third player to leave is Manon Cherubini who crossed over the Atlantic to study and play basketball at South Georgia Tech which is a junior college.
The following players are returning: Pulchérie Ayi, Aïda Fall, Madou M'Bengue, Cheryl Malédon, Katarina Simkulakova and Eléna Vishnyakova.
The big signing for the summer is former Indiana University star player Jamie Braun. When her university career ended in 2010 she was not drafted into the WNBA. However she made a brief stop in Iceland for two games during the 2010-2011 season.
Due to the fact that all clubs in LF2 require to have four French players under the age of 23 on the score sheet US Laveyeron have added three French youth players to the roster:
Leslie Fournier turns 21 a few days before the start of the season. She spent five seasons at the youth academy in Montpellier and played some games in the LFB before moving to Rennes last season.
20-year old Jennifer Lafaurie comes from Lyon BF. The point guard played for Lyon at all levels since the age of 13. Caroline Misset who turns 18 before the end of September is the last player to join the club. She spent the last two seasons at Reims BF.
L'effectif de US Laveyron pour la saison 2011-2012
La dernière saison en NF1 US Laveyron gagna 33 de ses 35 matchs en remportant le titre de Champion de France et Trophée Coupe de France seniors féminines.
Voici les joueuses de la saison dernière qui sont parties:
Katia Forel (arrêt), Vanessa Candelier (NF2 - St Chamond) et Manon Cherubini (études aux Etats-Unis).
Les joueuses de la saison 2010-2011 qui restent:
Pulchérie Ayi, Aïda Fall, Madou M'Bengue, Cheryl Malédon, Katarina Simkulakova et Eléna Vishnyakova.
Les jeunes recrues en moins de 23 ans:
(A partir de la nouvelle saison chaque équipe en ligue féminine 2 doit avoir sur la feuille de match en moins quatre joueuses françaises moins de 23 ans.)
Leslie Fournier, Jennifer Lafaurie, Caroline Misset.
La nouvelle étrangère:
Jamie Braun (Indiana University: 2006-2010)
---
Return to Ligue Féminine 2011-2012 index page
Leave Ligue Féminine 2 news and return to home page
Return to the top of page
Picture credits:


Bellenger/IS/FFBB

Date created: 09 September 2011
---