Ligue 2 side wins the 2011
Trophée Crédit Mutuel in Strasbourg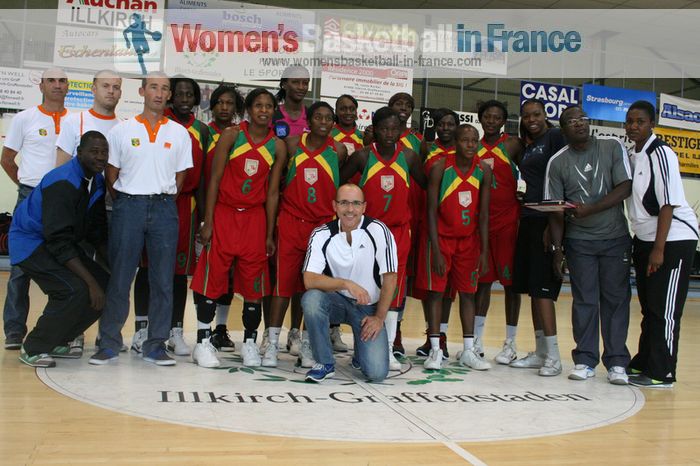 The preparation of Illkirch-Graffenstaden (SIG) for the Ligue Féminine 2 season officially starts with their hosting of the Trophée Crédit Mutuel tournament.
This season LF2 rivals SO Armentières and Reims BF made the trip to Strasbourg. The international flavour for this edition was provided by Mali.
Mali are preparing for AfroBasket 2011, which is the Olympic qualification tournament for the FIBA Africa zone.
A picture gallery and a report can be found by scrolling down the page.
Il y a une gallerie photo aussi bien qu'un compte-rendu en français en bas de page.
In 2007 Mali won its first ever AfroBasket Women competition by beating the host nation Senegal in the final (63-56).
Hamchétou Maïga-Ba was MVP and Djéné Diawara was the top rebounder.
By winning AfroBasket 2007 Mali had qualified directly for the 2008 Olympic games.
In 2009 Mali lost their African crown in the final against Senegal (57-72) but still qualified for the 2010 FIBA World Championship for Women.
Hervé Coudray was appointed coach of the Malian national team in 2010 and had to settle for 15th place at the World Championship, held in the Czech Republic.
Mali host the 20th edition of AfroBasket Women from 23 September until 2 October 2011 in Bamako.
Coudray called up 18 players for the preparation which started in Mulhouse, France at the beginning of August. Most of the players are known in France because they either have played in France or are still playing basketball for clubs in France.
Since the start of the preparation three players have been released: Aminata Sininta, Djénébou Damba and Mariatatou Diarra.
Two other players have been excused in order to return to school in the USA: Aïssata B Maiga and Fanta Toure (They may still be recalled to play in the African Championship.)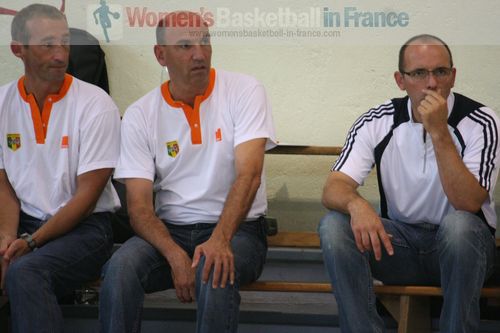 Out of the 13 players remaining Hamchétou Maïga-Ba is the best known internationally due to her experience playing in the NCAA with ODU and in the WNBA.
However with players such as Djéné Diawara, Nassira Toure, Djéneba Sissoko and Fatoumata Bagayoko they were expected to be the top team in Strasbourg.
Coudray is assisted by Jacques Vernerey and Oumar Sissoka. Olivier Bady is also a member of the training team while Romain Roman is the fitness trainer.
SO Armentières are the winners - Héléna Akmouche is MVP
Héléna Akmouche's three-point shooting form from the U19 FIBA World Championships did not dessert her all weekend. She was responsible for saving her side from defeat during regulation time and sending the final into overtime.
The final started slowly with both sides missing early scoring opportunities. Mali's stronger inside presence enabled them to get the first score of the game.
However Mali were made to work hard to score and were unable to build a bigger advantage. SO Armentières were more patient in their approach and stayed in the game with clutch shooting and fast break scores.
Mali paid for their generosity from the free-throw line as Akmouche sent the game into overtime.
Despite 9 points by Maiga-Ba from Mali in the final five minutes SO Armentières held on to win the game by a single point (63-62).
Armentiéres had their complete Ligue Féminine 2 roster in place during the weekend: Manon Vierne, Maiwenn Catrix, Anaïs Déas, Mia Fisher, Valérie Labbe, Héléna Akmouche, Aurélie Carmona, Anda Nedovic and Rachel Goutière.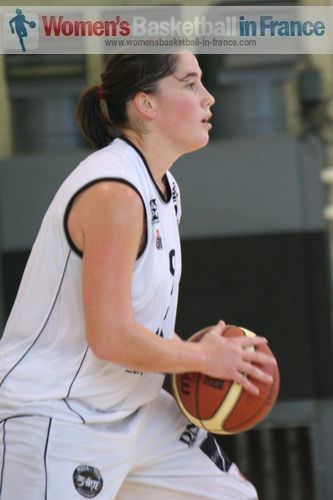 The SIG snatched third place against Reims in overtime (73-72).
Reims almost had the game won in regulation time. But with two seconds on the clock Éloïse Chapays (in picture) who had brought the ball up from the defensive end released a long distance shot from well behind the arc that went in to tie the match (67-67).
Although overtime was scrappy the SIG held on for a 1-point victory.
The SIG were unable to have its full roster on display with Brazdeïkyte, Amina Njonkou and Céline Schmitt-Sendner all not playing.
For Reims BF Carole LeClair and Mélissa Micaletto were also not able to play.
Competition results:

Mali 62-63 SO Armentières (final)
Illkirch-Graffenstaden 73-72 Reims BF (3rd place match)

Illkirch-Graffenstaden 49-56 SO Armentières
Reims BF 46-60 Mali

Return to the topLigue Féminine 2 news page

Move your mouse on the small pictures to view
Return to the top of Ligue Féminine 2 news page
SO Armentières - vainqueur du Trophée Crédit Mutuel à la SIG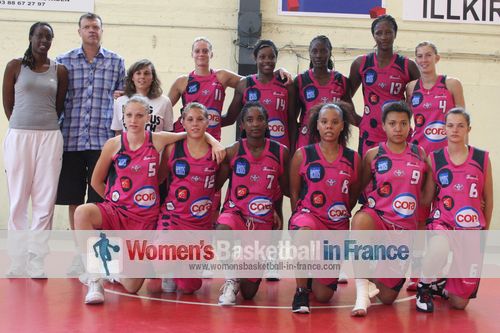 Le premier match opposait les Ardénoises à l'équipe du Mali.
Privé de Mélissa Mécalitto, l'équipe de Reims n'arrivait pas à trouver une lancée face à l'équipe du Mali très agressif en défense. Consécutivement Mali gagna (60-46).
Pour cette rencontre, le coach Hervé Coudray attitrait son coach adjoint Jacques Vernerey, le père d'Allison Vernerey (à l'université de Duke en ce moment-même) de prendre les choses en main pour les Maliennes. Vernerey était assisté par l'Alsacien Olivier Bady.
Le deuxième match de la soirée opposait deux équipes de la ligue 2: la SIG et SO Armentières. Malgré quelques joueuses manquantes pour la SIG (Lina Brazdeïkyte était malade et Céline Sendner-Schmitt pour cause de blessure) le match était serré.
Néanmoins, le dernier quart-temps était en faveur des Nordistes qui s'imposèrent de 7 points. (56-49) Héléna Akmouche menait son équipe avec de nombreux tirs primés.
Le lendemain, le suspense était à son apogée d'abord pendant le match pour la troisième place et ensuite pour la finale.
La SIG et Reims étaient au coude à coude tout au long du match et cela continuait en prolongation. Avec quelques secondes restante avant la prolongation, les Ardennaises menaient avec 3 points. Mais Héloïse Chapays faisait la différence pour la SIG. Elle montait la balle et shoota au buzzer du milieu du terrain pour un swish parfait.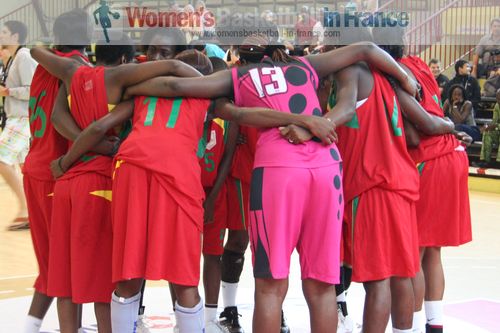 La finale, elle aussi dura 45 minutes. Malgré leur défense de fer, le Mali n'arrivait pas à prendre l'avantage dans le dernier quart temps. La maladresse au lancés francs des Maliennes permis aux Nordistes de réduire l'écart.
A quelques secondes de la fin du match, Akmouche égalisa avec un tir primé. Durant la prolongation les Maliennes n'avaient pas la main chaude à part Hamchétou Maïga-Ba essaya tout. Alors Armentières parvint à arracher la victoire mené par la MVP du tournoi Akmouche.
---
Return to Ligue Féminine 2011-2012 index page
Leave Ligue Féminine 2 news and return to home page
Return to the top of Ligue Féminine 2 news page
Picture credits:


womensbasketball-in-france.com

Date created: 08 September 2011
---