Ligue Féminine 2
Limoges 2011-2012 roster
The bad experience from the 2009-2010 season in the Ligue Féminine de Basketball (LFB) is long forgotten as Limoges ABC plan for their second season in LF2.
Informations sur Limoges ABC en français en bas du page
Limoges' policy of working with youth players has earned the right to officially use the term "Centre d'Entraînement" for its basketball academy.
However this season they are without two players who have experienced the highs and lows of basketball in Limoges in the last three seasons.
Former youth international Maryska Kowalik who recently qualified as a physiotherapist decided to take a break from basketball while Johanna Tayeau moved to Roche Vendée.
In addition Limoges' product Cécile Baudy - in order to continue her education - moved to Feytiat in NF2.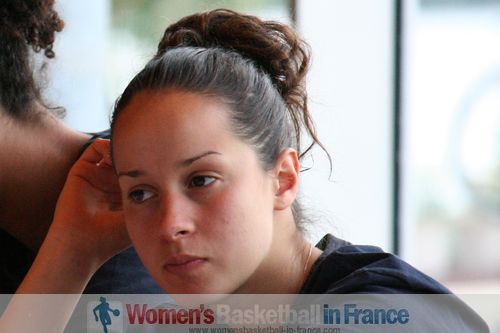 The three foreign players from last season have left the club: Swiss international Alexia Rol went to Arras.
Dutch international Tanya Bröring and American Tiffany Benson have not confirmed their movement at the time of writing this article.
The new players joining the club are: Joyce Mageot (Bourges Espoirs - NF1), Linda Bousbaa (in picture above) (Dunkerque - LF2 ), Hillary Klimowicz (America), Perrine Le Leuch, Belinda M'Boma (Charleville-Mézières - LFB).
Perrine Le Leuch who is a qualified physiotherapist is returning to basketball after having a baby.
The players returning are: Lindsay Gonzales, Elodie Leroux-Chieze, Martine Barba, Kerline Verjuin, Nelly Larraud.
L'effectif de Limoges ABC pour la saison 2011-2012
Limoges ABC démarre sa saison dans un nouveau cycle. Six joueuses de la saison dernière reviennent jouer avec Limoges ABC dont les quatre dernières ont moins de 20 ans:
Elodie Chièze-Leroux (à gauche) et Kerline Verjuin (co-capitaines cette saison), Martine Barba, Lindsay Gonzalez, Nelly Larraud et Stéphanie Xavier.
Les joueuses qui arrivent, sont:
Joyce Mageot (Bourges Espoirs), Linda Bousbaa (Dunkerque Malo - LF2), Hillary Klimowicz (Nyon-Suisse), Perrine Le Leuch (revient après maternité), Belinda M'Boma (Charleville-Mézières - LFB).
Les joueuses qui sont parties, sont:
Cécile Baudy (Feytiat - NF2,) Tiffany Benson, Tanya Bröring, Alexia Rol (Arras - LFB) Johanna Tayeau (Roche Vendée - LB2).
---
Return to Ligue Féminine 2011-2012 index page
Leave Ligue Féminine 2 news and return to home page
Return to the top of page
Picture credits:


womensbasketball-in-france
limogesabc.com

Date created: 11 September 2011
---