Fisher time in Ligue Féminine 2
Jenny Fouasseau's best was not enough for Reims
There was no surprise during the second weekend of Ligue Féminine 2 action with all the big teams coming away with a victory.
Perpignan
blew Limoges apart (71-33) in their fist home game of the season.
Limoges had a poor second quarter (4-20) and never recovered. For Perpignan Agathe Nnindjem-Yolemp played just 16 minutes and scored 16 points for the hosts. Isabelle Strunc and Clémentine Samson added 12 and 10 points each. Lucie Barber was the top scorer for Limoges with 9 points.
COB Calais had to wait until the third quarter to finally break down US Laveyron and come away with a comfortable road victory (78-43). Floriane Herrscher led the scoring for Calais with 18 points while her team-mate Cherin-Britany Miller compiled a double-double of 15 points and 10 rebounds.
For the hosts Pulcherie Ayi was the best player with 6 points and 4 steals while Leslie Fournier and Elena Vishnyakova shared the scoring honours with 8 points apiece.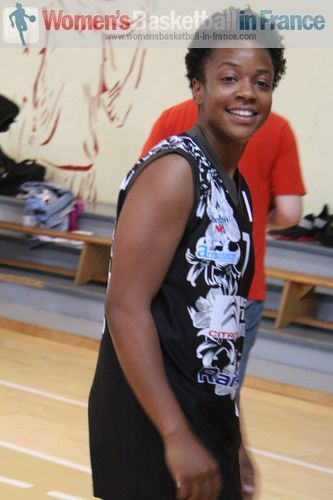 Armentières had to play the first home game of the season in Lille because their gym was flooded during a recent rain storm and was not ready for use.
Mia Fisher's (left) clutch shooting during the final quarter against Illkirch-Graffenstaden made the difference as her side held on to win (76-70). Fisher finished the game with 23 points, 4 assists and 2 steals. Céline Schmitt-Sendner for the SIG finished the game as top scorer with 24 points.
Melanie Vernier is used to putting out fires as a firewoman as she came to the rescue for Voiron with a display in the art of long distance shooting. She finished with a game high 25 points as her side walked away with a road victory against Dunkerque Malo (80-70). Faeza Bouderra added 10 points and 9 assists for the winners.
Dace Pierre-Joseph (Brumermane) was the leader for Dunkerque with 16 points and 12 rebounds.
Roche Vendée did the damage against the CFBB in the first quarter (30-12) and then paced themselves to victory (66-54) with a balanced scoring attack. Elodie Gerard and Alexia Kusion led the scoring with 12 and 10 points each while Nadja Morgan added 9 points and picked up 14 rebounds. For the CFBB Assitan Koné led the way with 14 points.
Katya Pyliashenko, a former player from Armentières, has replaced the injured Cora Duval for Roche Vendeée.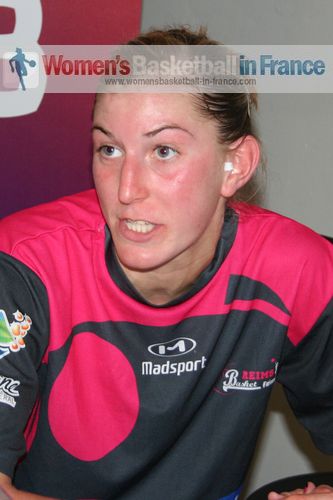 Jenny Fouasseau (in picture) is still 19 years old and yet she is by far the longest serving player at Reims. She even played a few games with the club in Ligue féminine de Basketball during the 2009-2010 season.
Fouasseau who played for France U19 during the recent FIBA World Championship went 5-of-6 from behind the arc compiling 28 points and collecting 10 rebounds for Reims in their match against Léon Trégor.
However with the game tied at (63-63) in the last minutes Fouasseau missed a couple of free throws to give her side the advantage.
Adriana Gresnerova on the other hand hit her free throws for Léon Trégor to win the game (65-63). Oumon Toure was the match winner for the hosts with 25 points and 11 rebounds.
In the final game of the week Toulouse showed no mercy to Le Havre. They led from start to finish and won by a comfortable margin (86-56). Once again Nina Bogicevic was the leading scorer with 24 points. Carrem Gay and Emilie Morris were the other players in double digits with 18 and 12 points each.
For Le Havre Kayla Smith had a double-double of 15 points and 10 rebounds while Ida Preetzmann added 11 points.
Week two results of Ligue Féminine 2:
Léon Trégor 65-63 Reims
Toulouse 86-56 Le Havre
Perpignan 71-33 Limoges
Calais 78-43 Laveyron
Armentières 76-70 Illkirch-Graffenstaden
Dunkerque 70-80 Voiron
Roche Vendée 66-54 CFBB

---
Return to Ligue Féminine 2011-2012 index page
Leave Ligue Féminine 2 news and return to home page
Return to the top of page
Picture credits:


womensbasketball-in-france

Date created: 30 September 2011
---