Ligue Féminine 2 round 17
Leaders confirm
Thank you Kayla Smith
The teams in Ligue Féminine 2 were back in business after a week off, participating in the first round of the Coupe de France. While the teams at the top continue to add victories the match of the week was from two teams at the wrong end of the table.
It has been a good week for Limoges despite their elimination from the French Cup. They appointed a new assistant coach, Bertrand Jardin on Monday and then beat Aplemont Le Havre (74-45) at home in a 4-point game between two teams in the relegation zone.
After a tight first quarter first which ended (15-10) in favour of Limoges, they blew the game away with a 16-4 run in the second quarter to never look back. Hillary Klimowicz finished the game with 23 points.
However the major news from this game comes from Le Havre because their top scorer Kayla Smith (in picture with ball) has ended her Ligue Féminine 2 season.
Basically this was the first time for her to be far from her home town and her problems with her right knee became too much to handle. Time will tell if her basketball career is over. But for sure her time in LF2 should not be forgotten in a hurry. Le Havre are hoping to replace her with Melissa Washington (another former student from Wake Forest).
The rest of the weekend news from Ligue Féminine 2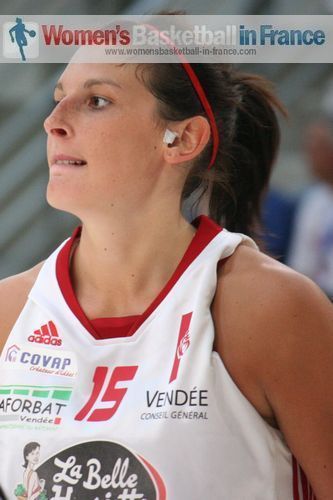 The match-up between two of the tallest players in the division Astan Dabo (Reims) and Hélèna Ciak (Perpignan - in picture) lived up to its billing. Both players led their team in scoring and rebounding.
Ciak came out on top with 24 points and 13 rebounds as Perpignan ran out winners (76-60). Dabo finished with 16 points and 11 rebounds. The match was decided in favour to the winners with a 25-11 second-quarter run.
Dunkerque Malo against COB Calais is considered by the supporters of both clubs the the biggest game of the year. Dunkerque won the first game in Calais (67-65) and were hoping to do the double.
Calais did the hard work during the first 20 minutes leading (44-29) and then survived an avalanche of long distance shooting to win the game (76-68). Emilie Duvivier gave a little reminder of the skills that got her into the French senior team in 2008 with her 21 points and 6 assists.
Toulouse are the luckiest team of this round because they do not know how they actually came away from Illkirch-Graffenstaden with the victory (68-61).
The SIG as a group did not really play well despite leading for most of the game. However the last five minutes was too much for the SIG. A drop in concentration, one too many fouls and a (54-53) lead turned into a 7-point deficit.
Darline N'Soki who played for two seasons with the SIG was one of three players with 14 points for Toulouse.
Armentières made it a perfect weekend for the top 4 with a routine victory against the CFBB (87-70). However the club's major concern at the moment is Rachel Goutière who rolled her ankle in the French Cup. She will be out for a minimum of three weeks.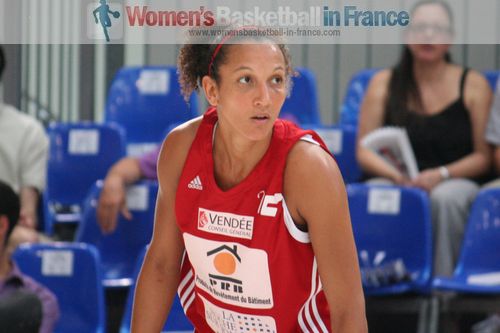 Voiron, playing at home, led by 10 points with six minutes to play and yet ended up losing by 3 points to Roche Vendée (70-73). Christelle Morel (in picture) was the leading scoring for Roche Vendée with 16 points.
Faëza Bouderra did not play for the hosts who have fallen further back in the battle for a top 4 finish.
Léon Trégor allowed their hosts US Laveyron to open up an 18-point lead in the first half (26-44) which eventually cost them the game (59-64).
US Laveyron were more efficient in their shooting but almost threw the game away with turnovers that Léon Trégor converted into points. However Madou Mbengue's 16 points did not go to waste.
US Laveyron are now in fifth place and are a possible candidate for the final four while Léon Trégor stay in 13th place.
L2F, round 17 results:
Armentières 87-70 CFBB
Limoges 74-45 Le Havre
Dunkerque Malo 68-76 COB Calais
Reims BF 60-76 Perpignan
Illkirch-Graffenstaden 61-68 Toulouse
Voiron 70-73 Roche Vendée
US Laveyron 64-59 Léon Trégor

---
Visit LF2 2011-2012 basketball news page
Visit the Ligue Féminine de Basketball news for 2011-2012
Leave Ligue Féminine 2 news and return to home page
Return to the top of Ligue Féminine 2 news page
Ligue Féminine 2 picture credits:


Jean-Marie Thuillier
womensbasketball-in-france

Date created: 5 February 2012

---